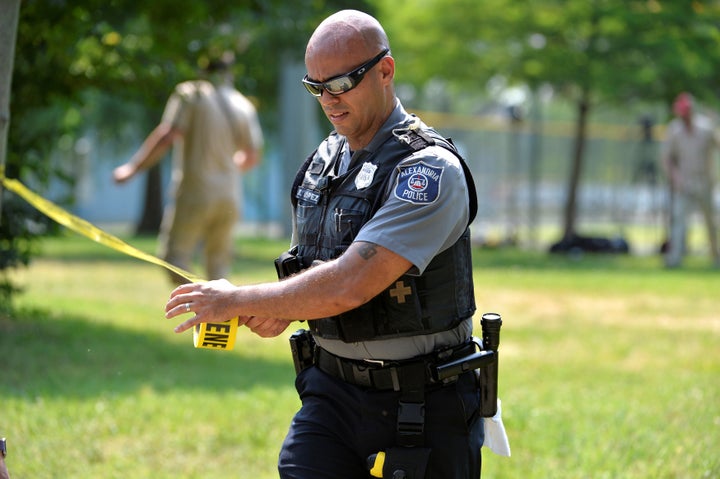 America's most recent bout with high-profile gun violence has done little to shake people's attitudes about guns, which remain both complex and deeply polarized, according to two newly released surveys.
Just 12 percent of the public thinks American society has gotten better at preventing gun violence since the 2012 shooting in Newtown, Connecticut, a new HuffPost/YouGov survey finds. Twenty-eight percent believe it's gotten worse, and half that it hasn't changed at all.
The poll, taken in the wake of last week's shooting at a congressional GOP baseball practice, finds that while half of the public believes that mass shootings can be stopped, another 28 percent think such events have become a fact of life in America. The remaining 22 percent aren't sure.
Overall, 40 percent say stricter gun control laws would reduce the number of shootings in the United States, while 14 percent think they would increase shootings, and a third that they wouldn't make much difference.
There's a close divide on whether stricter gun control laws and enforcement would do more to prevent shootings than would allowing more private citizens to carry guns for protection, with 42 percent favoring the former and 39 percent the latter.
Despite the backdrop of a high-profile shooting, all those numbers remain little-changed from a December 2016 HuffPost/YouGov survey. In one notable shift, however, Americans have grown less likely to believe there's a political appetite for stricter gun laws. Last December, respondents said by a 9-point margin, 43 percent to 34 percent, that it was politically possible to pass stricter gun laws. In the latest survey, they said by an equal 9-point margin, 41 percent to 32 percent, that such changes are likely impossible.
Views also remain sharply divided along partisan lines. Democrats are 43 points likelier than Republicans to believe stricter gun laws would reduce the number of shootings in the United States, the survey finds, and 52 points likelier to favor such restrictions over allowing more private citizens to carry guns.
A new, wide-ranging Pew Research report, also released Thursday, sheds some light on the attitudes underlying Americans' opinions about firearms. The survey, taken before the most recent shooting ― it was conducted in March and April ― finds that guns remain, for better or worse, deeply ingrained in American life.
"Whether for hunting, sport shooting or personal protection, most gun owners count the right to bear arms as central to their freedom," the report's authors note. "At the same time, the results of gun-related violence have shaken the nation, and debates over gun policy remain sharply polarized." 
Two-thirds of Americans have lived with a gun in their household at some point during their lives, and more than 70 percent have shot one. Nearly three-quarters of gun owners say they can't see themselves ever giving up gun ownership, and that they consider the right to own guns essential to their own sense of freedom.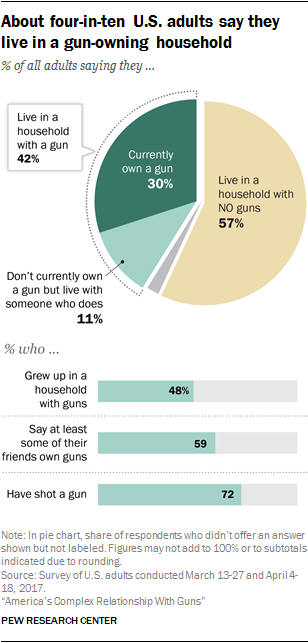 But a sizable share of the public has also had harmful experiences with firearms. Forty-four percent say they know someone who has been shot, whether accidentally or on purpose, and nearly a quarter say they or someone in their family have been threatened or intimidated by a gun.
Black Americans are especially likely to have had troubling experiences: A third say they or a family member have been threatened or intimidated by a gun, and nearly 60 percent that they know someone who was shot.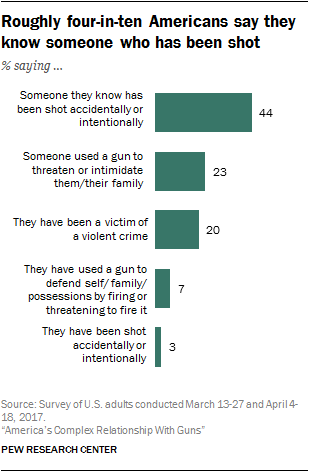 Gun owners and non-owners, the report finds, take diverging views on the extent to which gun violence is even an issue. Nearly 60 percent of people who don't own guns, but just a third of those who do, consider it a major problem in the country.
Beneath the broad ideological differences on guns, there's significant agreement on a number of specific gun policies. According to Pew, a majority of both gun owners and non-gun-owners support rules preventing the mentally ill from purchasing guns; implementing backgrounds checks for private gun sales and at gun shows; barring gun purchases by people on no-fly or watch lists; and creating a federal database to track gun sales.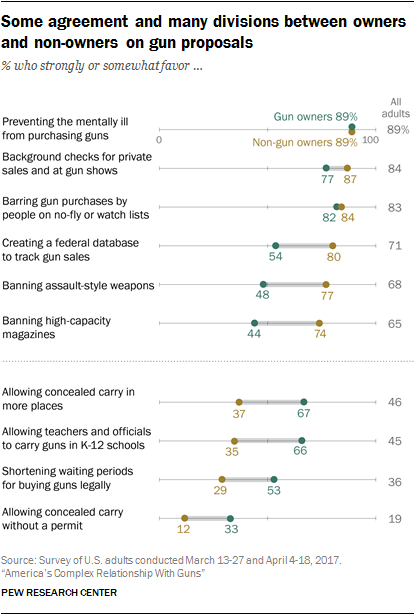 Even among gun owners, opinions are deeply split between Republicans and Democrats. Views on guns weren't always intractably partisan ― as recently as 2007, Republicans and independents who leaned toward the GOP were evenly split between prioritizing gun rights and gun control, according to previous Pew polls. But starting after former President Barack Obama took office, GOP views swung dramatically toward favoring more unfettered gun rights.
Democratic gun-owners are currently more than twice as likely as Republican gun owners to consider gun violence a very big problem in the U.S., according to Pew, and nearly twice as likely to say that access to legal guns contribute to gun violence. Democratic gun owners are also significantly more likely than Republican gun owners to support new restrictions ― about two-thirds of Democratic gun owners, for instance, support banning assault-style weapons and high-capacity magazines, while fewer than 40 percent of Republican gun owners agree. 
Pew Research surveyed 3,390 respondents online between March 13-27 and April 4018, using a nationally representative panel of randomly selected U.S. adults recruited from landline and cellphone random-digit dial surveys.
The HuffPost/YouGov poll consisted of 1,000 completed interviews conducted June 20 among U.S. adults, using a sample selected from YouGov's opt-in online panel to match the demographics and other characteristics of the adult U.S. population.
HuffPost has teamed up with YouGov to conduct daily opinion polls. You can learn more about this project and take part in YouGov's nationally representative opinion polling. Data from all HuffPost/YouGov polls can be found here. More details on the polls' methodology are available here.
Most surveys report a margin of error that represents some, but not all, potential survey errors. YouGov's reports include a model-based margin of error, which rests on a specific set of statistical assumptions about the selected sample rather than the standard methodology for random probability sampling. If these assumptions are wrong, the model-based margin of error may also be inaccurate. Click here for a more detailed explanation of the model-based margin of error.
Calling all HuffPost superfans!
Sign up for membership to become a founding member and help shape HuffPost's next chapter