San Francisco Opera opened its fall season this past week with Umberto Giordano's tale of the French Revolution, Andrea Chénier. Conducted by Nicola Luisotti, the production by director David McVicar features tenor Yonghoon Lee in the title role, Anna Pirozzi as Maddalena, J'Nai Bridges as Bersi, and George Gagnidze as Carlo Gérard. Stylish sets by Robert Jones and period costumes by Jenny Tiramani capture the tension and disparity between the Haves and the Have Nots.
Some of us have been waiting a long time for the Chénier experience. If it's been about putting together the right team with just the right cast, then - Mission Accomplished. The Company's previous presentations of the opera were in 1992 and 1975. I was in high school when I saw the 1965 production. I joined the Usher's Club and handed out dozens of programs in order to see Renata Tebaldi as Maddalena, Richard Tucker as Andrea Chénier, and as Carlo Gérard - one of my baritone heroes, a Verdi baritone - Ettore Bastianini. It was a dynamic ensemble. So is the cast of Andrea Chénier now at San Francisco Opera through September 30.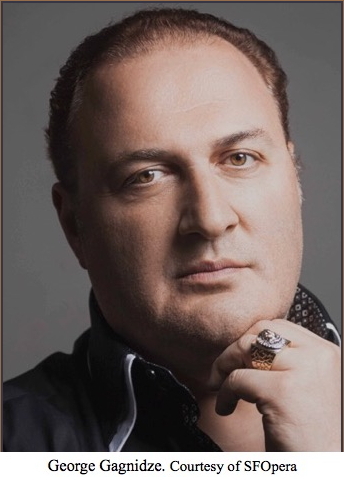 I met with George Gagnidze prior to the opening night performance. He is likewise an admirer of Bastianini, also Tito Gobbi and Robert Merrill. All four gentlemen arrived well-equipped to take on Verdi's heaviest hitters. Mr. Gagnidze now joins them in both his SFOpera debut and role debut as "Carlo Gérard". A native of Tbilisi (capital of Georgia), he is internationally recognized as one of the leading dramatic baritones of our time.
"It's my first time in the role! I've sung Scarpia, Rigoletto, Nabucco, Simon Boccanegra, and Tonio in Pagliacci. I made my Met debut in 2009. In 2008, I sang a concert version of Tosca with conductor Lorin Maazel and the New York Philharmonic. He was very good to me, saying I had a first category voice - 'Like I heard in the past.' Before that I sang many lyric roles, such as Onegin and Jeletzky [Pique Dame], and Giorgio Germont."
When it comes to categorizing operatic voices, George Gagnidze is the definitive dramatic baritone. The term (the category or the "fach") does not necessarily refer to the singer's outward theatrical manner but rather to particular characteristics in the actual sound of the voice, how it will carry over the orchestra and bloom in the theater, and most importantly how it conforms to the composer's intentions. These generally clear-cut indicators separate the dramatic from the lyric baritone, from the bass-baritone, etc. Mr. Gagnidze's overall vocal prowess, the ringing brilliance of his upper range, his charismatic stage presence and in-depth character portrayals have been celebrated around the world, including with such companies as Deutsche Oper Berlin, New National Theatre Tokyo, Los Angeles Opera, Festival d'Aix en Provence, Wiener Staatsoper, and many more. He returns to San Francisco Opera in November as "Amonasro" in a new production of Verdi's Aïda featuring the designs of graffiti artist RETNA. As the King of Ethiopia, this brief but formidable role has taken him to Teatro alla Scala, Opéra National de Paris, and return appearances at the Met.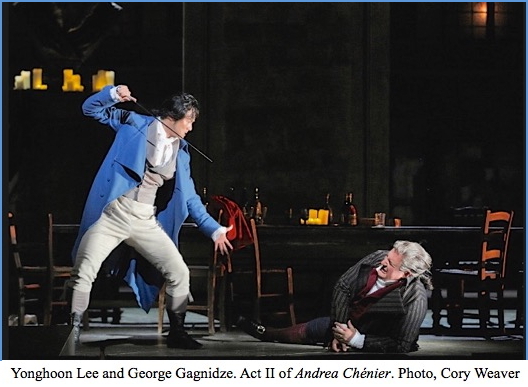 "Dramatic baritones, as with dramatic tenors, are not so easy to find," said George. "During the last twenty years, the concert tone of La (the A above middle C) has been set higher, from 440 to 443. You can find your voice in these tones, but it's difficult and a lot more work. When you begin your vocal studies, every voice starts more lyrically. In the more advanced stages of your training you might move into a more dramatic voice. But it is still on this higher tone setting."
George began studying at nineteen at the State Conservatory. His voice spanned the octaves between Low F and High A - that A being a half-step above the now brilliant high A-flat he so easily sustains as Tonio in the Prologue ('Si può?') from Pagliacci. I asked him if he sensed back then that his voice would go more to the dramatic side.
"My teacher knew. When I started, it took a lot of work to create that smooth line in my range. I began with the older Italian arias - art songs such as Caldara's 'Come raggio di sol'. Also a lot of vocalises, including the Concone. My teacher said we would start the difficult arias later. When I was around fourteen, my inspiration was Pavarotti - watching him on TV on Live from the Metropolitan, doing roles such as Nemorino in L'elisir d'amore. I loved his aria, 'Una furtiva lagrima'. Before that, I never had any interest in opera. But Pavarotti sang so beautifully. Folk music and popular dance music were normal to me. But opera was a whole other world."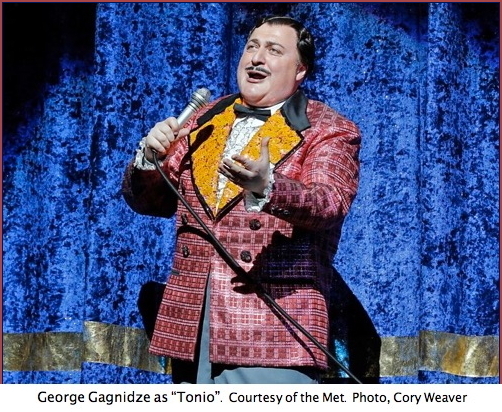 In 2005, George entered the Concorso Voci Verdiani competition in Busseto, Italy. The jurors were José Carreras and Katia Ricciarelli. For the first round, he sang only one aria, Renato's 'Eri tu' from Un Ballo in Maschera.
"Two arias is normal. With only one aria, you don't know what happened. Maestro Carreras said to me, 'It's OK, it's OK.' Then came the second round. Usually, judges aren't allowed to comment or to interact with the performers. But they came to congratulate me. At the second round the jury tells you what to sing. Carreras asked for the most difficult aria in all the Verdi repertoire, Rigoletto's 'Cortigiani'. And I said, 'OK.' He replied, 'What? That's OK?' And everybody laughed. He then said, 'Let's see if you can do it.' Rigoletto is really heavy in the voice and very deep emotionally. He is an egoist. He is very angry. He only has one daughter and she is everything to him. He also has a pity complex about himself - from how he sees other people viewing him. When he is repenting and asking for the return of his daughter - at first, it's in anger. Then it goes into a sorrow. Everything is working against him. Emotionally, it's all just more than he can handle."
George was awarded First Prize.
This past Sunday afternoon, thousands of opera lovers gathered in Golden Gate Park for SFOpera's gigantically popular annual concert freebie, Opera in the Park. The event features a host of artists appearing in the current season. Nicola Luisotti conducted. George presented Gérard's aria from Act III of Andrea Chénier, "Nemico della Patria". During the several minutes it takes to sing, the audience got the full impact of George's glorious vocal chops and the depth of Gerard's inner conflicts and love.
"Carlo Gérard is an idealist who thought the world was good. Then he wakes up to the reality that the world is not like that. Gérard becomes a weapon for somebody else. He hates that about himself. But he loves Maddalena. On that point, Gérard is a very clear and positive role for me. He is a character with a lot of heart - that's what attracts me. One director told me you can't just hang there like a costume on a rack. Be alive! That is the most important thing in opera."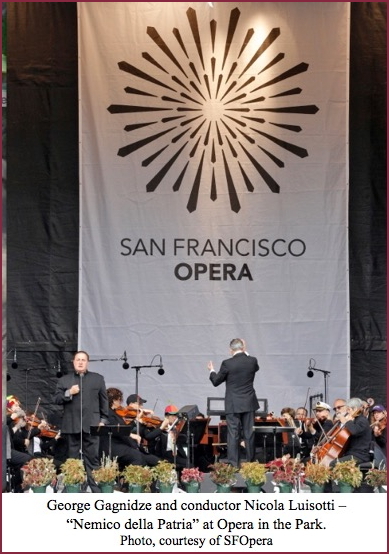 "Before I arrived in San Francisco, I worked with my coach, Alessandro Amoretti. We worked through every word of the text, to understand it emotionally. Artists must convey real emotion and truth in whatever it is they're singing about and in any language. Emotion is the best translator - the meaning is in your eyes. The words are important, yes, but if your heart is really in it - I will understand you, no matter the language. For me, it's about the emotions. It's in the eyes, our bodies, in your own heart. I can see this. If you can't connect to the role with your own emotions, how are you going to connect with the audience?"
Calling all HuffPost superfans!
Sign up for membership to become a founding member and help shape HuffPost's next chapter