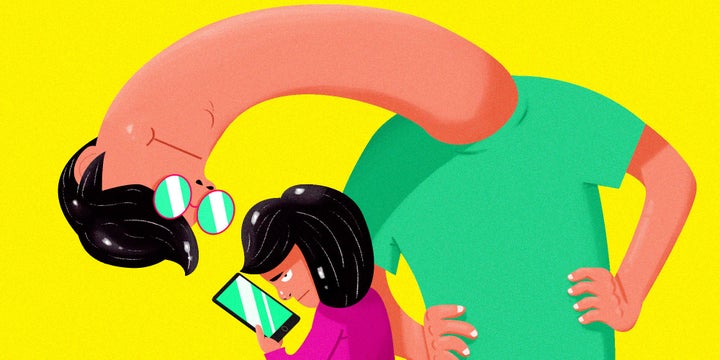 Bark, a firm that sells parental smartphone-monitoring software, claims to have scanned more than a billion messages from 2 million children since it launched in 2016. The app, which monitors kids' devices for dangers like cyberbullying or communication with predators, has helped prevent dozens of potential suicides as well as school shootings and bomb threats, the firm claims.
But the technology also raises privacy worries, especially when used covertly, skeptics say.
"Obviously there are privacy concerns when it comes to installing these kinds of applications on children's phones, especially if they don't know about it," said Jasmina Byrne, a child protection specialist at UNICEF and expert in children's privacy rights in the digital age.
Here's how it works: For $9 per month, parents can connect Bark with their kids' smartphones and other devices to surveil their texts and emails as well as their social media posts and private messages, including photos and videos. Bark, which is compatible with 24 different platforms, alerts parents if its algorithms detect that the child or the person they're communicating with is using profanity, sexting, being bullied or showing signs of depression. The algorithms are also designed to detect threats of violence in addition to discussions of self-harm, suicidal thoughts or drug use, among other things.
Bark encourages parents to let their kids know they've installed the company's software. But in some cases it's "possible" for parents to install it without their kids' knowledge, said Brandon Hilkert, the firm's chief technology officer. Kids will figure out pretty quickly that they're being monitored, Hilkert argued. "It becomes very obvious [to the child] that they're being monitored when the parent gets the first issue and goes straight to the kid and says, 'What's this about?'"
The app doesn't give parents blanket access to all of their children's communications. Instead, they receive "snippets" of flagged content paired with recommendations from child psychologists on how best to react. These snippets can include messages sent to their children by other kids, who may not be aware that Bark is monitoring the conversation and disseminating flagged portions from both parties.
"We really only want to alert parents when there's a problem or issue that they need to know about," Chief Marketing Officer Titania Jordan told HuffPost. "We are definitely not a company that advocates spying or giving parents full, unfettered access to all of their children's devices and accounts."
Bark's content review team, however, has access to all monitored communications, including children's photos and videos that might contain nudity. They erase this content from their system after reporting it to the National Center for Missing and Exploited Children, as required by law. The app also alerts parents but does not share the visual media with them.
"We are definitely not a company that advocates spying or giving parents full, unfettered access to all of their children's devices and accounts."
Bark is among an expanding pool of parental control software that offers child monitoring and tracking services. (It's designed to monitor children under the age of 18, but it's also possible for people to use the app to snoop on their spouses, despite safeguards designed to prevent that kind of use, Bark acknowledged.) Nearly 40 percent of parents in the U.S. have used parental control tools for online activities, and 16 percent have used apps to track their teen's location, according to a 2016 Pew Research Center survey.
Apps including Visr and TeenSafe monitor children's online activity. Find My Kids and Glympse track children's movements in real time. MSpy ― which recently leaked millions of sensitive records, including call logs, text messages and browser histories ― lets parents read kids' messages and follow their movements. Dozens of other apps on the Apple App Store offer similar services. All are marketed as tools to keep kids safe.
But any app that monitors kids can violate their rights, explained child privacy expert Mario Viola, author of the 2017 report "Child Privacy in the Age of Web 2.0 and 3.0: Challenges and Opportunities for Policy."
"Of course there are privacy concerns, especially for the kids who are not aware that their parents are monitoring what they're doing online," said Viola, a research associate at the Center for Media Pluralism and Media Freedom. "There are also impacts on other rights. When children know their parents are monitoring them, they probably won't express themselves as they normally do, so there are also impacts on freedom of expression [and] access to information."
Despite these concerns, parental control apps have reeled in major investments. Just last month, Bark raised $9 million in Series A funding, according to Crunchbase. A recent report from New York-based research firm Future Market Insights predicts that the global parental control software market will grow in value from approximately $90 million to $223 million in 2028.
New Mexico Attorney General Hector Balderas, who filed a lawsuit this month alleging that dozens of mobile gaming apps for children are illegally collecting personal data, told HuffPost that he doesn't take issue with parental control apps as long as they are used for their intended purposes.
"I definitely think a parent has a right to provide for a safe environment for their children, so as long as that's the intent, I don't see that it necessarily violates privacy interests of minors," said Balderas, noting that parents and children should have "a healthy conversation" about using such tools.
"I believe that technology is advancing at a rate that is outpacing safety standards," added Balderas, who oversees the New Mexico Internet Crimes Against Children Task Force. He's encouraging Congress to "play a larger role in ensuring all consumers, including parents and young citizens," understand who is collecting their information and how it's being used.
Lawmakers have taken steps to tighten the existing protections of children's data under the Children's Online Privacy Protection Act, which Congress passed in 1998. If approved, the bipartisan "Do Not Track Kids Act" would require online services to obtain consent from minors ages 13 to 15 before collecting their information.
"This is so you don't have to give me your phone and let me go through your texts."
Bark connected HuffPost with Trent, a father in Charlotte, North Carolina, who started using the app to monitor his teenage daughters' texts and online activities in 2016. He also installed Bark for his 9-year-old son earlier this year.
"I told them, 'I'm not necessarily monitoring you, I'm monitoring stuff that could be a threat to you .… This is so you don't have to give me your phone and let me go through your texts and go into Instagram and stuff,'" said Trent, who asked to be identified only by his first name.
"They weren't crazy about it, to be honest with you. But, of course, they weren't crazy about any degree of monitoring," added Trent. Bark has since informed him that his eldest daughter was spending time with friends who purchased marijuana, and his youngest received texts from friends that contained sexually explicit language. Those alerts, he said, led him to have open conversations with his kids.
"I guess they knew if they wanted to maintain possession of their smartphones, this is just what comes along with it," he said.
Support HuffPost
The Stakes Have Never Been Higher
Related
Popular in the Community