Border collies, which are quick, agile and intelligent, have been bred to round up animals. But Gracie is an exception to that rule: She's been specially trained to keep animals away.
This 2-year-old "bark ranger" is the latest ― and without question, the cutest ― tool in Glacier National Park's fight to limit dangerous human-wildlife interactions, which have become a growing problem in many of America's national parks.
"She's there to help keep the wildlife wild," Timothy Rains, a spokesman for the Montana park, told The Huffington Post. "There's just something about the dog that makes it easy."
Perhaps it's that face ― one humans adore and wild animals confuse for that of a predator.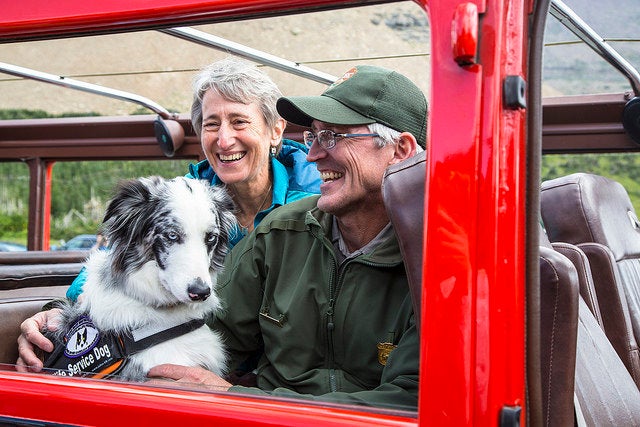 Glacier first introduced its wildlife service dog to the world in May, when she was being trained as part of a new pilot project funded by the Glacier National Park Conservancy. Since first reporting for duty in mid-July, Gracie has been hard at work herding sheep and goats away from Logan Pass and other high-traffic areas in an effort to keep safe both the animals and the visitors who come to see them.
With Gracie, Rains said, the park is capitalizing on natural predator-prey instincts. 
"[The animals] don't think she's a dog, they think she's a wolf," he said. 
Rains said Gracie works roughly two shifts per week, give or take, so that the wildlife does not get used to having her around. The whole point is for the sheep and goats to feel threatened.
In addition to managing wildlife, Gracie also manages visitors by drawing people in so that her handler, park ranger Mark Biel, can educate them about park safety information like the importance of viewing wildlife from a distance.
As Rains put it, Gracie "helps soften the blow" for visitors that have to be told they are breaking park safety rules.
So far, the young pup has proven herself an important member of the Glacier team. At Logan Pass, groups of animals are already keeping greater distances from the parking lot, and visitors are quick to ask questions about and take pictures with the photogenic, four-legged ranger, according to Rains.
"It's been successful this summer," Rains said of the program, adding that the plan is to expand it next year. "We put a lot of faith in the dog and she stood up to the challenge."
For those interested in following this "bark ranger's" journey, Glacier National Park has set Gracie up with her own Instagram account. 
REAL LIFE. REAL NEWS. REAL VOICES.
Help us tell more of the stories that matter from voices that too often remain unheard.
BEFORE YOU GO
PHOTO GALLERY
Happy 100th Birthday National Park Service!