Almost a year after he revealed that he was a pot-smoking atheist on HBO's "Real Time With Bill Maher," former Rep. Barney Frank (D-Mass.) revealed why he'd waited to confess his secularism until after he left Congress in an interview with Religion News Service on Friday.
Frank, who became the first member of Congress to out himself as gay in 1987, argued that his "nontheism" was never politically relevant and only risked compromising the public's understanding of his Jewish identity.
"I never professed any theology. And it's complicated by my Jewishness. Obviously, being Jewish is both an ethnicity and a religion," Frank said. "I was concerned that if I were to explicitly disavow any religiosity, it could get distorted into an effort to distance myself from being Jewish -- and I thought that was wrong, given that there is anti-Jewish prejudice."
After attending temple for years, he said he "suddenly realized" that the gesture alone was superficial and stopped attending services, with the exception of funerals.
"So I decided, 'I'm not going to do this. I'm not going to pretend,'" Frank explained. "During my service [in Congress] I never pretended to be a theist. It just never became relevant that I wasn't, and I guess I was not as conscious of the discrimination nontheists felt."
On Friday, Frank accepted the American Humanist Association's 2014 Humanist of the Year award in Philadelphia during the group's 73rd annual conference. In a speech, he advised the attendees to "fight back" and "defend yourself" against those who "are abusive to you in the name of religion."
"Accept the fact that there are some people that aren't going to be with you. Focus on the people who are open to persuasion and don't insult them. Don't insult their religion," Frank said. "Religion means a lot to people. Don't make fun of it. Don't respond in kind. It's just counterproductive."
Former Rep. Pete Stark (D-Calif.), who left Congress in 2012, is the only lawmaker to have served in Congress as an atheist. According to a February Gallup poll, atheists remain the least electable group in America, with only 54 percent of Americans willing to vote for an atheist presidential candidate.
Before You Go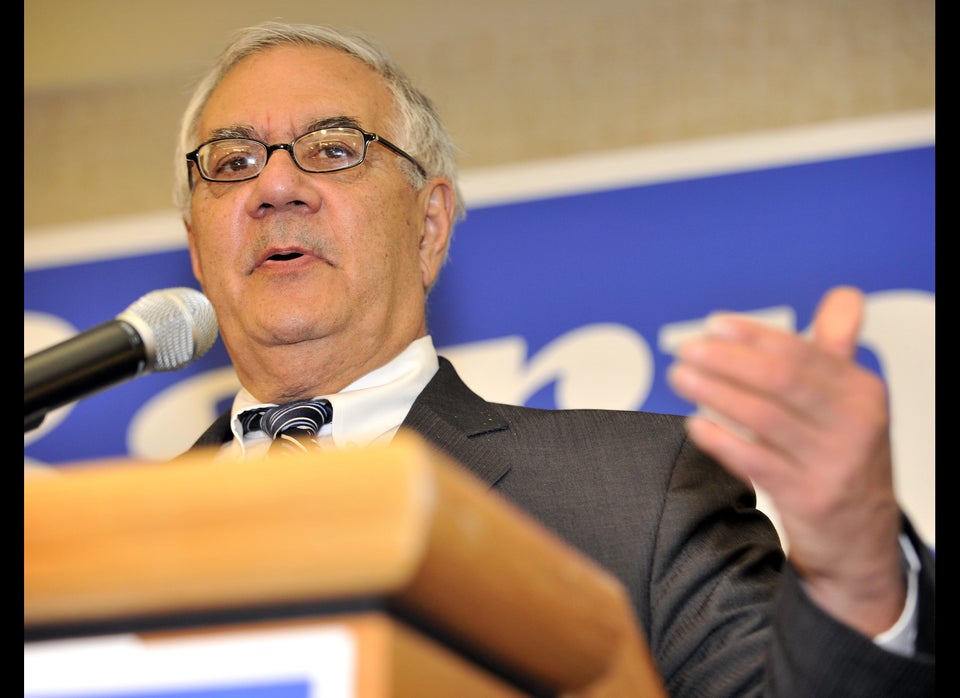 Dodd-Frank Players
Popular in the Community