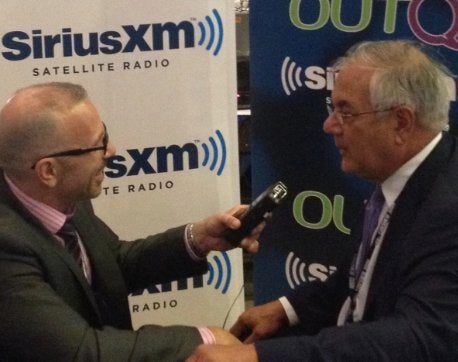 At the Democratic National Convention in Charlotte on Wednesday night, newly married Congressman Barney Frank said he and his husband have been warmly greeted "as heros" by delegates who are "proud to be a part of this movement." He also previewed the speech he will give tonight at the convention, focusing squarely on "Myth Romney," and he slammed the gay GOP group Log Cabin Republicans for its support of the GOP, saying, "I now understand why they call themselves Log Cabin: their role model is Uncle Tom." (Listen to the interview below)

"Obviously it's been overwhelmingly supportive from the Democrats," Frank said in an interview for my SiriusXM OutQ radio program, discussing the response by his colleagues in Congress to his wedding in July, in which he married his long-time partner, Jim Ready. "They've really reached out. On the Republican side, at first they were ignoring it. A few have congratulated me. One case I found a little bit odd: One Republican member sent us a wedding present -- a member who is sort of not a moderate but not an extreme right winger. But then [the member] voted for the Defense of Marriage Act. So Jim and I returned the present."

"One thing gay, lesbian, bisexual and transgender people have to say," he continued, "[is that] maybe 30 years ago you could get some points for being personally nice to us while you were opposing our rights. We're beyond that. That's over."

Frank said at the convention, while walking the corridors, Democratic delegates from around country, who ratified the most LGBT-inclusive platform in history, including backing marriage equality, have been nothing but supportive.

"On the whole, people are glad to be participating in what I believe is the beginning of the end," he said. "Jim and I have been greeted as heroes. I walk along and people ask for a picture, and I say, 'Meet my husband.' And they're even more excited. People are proud to be part of this movement ... If you're under 60, you're probably too old to be part of the civil rights movement. For a lot of people today, to be able to participate in the movement to give legal equality to LGBT people, gives them a very good feeling. You become a Democrat in part because you have these kind of values that say you want to promote fairness and community, so most Democrats are proud."

Frank then laced into the Log Cabin Republicans, who spoke highly of the GOP last week in Tampa, with its executive director, R. Clarke Cooper, commenting that gay GOPers felt more welcome than any time in the past.

"Frankly I've been appalled to see the Log Cabin club, in the face of this worse and worse record on public policy by Republicans on our issues," Frank said. "Mr. Cooper said, 'Well at least they're not saying bad things about us.' That's just extraordinary. Again, 30 years ago when we were emerging from the vice of prejudice, I understood that. But no, we shouldn't be accepting a kind of second class citizenship, [and saying], 'You can treat us badly as long you don't yell at us.'"

"They're accepted on [the GOP's] terms," he continued. "They're willing to be accepted with no rights -- no right to marry, no right to serve in the military, no right to be protected against hate crimes, no right to be protected in employment. I'll be honest: For 20 years now I've heard how the Log Cabins are going to make Republicans better, but they've only gotten worse. I now understand why they call themselves Log Cabin: their role model is Uncle Tom."

On the speech he is going to give tonight on the state of the Democratic National Convention, Frank gave a preview.

"I'm mostly going to talk about Mitt Romney," he said. "I was a representative in Congress for four years under Governor Romney. He was a fairly mediocre governor except for the health care law, which he's now repudiating. Now I read that because he was a businessman, he will bring to any government he heads enormous jobs. Well, I wish that's what we saw."

"There are two Romney's," Frank continued. "Mitt Romney --- who was a hum drum governor of Massachusetts and not very successful with our economy. And then there's Myth Romney – a superhero of job creation, He is a businessman -- put him in charge and everything will hum. I wish Myth Romney had been governor of Massachusetts. My state would have been a lot better off. Instead we had Mitt Romney and I'm just going to have to contrast the reality and the myth."
Listen to the full interview:
Calling all HuffPost superfans!
Sign up for membership to become a founding member and help shape HuffPost's next chapter
BEFORE YOU GO
PHOTO GALLERY
Logo TV Survey Results