 WASHINGTON -- Rep. Barney Frank (D-Mass.) rebuked the gay rights groups opposing a bill that would ban workplace discrimination on the basis of sexual orientation and gender identity, calling their strategy "ridiculous."
A handful of groups said last month that they no longer back the Senate-passed version of the Employment Non-Discrimination Act because of its sweeping religious exemption, which would allow religiously affiliated businesses to fire someone for being lesbian, gay, bisexual or transgender. The provision's language goes far beyond religious exemptions afforded under the Civil Rights Act of 1964, which banned discrimination on the basis of race, gender, religion or national origin.
"There is an element in my community that insists on being the cutting edge, and they are determined never to be for anything that could pass because that means that they are stodgy. I mean this quite literally," the openly gay former congressman said in an interview with The Huffington Post. "The goalposts have not just been moved, they have been propelled at atomic speed. The arguments are ridiculous."
Some LGBT groups said the Supreme Court's recent Hobby Lobby decision was one of the reasons they flipped positions on ENDA. The court ruled that a religious employer could not be required to cover certain types of contraception in their employees' insurance plans. But some faith leaders used the ruling to call on President Barack Obama to exempt them from a forthcoming executive order that would ban job discrimination against LGBT employees of federal contractors.
Frank said he thought the LGBT groups were just using the Hobby Lobby decision as an excuse to pull their support.
"It's because they are uncomfortable being in the majority. I'm very serious about this," he said. "I think it is a sense that it is unbecoming of us to be majoritarian in our political position, and if the Senate passed it, there must be something the matter with it."
"The religious exemption we had was the least we could put in there to pass the bill," he added. "What they're saying is, because it does not give perfect protection, let's not give any added protection at all."
ENDA has stalled in the House, and Speaker John Boehner (R-Ohio) has not indicated that he's willing to bring it to the floor for a vote. Some supporters have said that while the religious exemption isn't ideal, they're concerned the legislation is even more unlikely to pass the GOP-controlled House without it.
For years, Frank was the most prominent openly gay politician and a leader on LGBT issues. In 2008, he co-founded the LGBT Equality Caucus in Congress.
Reached for comment about his remarks, LGBT activists who oppose a broad religious exemption were careful not to criticize the former congressman. But they reiterated why they pulled their support for ENDA and why it was the right thing to do.
"We could no longer support legislation with an enormous loophole in it to discriminate and which provided employers a free pass to discriminate," said Rea Carey, executive director of the National Gay and Lesbian Task Force. "Imagine a lesbian janitor turning up to work at a religiously affiliated hospital where she thought ENDA was protecting her, only to find that her employer could use ENDA's broad religious exemption to fire her simply because of her sexual orientation."
"Having weaker protections for LGBT people sends the message that anti-LGBT discrimination is more acceptable than other forms of workplace discrimination," said Ilona Turner, legal director of the Transgender Law Center. "The problem with this unequal approach was heightened earlier this year when the LGBT community had to contend with serious efforts in many states-including Kansas, Idaho, South Dakota and Arizona-to pass legislation that would allow anti-LGBT discrimination based on the religious beliefs of business owners. The Supreme Court's Hobby Lobby decision took these concerns to a whole new level when it held that owners of for-profit businesses can assert religious objections to federal laws and insist on case-by-case litigation about which laws will be enforceable, based on whether the law advances a 'compelling interest.'"
They and many other activists would now like to see legislation that's even more ambitious than ENDA -- a comprehensive civil rights bill that would outlaw LGBT discrimination in housing, employment, public accommodations, credit and federal programs.
"You know who would be wildly opposed to that? The Congressional Black Caucus. They are militantly opposed to reopening the Civil Rights bill," said Frank. "They say this is a terrible idea, do not reopen the Civil Rights bill because bad things will happen."
CBC members were unwilling to discuss the matter or respond to Frank. The offices of Rep. Marcia Fudge (D-Ohio), the caucus' chairwoman, and Rep. John Lewis (D-Ga.), Congress' leading voice on civil rights, both referred The Huffington Post to the CBC, which ultimately declined to comment.
Not seeing eye-to-eye with gay rights groups on ENDA isn't completely new for Frank. In 2007, activists were speaking out against a version of ENDA that would not protect transgender individuals from discrimination, but Frank urged them to support the bill anyway.
"The question facing us -- the LGBT community and the tens of millions of others who are active supporters of our fight against prejudice -- is whether we should pass up the chance to adopt a very good bill because it has one major gap," Frank said in a statement at the time. "I believe that it would be a grave error to let this opportunity to pass a sexual orientation nondiscrimination bill go forward, not simply because it is one of the most important advances we'll have made in securing civil rights for Americans in decades, but because moving forward on this bill now will also better serve the ultimate goal of including people who are transgender than simply accepting total defeat today."
Want more updates from Amanda? Sign up for her newsletter, Piping Hot Truth.
Before You Go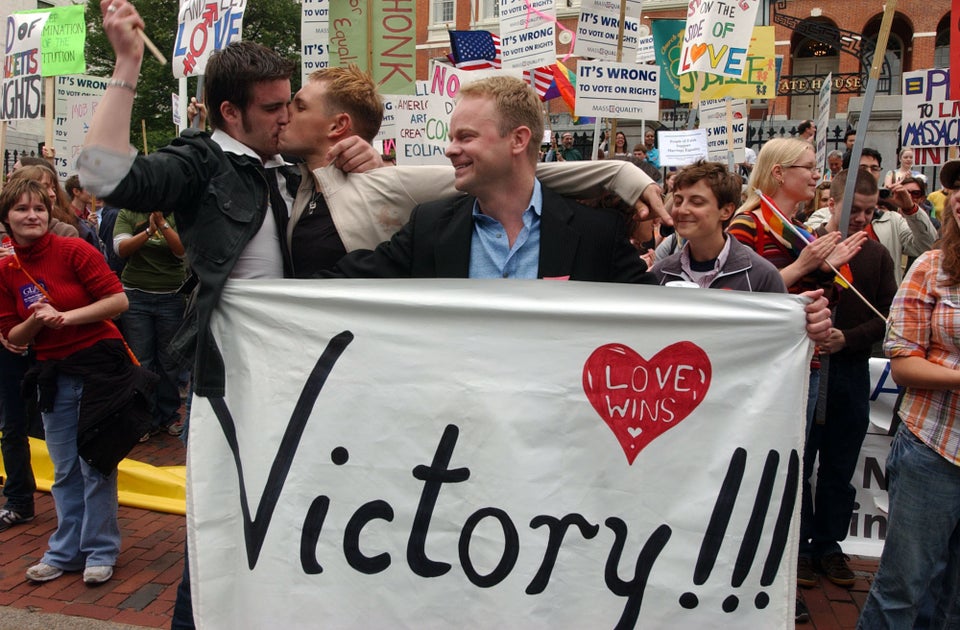 10 Incredible Improvements For LGBT People Since The First State Legalized Gay Marriage
Popular in the Community