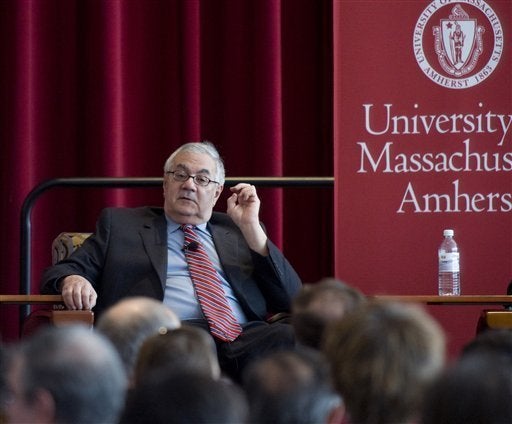 Sean Bielat, a Republican hoping to unseat Barney Frank in Massachusetts this November, says that he has one key advantage on the campaign trail that most GOP candidates can't count on: Barney Frank.
"He's abrasive. Every time he comes and speaks in the district it works for me. I want him speaking nonstop," says Bielat, 34, in an interview with HuffPost at the annual CPAC gathering of conservatives.
"In the town hall meetings, he craps all over his constituents," says Bielat. "He's just rude."
Bielat says that as he's campaigned, he's met constituent after constituent who's been on the wrong end of a Frank tongue-lashing. Often, Frank's style can resonate with a wide swath of voters, as it did over the summer when he dressed down a lunatic who compared Obama to Hitler, famously saying that debating her was as productive as arguing with a dining room table.
It can also be endearing, in the sense that Frank suffers no fools -- including, often, the fool writing this story -- and says exactly what's on his mind, an unusual and refreshing trait in a politician.
But, says Bielat, he's met plenty of voters who agree with Frank but carry a grudge after an unpleasant encounter.
A campaign against Frank, the chairman of the House Financial Services Committee in an overwhelmingly Democratic district, may seem quixotic, but Bielat thinks this year represents the GOP's best shot at taking him down.
"I think support for Barney is softer than people imagine. He hasn't had a serious challenger since 1984, nobody who's raised money," says Bielat. "If we can't do it this year, this guy's going to be in there till he retires."
Bielat says he's hoping that Frank takes his reelection for granted, much as Senate candidate Martha Coakley did in the January special election in Massachusetts. Scott Brown, who upset her in that race, won Frank's congressional district, proving, at least, that it's possible for a Republican to win there. "I think he's going to be arrogant about this. I don't think he's going to pay attention. And I don't want him to," he says.
Bielat spent four years as an active-duty Marine and seven years in the reserves. He's currently a major, he says, has a masters in public policy from Harvard University and is finishing up an MBA from the Wharton School. He's working part-time as a consultant so that he can dedicate his time to running, says, Bielat, who lives in Brookline, which is 5-1 Democratic.
Frank was recently at Amherst, decrying the lack of bipartisanship on the Hill, Bielat says. "He's one of the most partisan, one of the most uncompromising members of Congress," he says. "It's like McDonald's complaining about fatty food."
There is at least one area where Bielat and Frank will have little disagreement. "I'm a conservative, but I would say on drug issues I tend toward libertarian," he says, arguing that the war on drugs has been a total failure and that policy should focus on reducing the harm associated with drugs.
It makes no sense, he says, that coffee and alcohol are legal when other drugs aren't. Frank backs the legalization of marijuana and generally supports allowing individuals the freedom to do whatever they want, as long as it doesn't hurt others. "Barney's not bad on those issues," offers Bielat, saying he won't make it part of his campaign. "I don't need to beat my head against that particular wall."
"I'm not emphasizing social issues. I'm here to talk about economic issues. That's what people care about this year," he says. "He's hardly libertarian on economic issues, though. I'm going to be talking about the deficit; I'm going to be talking about job creation; I'm going to be talking about economic growth; I'm going to be talking about taxes."
As a powerful chairman, Frank has access to a nearly limitless supply of campaign cash. In the past, Frank has shared that wealth with candidates in tight races. Bielat says he met with the National Republican Congressional Committee this week and pitched his candidacy to them. By the end of the meeting, he says, they were very receptive, and he may end up in the Young Guns program.
"If I'm not getting support from outside Massachusetts, it's not going to happen," he says. "If nothing else, I should get national support so that he has to keep that money in the district."

Popular in the Community