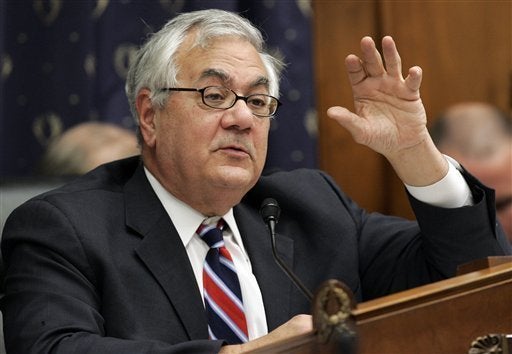 House Financial Services Committee Chairman Barney Frank (D-Mass.) has instituted a permanent ban on committee staff communication with Peter Roberson, an aide who left the panel for K Street after playing a lead role in crafting derivatives legislation.
By law, Roberson is banned from communicating with staff for one year, but Frank said in a statement that period of time is insufficient. "I am therefore instructing the staff of the Financial Services Committee to have no contact whatsoever with Mr. Roberson on any matters involving financial regulation for as long as I am in charge of that Committee staff," said Frank.
Frank said he sympathizes with those who claim Roberson's cash-out is an example of the revolving door at its worst. ""Several people have expressed criticism of the move by Peter Roberson from the staff of the Financial Services Committee to ICE, after he worked on the legislation relevant to derivatives. I completely agree with that criticism," he said. "When Mr. Roberson was hired, it never occurred to me that he would jump so quickly from the Committee staff to an industry that was being affected by the Committee's legislation. When he called me to tell me that he was in conversations with them, I told him that I was disappointed and that I insisted that he take no further action as a member of the Committee staff. I then called the Staff Director and instructed her to remove him from the payroll and provide him only such compensation as is already owed."
Roberson's first stint on K Street, according to the federal lobbyist database, lasted from 2000 to 2006, when he lobbied for the Bond Market Association. In 2006, BMA merged with the Securities Industry Association to form the powerhouse Securities Industry and Financial Markets Association (SIFMA). Former committee staffer Michael Paese left to lobby for the same firm, before moving on to Goldman Sachs. Frank banned his staff from communicating with him for two years.
Paese and Roberson are still allowed to lobby the Senate.
"Fortunately," said Frank, "examples of staff members doing what Mr. Roberson has done are rare, but even one example is far too much and that is why I wanted to make clear I share the unhappiness of people at this, and my intention to prohibit any contact between him and members of the staff for as long as I have any control over the matter."
Popular in the Community