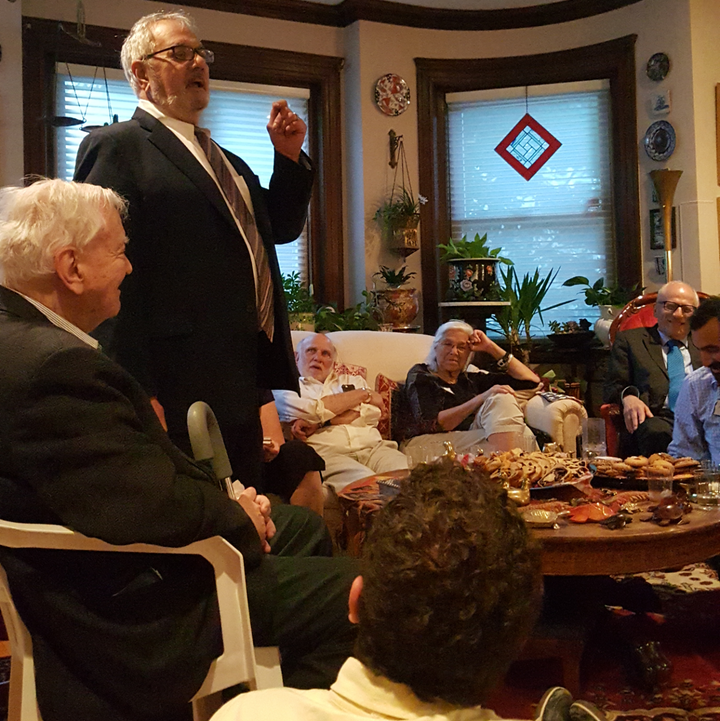 HuffPo asked the guest of honor about the Democrats' chances of recapturing the Senate. "Every two years they try to regain the majority," he replied. "This is not a story."
It was pure Barney Frank, master of the acrid and the witty, two weeks ago in Brookline, Massachusetts.
"I do still have some ambition left," he responded, after being deemed a congressional icon by David Wittenberg of the sponsoring Jewish Alliance for Law and Social Action. "These days, however, I think I have moved from an icon to an emoji."
Though he recalled former Massachusetts state senator, representative, alderman and ward boss Martin Lomasney's 1910 remark, "You never write when you can talk, you never talk when you can nod, and you never nod when you can wink," Frank returned amiably to the subject at hand.
"I think we'll see a Democratic Senate, and a substantially increased minority in the House as well," he said, "but especially in 2020, and that's a presidential year." (The Democratic Legislative Campaign Committee plans to invest $70 million in the Advantage 2020 redistricting focus initiative.)
Frank cited Democratic losses sustained in 2010, a census year. "We do better in the presidential year," he added. "They do better in the off year." He also found fault with Republican opposition to the Obama administration from the get-go, despite great collaboration between Democrats and George W. Bush in the wake of the 2008 financial crisis.
"I think it's time to get rid of them," he responded. "They are technically ex officio delegates, who serve on other committees."
"But I think the Sanders supporters have a hypersensitivity about them....They've never made a difference, and the idea of voting at conventions is highly overrated," he continued. "I've been a delegate at every convention since 1984, and never once voted."
Instead, he posited giving a multitude of delegates to those states that have primaries, instead of caucuses.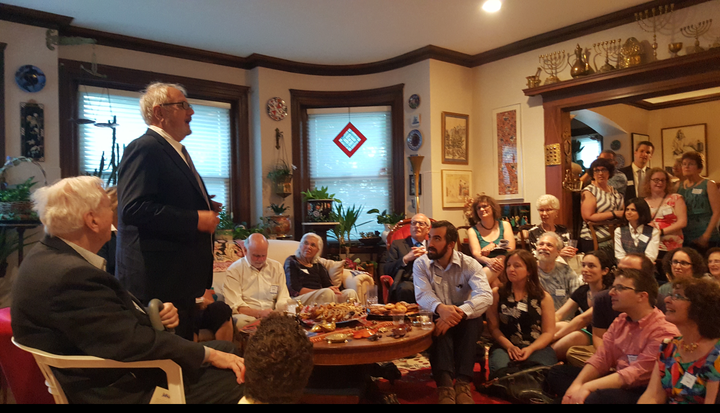 But Michael Dukakis prefers the status quo. "We created the superdelegate system for a reason," the former Massachusetts governor and Democratic nominee told HuffPo, "and nothing has changed to make me feel that we shouldn't continue it. Remember, all of these folks have been elected to public office themselves."
Dukakis is more circumspect about the Senate: "I will be very disappointed if we don't take back the Senate, but it will take work — ON THE GROUND." Why? That familiar electoral bugaboo.
"Huge sums of right-wing money that won't be going to Trump may instead be aimed at the Senate," Dukakis explained. "Only a precinct-based, grassroots campaign can beat that kind of dough."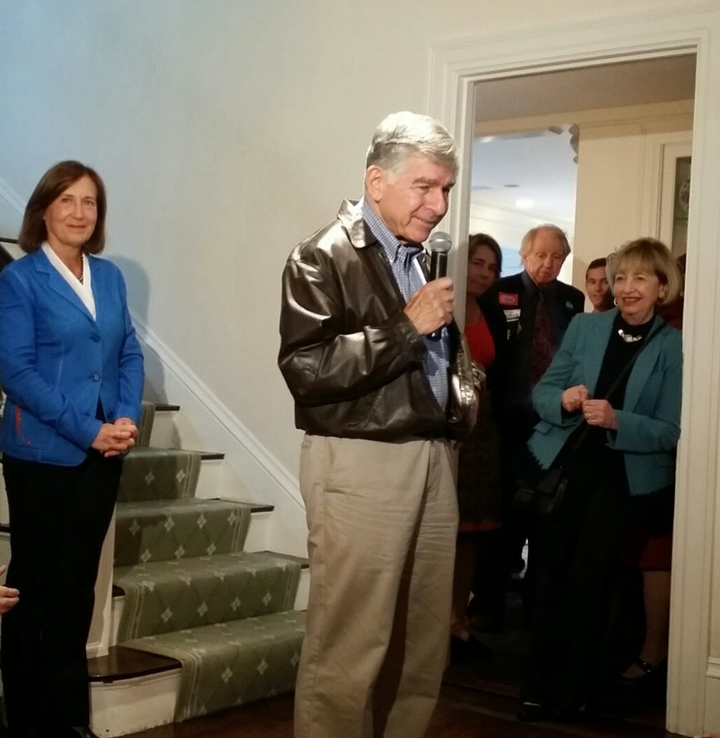 He's so concerned that he hopes Clinton's VP pick – still shrouded in mystery at press time – won't be someone he and wife Kitty campaigned hard for in 2012, Elizabeth Warren. Given the current climate, he feels Dems can't take the risk of Massachusetts governor Charlie Baker appointing a Republican to fill her Senate seat.
"People are fed up," he said. "The Senate can't seem to do anything. McConnell is a disaster. Refusing to proceed with confirmation of a first-rate appointment to the Supreme Court is inexcusable."
New Hampshire governor Maggie Hassan castigated her opponent in a pivotal Senate race that could decide its balance. "Kelly Ayotte has consistently sided with her party leadership and corporate special interest backers instead of standing up for the people of New Hampshire, including obstructing the Supreme Court confirmation process," she said in a statement sent to the Huffington Post.
Hassan sees her state's model as a potential avenue out of the morass. "We've shown that it's possible to bring people together across party lines to lay the foundation for a new generation of innovative economic growth," she said. "...[I]t is long past time for Washington to take the same approach."
Back in Brookline, Frank scanned JALSA's mixed-aged ranks. "It's nice to see so many young people here," he said, adding, "Normally, when the term 'under 40' is discussed at my appearances, it refers to a goal for attendees' waistlines."
He also called out former American Jewish Congress leaders Jonathan Fine, Herb Hershfang and Ellen Feingold, and the work they did together back in the 70s.
"He worked closely with us on affordable housing and helped to get HUD to recognize AIDS as a longterm handicap," said JALSA (and former AJCongress) Executive Director Sheila Decter. "He also supported the AJCongress position on Israel when as early as 1987, we said it was not possible to rule over one million neighboring people; Israel could end up either not being Jewish, or not being democratic."
Frank inscribed Decter into the Congressional Record of June 10, 1999, calling her "one of the great natural resources of Massachusetts," and writing, "From my days in the Massachusetts Legislature in the 70s, through my current service in the House, I have relied on Sheila Decter's wisdom, knowledge, and commitment to fairness for all people in my effort to do my job."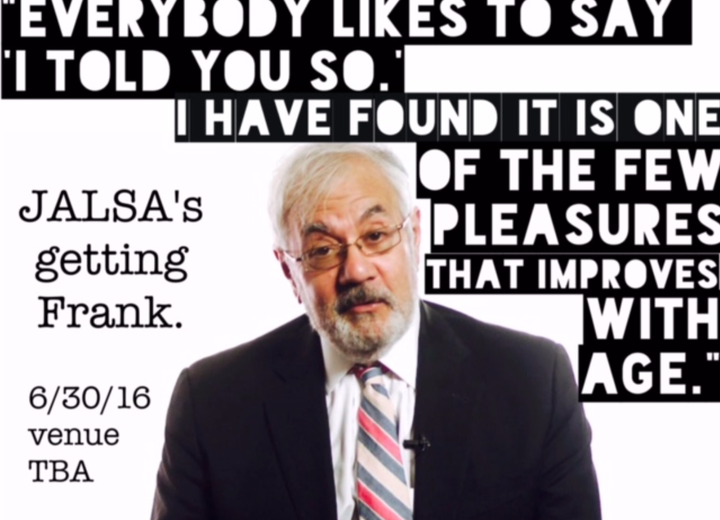 Famed Massachusetts politician Thomas "Tip" O'Neill's dictum states "All politics is local," and JALSA community organizer Hannah Klein said the organization, along with Our Public Schools, was working to defeat a fall ballot question that would lift the cap on charter schools in Massachusetts. "It could drain billions of dollars from our traditional public schools," she said.
Susie Davidson (@SusieDavidsonMA) will be live tweeting from the floor of next week's Democratic National Convention.