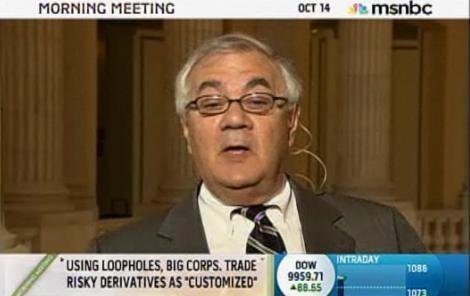 The derivatives reform draft legislation before the House Financial Services Committee, authored by Rep. Barney Frank (D-Mass.), contains significant loopholes, exempting the firms that used derivatives for the purposes of "risk management," Bloomberg News reported last week. That led to criticism from Commodity Futures Trading Commission chairman Gary Gensler, who urged the closing of those loopholes.
On today's Morning Meeting, Frank was asked about the exemptions by host Dylan Ratigan. While the exchange was testy, owing to their differing proclivities on the matter of the social niceties of answering questions on teevee, Frank suggested that he would be working to sharpen the bill with forthcoming adjustments.
Citing amendments to be adopted today, Frank said that the bill would be altered in the following ways:
--Derivative trading would be done on an exchange: "Everything they do in the derivative area will be forced onto an exchange,"
--Greater disclosure: Frank insisted that coming amendments would eliminate "hidden over-the-counter deals," and while exchange exemptions would be granted to "genuine end-users" who use derivatives to diffuse volatility, they too would have to conduct business out in the open.
--Trades must be backed: Frank told Ratigan that "trades are going to be fully backed by capital so you won't have a situation like you have with AIG where they overextended themselves and collapsed."
It's worth noting that exchanges, disclosure, and adequate capitalization were three of the four prescriptives called for by Barry Ritholtz in the wake of the original Bloomberg report. As for the fourth, which called for "state insurance commissions should have oversight and audit capability," Frank made no suggestion on improving oversight, other than insist, "I don't think the SEC and the CFTC, the two regulators, are gonna allow people to escape this."
Representative Barney Frank said his proposal to regulate the $592 trillion over-the-counter derivatives market won't give the government sweeping authority to ban "abusive swaps."

"There was concern that a broad grant to ban abusive swaps would be unsettling," Frank, chairman of the House Financial Services Committee, said today as the panel began action on his measure. Final votes on the measure were delayed until tomorrow.

Frank's original draft bill would have given the Securities and Exchange Commission and Commodity Futures Trading Commission joint authority to "prohibit transactions in any swap" that they determine "would be detrimental to the stability of a financial market or of participants in a financial market."
(Ritholtz's larger suggestion, the repeal of the Commodity Futures Modernization Act, seems to be off the table for the time being.)
Frank repeatedly urged Ratigan to discount the early drafts of the legislation entirely as having "no relevance." I think it's worth pointing out, though, that in the tortured history of taxpayer dollars being used to prop up the financial system, some of those first drafts have contained real dillies.
Calling all HuffPost superfans!
Sign up for membership to become a founding member and help shape HuffPost's next chapter