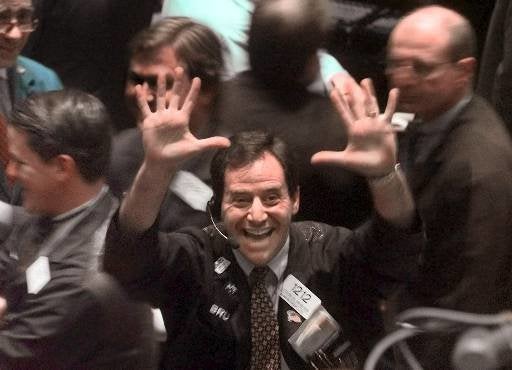 WASHINGTON -- The U.S. isn't doing enough to curtail excessive banker bonuses, Europe's top financial regulator told the Obama administration in a recently-disclosed letter.
"I think you agree with me that 'bankers' bonuses' is a matter that continues to cause public outrage," Michel Barnier, the European commissioner overseeing finance, wrote to Treasury Secretary Timothy Geithner. "Getting this matter right is key to restoring our citizens' confidence in the financial system -- and ultimately -- their confidence in the public authorities regulating the financial institutions."
Lavish compensation paid to traders and bankers during the housing-driven bubble fueled risk-taking at the nation's largest financial firms, experts have said. Those risks eventually led to the collapse of storied firms, the near-collapse of the financial system and the most punishing economic downturn since the Great Depression.
Yet bonuses were never recouped. Individual traders made off with tens of millions of dollars, and chief executives of failed firms and those rescued by taxpayers left with hundreds of millions.
To prevent further occurrences, the European Union moved to restrict cash bonuses for executives and risk-takers at banks and other financial institutions.
The U.S., however, has been loathe to do so, and is moving slowly in implementing the resulting rules enacted into law last year, charged Barnier, as the Financial Times first reported. U.S. regulators are leaving "too much latitude" to financial firms, which allows them to potentially "circumvent globally-agreed principles," Barnier wrote to Geithner.
Two years ago, leaders of the 20 leading industrialized nations agreed to curb bonus-fueled risk-taking during a summit in Pittsburgh.
But while Europe charged ahead with creating hard rules restricting specific pay packages, the U.S. approach gives bank regulators great latitude in determining what's appropriate -- a power such organizations have held since 1995.
Regulators have also lumbered along in creating rules designed to rein in risk-taking, having yet to formally implement pay rules lawmakers called for in passing the financial reform bill known as Dodd-Frank.
U.S. bank and securities regulators proposed a rule earlier this year that calls for firms to defer at least 50 percent of executive officers' annual incentive-based pay (commonly known as bonuses) for at least three years. It also seeks to prohibit pay schemes that lead to "excessive" compensation and packages that "could lead to material financial loss."
Regulators will scrutinize the overall design of those packages, rather than individual packages themselves.
But since 1995, bank regulators have had the ability to prohibit risky compensation schemes based on the premise that such packages could be an "unsafe and unsound" practice.
It's unclear whether bank overseers at the Federal Reserve, which oversaw institutions like Countrywide; the Office of the Comptroller of the Currency, which regulated banks like Citibank; and the Office of Thrift Supervision, which was responsible for AIG and Washington Mutual, ever used that authority to rein in excessive bonuses geared towards short-term profit at the expense of long-term risks.
In the new proposed rules, excessive pay won't necessarily be determined by the dollar amount.
Dodd-Frank doesn't require firms to report "the actual compensation of particular individuals as part of this requirement," regulators wrote in their proposed rule.
However, cash bonuses on Wall Street are down 39 percent since their peak in 2006, according to data compiled by New York's Office of the State Comptroller.
In Europe, banks are restricted by law when doling out cash bonuses, and as much as 60 percent of bonus payouts for "risk takers" and other senior employees must be deferred for at least three years. About half of the pay must be in the form of shares.
No such requirement exists in the U.S.
"Up front cash bonuses that are based on expected rather than actual performance are a key driver of excessive risk taking," the European Parliament argues on a page of its website devoted to explaining the new rules. "Staggering payments over time and linking them to the bank's health and actual performance should ensure that these risks are tackled."
Spokeswomen for Barnier didn't respond to emailed requests for comment. A Treasury spokeswoman declined to comment.
*************************
Calling all HuffPost superfans!
Sign up for membership to become a founding member and help shape HuffPost's next chapter