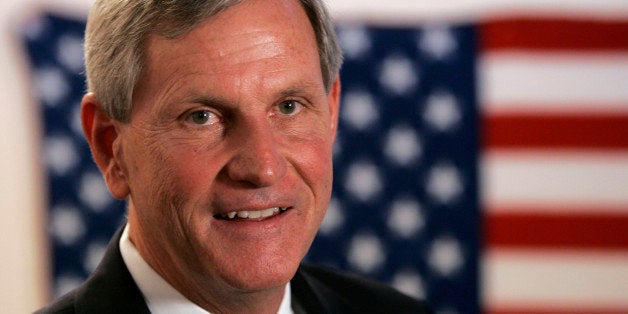 WASHINGTON -- Indiana Democratic Senate candidate Baron Hill is casting himself as a champion of lesbian, gay, bisexual and transgender rights, in an attempt to shift away from the anti-marriage equality image he had during his previous stint in Congress.
"Marriage equality is especially close to my own heart," said Hill in an email to supporters Thursday. "In 2004, I voted against the Constitutional Amendment banning marriage equality. I'm proud of Hoosiers who are fighting to make sure our friends and neighbors are guaranteed equal rights."
"And any day now," he added, "the U.S. Supreme Court will rule on whether or not the right to marry is a fundamental right for all Americans. This would be a huge and important step towards a world where acceptance is the norm."
Hill was a member of the House of Representatives from 1999 to 2005 and 2007 to 2011. During his final years in Congress, the pro-LGBT Human Rights Campaign gave him a 70 percent rating on issues of equality. He supported the repeal of Don't Ask, Don't Tell, which banned LGBT members of the military from serving openly, but he was not one of the 121 Democrats to cosponsor legislation that would have repealed the federal government's ban on same-sex marriage.
Though Hill did oppose amending the Constitution to ban same-sex marriage, he didn't exactly champion the right for same-sex couples to wed either. In fact, he campaigned against it. During his 2006 re-election campaign, Hill ran an ad in which he said that "marriage between a man and woman is sacred."
But support for same-sex marriage has become significantly more mainstream since Hill's time in office. The Democratic Party didn't even add it to its platform until 2012, the same year that President Barack Obama announced that his stance had "evolved" and he now backed marriage equality.
Hill's email to supporters Thursday reflects the national shift on marriage equality, showing that it's now an issue that even a more conservative Democrat feels safe running on.
The campaign did not return a request for comment on when Hill began supporting marriage equality but said in a statement that he had evolved on the issue over time. In addition to touting his opposition to the constitutional ban on same-sex marriage and support for DADT repeal, the campaign pointed out that he voted for the Employment Non-Discrimination Act -- which would bar workplace discrimination against LGBT people -- in 2010.
"Baron is proud to support marriage equality -- bottom line, everyone deserves equal rights," the statement read, adding, "Like many Americans, Baron's personal views have continued to evolve on this issue and he feels strongly that no Hoosier should be made to feel less equal because of who they love."
There has been some concern among Indiana Democrats that Hill might be vulnerable to a primary challenge from a candidate who is more vocal on LGBT equality, given his record.
He is currently the only Democratic candidate running for the seat being vacated by retiring Sen. Dan Coats (R-Ind.), but state Rep. Christina Hale (D), who has been more outspoken on LGBT rights, is also exploring a bid. On the Republican side, Rep. Marlin Stutzman and former Indiana GOP chair Eric Holcomb have declared campaigns.
LGBT equality has been a hot topic in Indiana since Gov. Mike Pence (R) signed a so-called religious freedom law that could have allowed businesses to deny service to same-sex couples. After significant national backlash, Pence signed a revised version of the measure.
Have a tip or story idea to share with us? Email us at scoops@huffingtonpost.com. We'll keep your identity private unless you tell us otherwise.
Want more updates from Amanda? Sign up for her newsletter, Piping Hot Truth.
Calling all HuffPost superfans!
Sign up for membership to become a founding member and help shape HuffPost's next chapter
BEFORE YOU GO
PHOTO GALLERY
10 Incredible Improvements For LGBT People Since The First State Legalized Gay Marriage