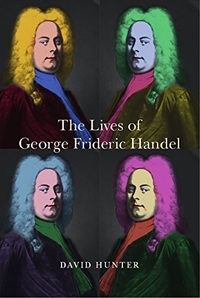 The Lives of George Frideric Handel by David Hunter. Boydell Press
In seeking to explore freely among the various biographical narratives, and in the process hopefully create a less conventional but perhaps more illuminating narrative, David Hunter, Music Librarian at the University of Texas at Austin, uses Handel's life and lives as a series of reflective cases on musical, professional and personal issues and curiosities - put altogether, it's an engrossing digression on biography.
Hunter begins with "The Audience: Three Broad Categories, Three Gross Errors," and visits numerous colorful places along the way, in a Dickensian, rolling gait. It's not a book to read all at once, and at three pounds rather heavy to lift. There are also very few illustrations or charts and I think no music examples, which means nothing to distract from the beautifully set text.
The publishers admit that to evaluate the familiar, perhaps over-familiar story of Handel's life could be seen as "a quixotic endeavor. Glad they didn't hesitate. It turns that a quixotic endeavor is just what Handel needed.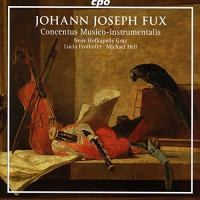 Johann Joseph Fux: Concentus Musico-Instrumentalis by Neue Hofkapelle Graz. CPO CD
Don't let the catchy title fool you: Johann Joseph Fux's Concentus musico-instrumentalis in septem partittas, ut vulgo dicimus, divisus was dedicated to Emperor Leopold I, to whom Fux was court composer. This wonderful first work survives only in a single printed copy of the original edition from 1701 - which is, unfortunately, missing some pages from the viola partbook. Luckily, Michael Hell has remedied the situation with his new reconstruction, performed here by the Neue Hofkapelle Graz, which he leads, along with Lucia Froihofer.
The Concentus consists of a grandly dimensioned Serenade in three parts, a Sinfonia à 6, four Overtures, and a *Sinfonia *in three voices. As Hell's proud, beautifully laid out liner notes describe,
"The constant alternation between the Italian and French styles or their juxtaposition and sometimes their combination runs like a red thread through the entire Concentus. Surely Fux was not interested in engaging in assiduous, one-sided imitation of Lully's style but in following an independent path. Here he is in the excellent company of Georg Muffat, who was trained in Italy and France and had a solid command of both styles. It should also be mentioned that the Concentus represents what is quite probably the very first printed music with oboes and bassoon(s) from southern German-speaking Europe."
In short, once it gets past the opening Overture in D minor, things pick up in variously bold, colorful, intimate and exotic fashion with music that is an absorbing take on the then dominant Frenchs style and energy. As the liner notes indicate, there is powerful stuff here which was part of the German tradition inherited later not just by Bach and Handel but later by Beethoven who would later combine much of both the French and German military pomp with his own splendid sounds.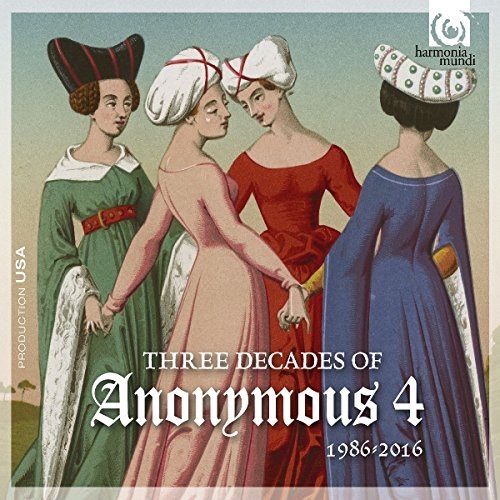 Three Decades of Anonymous 4 by Anonymous 4. Harmonida Mundi CD
Hard to believe it's been 30 years - it seems like yesterday that Anonymous 4 came along to open the ears of the music world to what early music lovers had always known: music for vocal quartet touches our hearts, entertains us and leaves us inspired.
This "farewell" CD of favorite tracks taken from Anonymous 4's 19 CDs, includes music from across multiple centuries and musical styles, which means Landini, Britten, Hildegard of Bingen, and lots of Anon. For me the central song is J.H. McNaughton's Civil War song, "The Faded Coat of Blue," so sentimental and yet so true. and while their clarity and intonation remained undiminished over time, it was the authentic feeling that lay beneath each note they sung that made them truly special.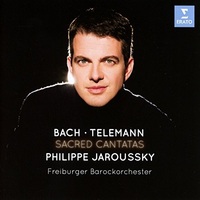 Bach and Telemann: Sacred Cantatas by Philippe Jaroussky. Warner Classics CD
Superstar countertenor Philippe Jaroussky takes on two Bach cantatas, including popular BWV 82, "Ich habe genug," and two by Telemann, the Martinu of the Baroque. Jaroussky's partners in crime are the superb Freiburger Barockorchester which had earlier joined the counter-tenor for live performances at at Berlin's Konzerthaus, where he was artist-in-residence in the 2015-16 season. In fact, the live concert marked the first time he had sung in German to a German audience. The sheer poetry of the excerpts from the concert reviews explain the excitement: "The voice of an angel" were the words of the Berliner Tagesspiegel; the Berliner Morgenpost praised the way Jaroussky's "plaintive descant glowed over the inky-black accompaniment" in the Telemann.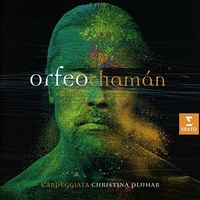 Orfeo Chaman by Christina Pluhar. Warner Classics CD
Christina Pluhar's haunting retelling of the Orpheus myth draws on a narrative of evocative, sensual Baroque music and folksongs from South America to Sicily, starring Argentinean singer-guitarist Nahuel Pennisi in the title role. It is an experience to be immersed in, not to understand. The CD is accompanied by a bonus DVD: a complete filmed performance of the staged opera at the Teatro Mayor in Bogotá.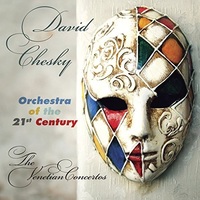 David Chesky Venetian Concertos Orchestra of the 21st Century Chesky CD
For a cheeky grand finale, I suggest David Chesky's four Venetian Concertos for strings and flute; although the title and instrumentation might suggest Vivaldi, in practice they are more like four versions of Bach's Brandenburg Concerto No. 3 in which a struggle is going on for the music's soul. The performances even have their own original instrument feel, rough, passionate and occasionally a little overwhelmed. Chesky worked according to his own set of modern concerto grosso rules: "If the Baroque style of composition continued, what would it sound like today?'
REAL LIFE. REAL NEWS. REAL VOICES.
Help us tell more of the stories that matter from voices that too often remain unheard.