The Justice Department could join legal action against states if it deems that their coronavirus-related orders, including social distancing and stay-at-home rules, go "too far," Attorney General William Barr said Tuesday.
Barr said he was wary of speaking about "hypothetical" situations, but that the Justice Department would have to intervene if governors "impinge" on civil rights or the economy.
"To the extent that governors don't and impinge on either civil rights or on the national commerce ... then we'll have to address that," the attorney general said in an interview with "The Hugh Hewitt Show."
Barr noted that stay-at-home orders were necessary, but said they were "strong measures" that had a "limited purpose of slowing down the spread."
"These are unprecedented burdens on civil liberties right now. ... The idea that you have to stay in your house is disturbingly close to house arrest," Barr said. "I'm not saying it wasn't justified. I'm not saying in some places it might still be justified. But it's very onerous, as is shutting down your livelihood."
Barr also stated that voters would provide a "much greater check" over governors and state officials than the federal government could, suggesting that state officials would have to answer to them during elections.
"The first line of defense for people is the political process in their states," Barr said.
Even as health officials have emphasized the dire need for people across the U.S. to maintain social distance to avoid another spike in COVID-19 cases, President Donald Trump has resisted enacting a federal stay-at-home order in an attempt to slow the spread, insisting that state leaders should make those decisions independently.
He has also vowed to reopen the country to reenergize the economy by forming an economic task force called the Opening the Country Council and enlisting the help of a bipartisan group of members of Congress.
Groups of right-wing protesters ― apparently emboldened by the president ― have stormed state capitols in California, Colorado, Wisconsin, Texas and Michigan in the last week in defiance of stay-at-home orders. Trump defended them on Sunday, calling them "very orderly" and claiming that some governors have taken their stay-at-home orders too far.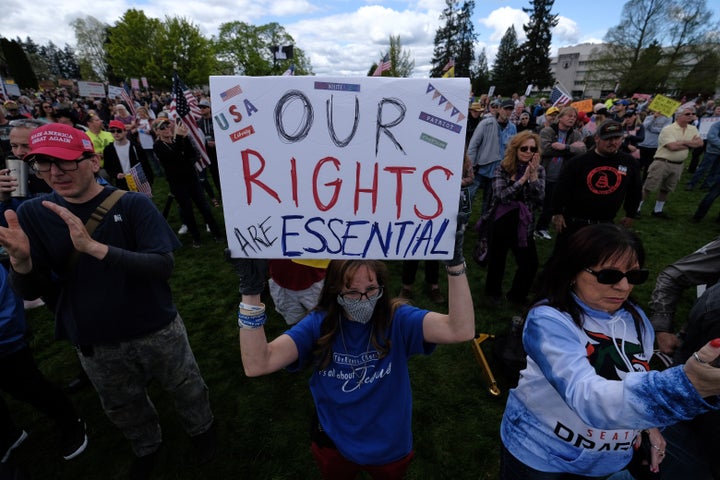 If the Justice Department determines a state has gone "too far" with its coronavirus-related orders, Barr said, it may "try to jawbone" governors into "rolling them back."
If that doesn't work, the attorney general indicated federal prosecutors could get involved with civil lawsuits. He said Justice Department would "file statement of interest and side with the plaintiffs" if a state's residents were to file civil lawsuits because of the orders.
"And at this stage, and we're at sort of a sensitive stage where we're really transitioning to starting a process of trying to get the nation back up and running, you know, I think that's the best approach," Barr said. "As lawsuits develop, as specific cases emerge in the states, we'll take a look at them."
Justice Department officials regularly file statements of interest in lawsuits that outside parties file against states or local governments, particularly in civil rights cases. Under the Trump administration, the Justice Department's Civil Rights Division has taken a special interest in religious liberty cases.
Last week, DOJ filed a statement of interest in a lawsuit that a small Mississippi church filed against the city of Greenville, which had tried to stop the church from holding drive-in church services over a low-power FM station.
In a press release issued along with DOJ's statement of interest in the Mississippi case, Barr said the U.S. Constitution "does allow some temporary restriction on our liberties that would not be tolerated in normal circumstances." However, he said, the government "may not impose special restrictions on religious activity that do not also apply to similar nonreligious activity."
A HuffPost Guide To Coronavirus
Popular in the Community