There seems to be no end in the type of news coming from Turkey: all the stories in bits and pieces insisting on a single pattern; of journalism being paralysed, forced by any means necessary to abandon its social role, in the service of the public.
A group of private security guards approached Cihan's İlhan Çulha, took his microphone and asked him to leave the hall, reportedly to prevent him from asking questions. Later, it was told, that the reporter had not asked for accreditation to cover the event.
But a quick inquiry among the other colleagues showed that there was no requirement for accreditation and none had asked for it either.
Barring journalists arbitrarily from covering the events has become only one of the ways to intimidate what remains as independent and critical media outlets.
It is now turning into a norm.
Journalists from the Zaman Media, İpek Media and Samanyolu groups were barred from entering the Prime Ministry building to attend a press briefing of Deputy Prime Minister Bülent Arınç after a Cabinet meeting on Nov. 3. They were also not allowed to attend a press briefing by Foreign Ministry Spokesman Tanju Bilgiç.
When a Zaman correspondent asked the personnel who ordered them to stop journalists, they replied that they were following the orders of 'their superiors and the state'.
Those media groups now constitute a large bulk targeted for boycott as the AKP extended its media accreditation ban on a number of outlets, including the Taraf, Sözcü, Yurt, Birgün, Evrensel, Yeni Asya and Aydınlık dailies, as well as broadcasters Halk TV, Ulusal Kanal and Hayat TV, short time ago preventing them from covering a ceremony on July 1 announcing then-Prime Minister Erdoğan's candidacy for the seat of president.
Personal attacks also continue. Recently, President Recep Tayyip Erdoğan bashed a columnist with Haberturk daily, Fatih Altaylı, saying that he needs a 'quick operation'.
These vague terms were interpreted by the journalists as a signal to have his employer to sack him.
Altaylı had in a recent article questioned in detail the huge and expensive (22 billion Euros) Istanbul, reporting that its bidders were in doubt on whether or not it would be realizable, due to geographic difficulties.
Soon after Erdoğan's statement, managing editor of Haberturk, who is a known to be a close friend of Altaylı was sacked. A columnist and a former editor, Kerem Çalışkan claimed in an article posted at a website that the sacking had to with the critical column.
Let alone standard 'muckraking' or investigative reporting, even a sheer doubt and critical views expressed have become immense risk factors for Turkey's journalists, regardless of where they stand ideologically. Latest developments show that critical media at the conservative segments as well as the secular or left-leaning ones are now soft targets; meaning the assaults against the profession gains a broader ground.
The newly launched, huge 'palace' in Ankara, to be used as the new residence for President Erdoğan, is one of the issues journalists in the conglomerate media prefer to 'pass'.
Long before its completion, the so-called 'White Palace' ('white' referring to AK, the name of the ruling party), whose value as well as it financing is surrounded by question marks, was known to the journalists based in Ankara, but none of them bothered to bring the issue up the daily agendas for coverage, since, as one of them put it to me, "we all knew that our bosses in fear would have it censored, blocked; so why endanger our position?"
The project that cost more than $500 million of taxpayers money only started to be an issue when the ugliness in the form of a palace rose, symbolizing a "new order" blended with immense allegations of corruption, greed and nepotism.
"I had no idea about it until I saw it on the front page of the New York Times," a former American diplomat told me when we met in Washington recently.
In President Erdoğan's mind, everything about the media, national or abroad, is clear:
They are part of a global conspiracy, masterminded by "forces" that want to see him gone.
Recently a large group of international media monitors were firsthand witnesses of this media-hostile mindset when they met President Erdoğan in Ankara.
"From the outset he went on the offensive, striking a combative posture and attacking media coverage as biased, intrusive and tendentious," wrote Joel Simon, executive director of the Committee to Protect Journalists (CPJ).
"The chief target of his wrath was not the local media -- although he expressed plenty of disdain for them -- but the New York Times and CNN International. He declared that he would never tolerate insults and said that he is "increasingly against the Internet." If this is how Erdoğan behaves with a group of international journalists, one can only imagine what he says in private," Simon wrote.
The consequences of what he says in private have so far been very easy to measure.
In the 12 years under Justice and Development Party (AKP) rule, the number of journalists who have lost their jobs due to their "resistance" in the name of professional values and defense of free speech is close to 2,000. This number is one of the many findings in a very comprehensive report by the main opposition Republican People's Party (CHP).
It focuses on the chief causes of the state of the collapse of Turkish media, rather than simply calculating how many journalists are in jail (the number is falling, now down to 18): "Firings, forced resignations, obligatory retirement, mobbing... hate speech, self-censorship, public humiliation, discrediting and blocking accreditation."
Since the Gezi protests, more than 980 journalists have been fired, most of whom will never be rehired.
Also, the report makes clear that only 4.5 percent of Turkey's 15,000 journalists are (allowed to be) members of trade unions.
Yet, Iin the typically nonchalant CHP manner, this report is not on the party's website, let alone translated into English or German.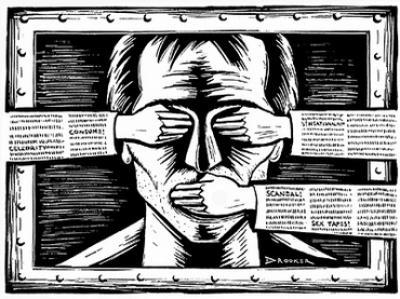 Elsewhere, the concerns grow too.
The fact that the government is responsible for issuing a press card, granting the status of an accredited journalist, and the excessively strict requirements to obtain it -- excluding categories of people who may otherwise fit the description, including young journalists, freelancers and the online media -- contribute to self-censorship.
It is mainly focuses on the past three years of the deterioration.
More than the one issued by the CHP, it focuses intensely on the elements of corruption inherent in finances and, professional pollution in terms of ideological bias in Turkish media.
"Media ownership is at the core of Turkey's freedom of press problem. The government must stop using government resources to restructure media ownership and influence their editorial positions. The government should provide a transparent and accountable public procurement system. [It] must introduce laws limiting media cross-ownership and laws banning media owners from entering government tenders," it says.
"Public reaction to repression of the media remains insignificant. One reason is that a considerable segment of the society, including the core voters of the AKP, believes that the media does need restructuring. They have little sympathy for the mainstream media, which for so long ignored and sometimes actively objected to their basic demands on the government."
"Second, the media in Turkey largely lacks investigative journalism. This often reduces opposition views to demagoguery... The media should invest more in investigative journalism and encourage professionalism," concludes the report by the Rethink Institute.
Calling all HuffPost superfans!
Sign up for membership to become a founding member and help shape HuffPost's next chapter