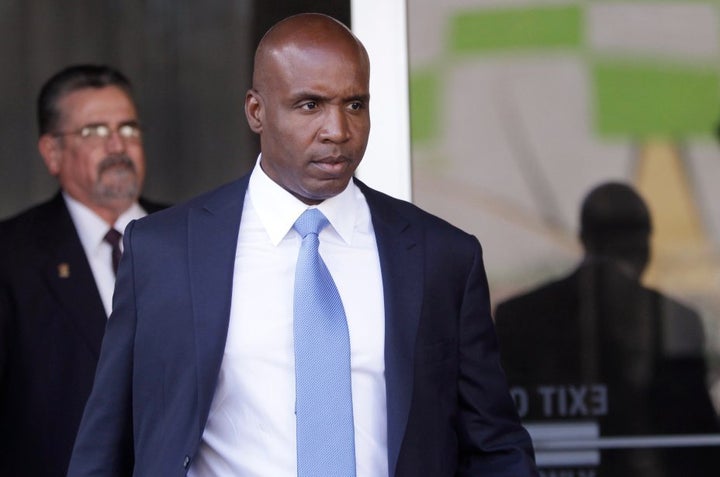 Bicycle racer Tammy Thomas lied to a grand jury about her use of steroids, then fought perjury charges in court. Convicted, she was sentenced to house arrest.
It was the same story for elite track coach Trevor Graham, who lied to a federal agent trying to unpack the BALCO steroids scandal: Found guilty, he too was put on house arrest.
Now, tomorrow in San Francisco, the same federal judge who showed mercy to those sports figures must sentence a far more famous athlete convicted of equivocating about banned drugs: Barry Bonds, the former Giants slugger and holder of baseball's career home run record.
Prosecutors want Bonds imprisoned for 15 months for dodging a grand jury's questions about his use of designer steroids from the Bay Area Laboratory Cooperative.
Up to now, Judge Susan Illston has balked at imprisoning athletes for lying about banned drugs.
If she is consistent, Bonds also will avoid prison on his conviction for obstruction of justice, said New York defense lawyer Patrick Mullin, an expert on federal sentencing issues. But by law, "she has no obligation to be consistent – (sentencing) is a case-by-case situation," he said in an interview.
Nationwide, more than half of the defendants convicted of obstruction of justice in federal court serve some prison time, Mullin said, citing U.S. Sentencing Commission data.
Peter Keane, a Golden Gate University law school professor who has followed the case, said the judge might find important differences between Bonds and the other defendants who lied about using BALCO drugs.
He called Thomas and Graham "hapless characters," neither wealthy nor powerful, whose careers were ruined by felony convictions: Graham, former coach of Marion Jones and other Olympic stars, is banned from track, and Thomas, a law school graduate, cannot get a law license.
But Bonds was the "big enchilada" of BALCO, Keane said – a multimillionaire celebrity sports star who used banned drugs to set a hallowed record and then misled a grand jury about what he had done.
"You are talking about someone intentionally throwing a monkey wrench into the gears of the criminal justice system," Keane said.
The judge might conclude that a prison term for Bonds would remind future prospective grand jury witnesses that "they are going to face some penalties" if they lie under oath, he said.
Whatever Illston decides, Bonds' sentencing marks the end of the BALCO scandal, eight years after the Giants slugger and 31 other elite athletes were summoned before a grand jury and questioned about their ties to what was then a little-known Burlingame steroid mill.
At its core, BALCO was a conspiracy to corrupt elite sports with performance-enhancing drugs that had been designed to beat drug tests.
In addition to Bonds, its famous customers included Jones, winner of three gold medals at the 2000 Olympics; NFL linebacker Bill Romanowski, a four-time Super Bowl champion; and American League Most Valuable Player Jason Giambi, the former Oakland Athletics star.
Most athletes told the grand jury the truth about their use of banned drugs. Eventually, those who didn't were prosecuted.
Bonds was indicted on perjury and obstruction charges in 2007, months after he set the home run record in his last season as a Giant. In April, after a three-week trial, he was convicted of obstruction, with the jury deadlocking on perjury charges.
The federal takedown of BALCO led to many reforms, including toughened steroid testing programs, harsher penalties for steroid dealing, and new drug education programs in schools.
But from the start, punishments for the people caught up in BALCO have not been severe.
Victor Conte, the mastermind of the BALCO drug conspiracy, pleaded guilty to steroid dealing and served four months in a federal work camp. Then-U.S. Attorney Kevin Ryan said the law didn't allow a longer sentence.
Patrick Arnold, the chemist who pleaded guilty to creating the designer steroid called "the clear," served three months.
Greg Anderson, Bonds' weight trainer, spent more than a year behind bars, but most of that was for contempt of court because he refused to testify about Bonds and steroids. His sentence for steroid dealing was three months.
Those defendants were sentenced by Judge Illston, who presided over most BALCO cases. Defendants who drew another judge have fared worse.
Jones, the Olympic superstar, was prosecuted in New York for lying to investigators about her use of BALCO steroids and for her role in an unrelated check forgery scheme. She was sentenced to six months in prison. "It's wrong to cheat and to lie about the cheating," Judge Kenneth Karas told her.
The toughest BALCO sentence was served by Troy Ellerman, lawyer for BALCO Vice President James Valente. He pleaded guilty to leaking grand jury documents to San Francisco Chronicle reporters for news stories. U.S. District Judge Jeffrey White sentenced him to 30 months.
Michael Cardoza, a Walnut Creek lawyer who represented several prosecution witnesses in the Bonds case, said the former ballplayer already has been punished severely by the damage BALCO has wrought on his reputation.
Bonds was one of the greatest baseball players of his era, but the trial showed he was a drug cheat.
That has "gravely affected his ability to get into (baseball's) Hall of Fame," Cardoza said. "I don't believe he will see the hall in his lifetime, because he used steroids to reach a lot of the records he broke. … That is the biggest punishment there could be for Barry Bonds. I believe if he could trade the hall for jail time, he would take that trade."
Lance Williams is an investigative reporter for California Watch, a project of the non-profit Center for Investigative Reporting. Find more California Watch stories here.
Related
Popular in the Community