The film, an adaptation of James Baldwin's book of the same name, depicts the love story of Tish and Fonny as their plans to establish a family and future together are interrupted when Fonny is arrested and falsely charged with rape.
On the red carpet, Jenkins described Baldwin's story to HuffPost as having "the duality of the very lush romance, but also the angriness of the protest novel."
Before filming, the prolific writer's family gave Jenkins instructions that Baldwin had left for the director who would go on to create the adaptation. The late activist had jotted down notes about how to approach the story if it ever were to become a screenplay.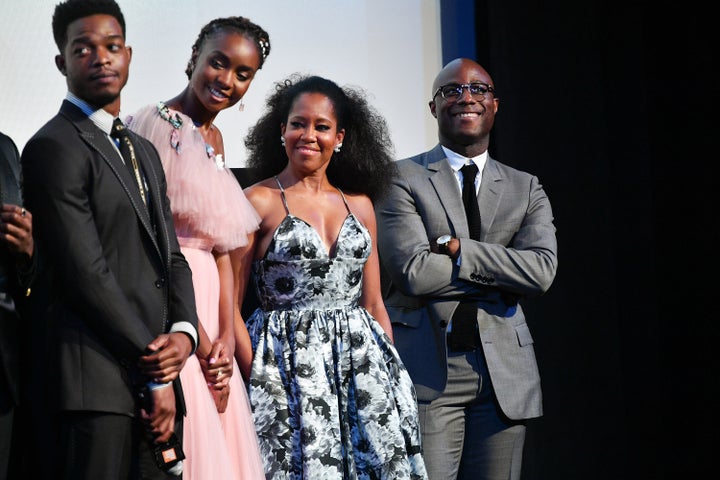 "Thankfully, I'd already finished the draft of the film before I first received it, and it was almost like a confirmation," he said, noting that he started writing in 2013. "There was certain things that he wanted to do, that I instinctually had done also in my adaptation. So, it's really moving. To be anywhere near anything that Mr. Baldwin did is an honor. And to be trusted with the material was the highest honor."
"For me, it's just about how open and honestly the characters talk, very directly to the truth of the political situation of black folks, in the time the movie is set," he told HuffPost. "But, I think in my other films, those things are a part of it. I think the act of living is a political act. The act of loving is a political act. But, in this film, those things are actually spoken out loud, in a way that we've all spoken, behind closed doors, with folks we trust. It's just, in this case, through Mr. Baldwin, we get to speak those things out loud for audiences to see."
"Beale Street," which was filmed in Harlem, stars Kiki Layne, Stephan James, Regina King, Colman Domingo and Brian Tyree Henry, all of which attended the premiere. Family members of Baldwin were also present.
"If Beale Street Could Talk" premieres nationwide Nov. 30.
REAL LIFE. REAL NEWS. REAL VOICES.
Help us tell more of the stories that matter from voices that too often remain unheard.