Paradigm Shifters is a series of interviews with a select group of women and men from eclectic walks of life. It will highlight unspoken, real life insights on how they have been able to turn weakness into strength. A naked soul point of view of how their breakdowns were really a preparation for breakthroughs. They are your quintessential Paradigm Shifters; internal shifts converted into genuine change.
Everything I have ever done has been focused on this underlying theme of shifting the paradigm because, "what we think determines what we feel and what we feel determines what we do." Hence why Empowered by You takes lingerie, which has traditionally been seen merely as a tool of seduction and redirected that energy as a tool of empowerment.
I hope from these stories you will look at your own situations, struggles and accomplishments through a different lens. At the very least you will be more equipped with real life tools to change your own paradigm. At the end of the day we are our own Alchemist turning the silver we were born with into the gold we are destined to become.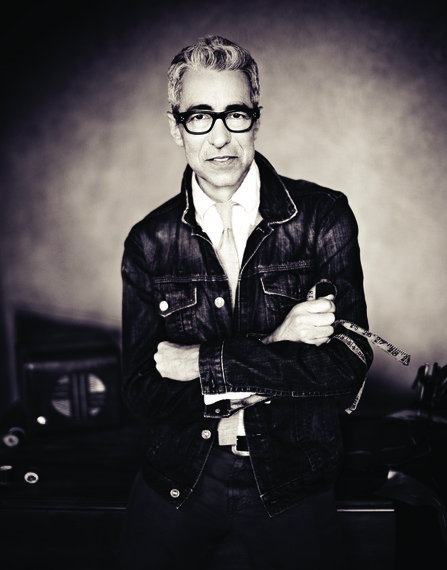 Barry Miguel - President of 7 For All Mankind
7 for All Mankind has been named the premier denim-lifestyle brand and has a loyal following. How did it get started?
There's a very rich denim history in Southern California. And so the expertise was here, but that was really a moment in time where a few people got together and said what if we made a jean with the best fabric in the world, using the best mills from Italy, Japan, and the US, and we make it in the best way? And we treat it like a designer pant and wash it and refit it until it's perfect. Designer jeans came in with Calvin Klein and then there were high designer ones, like Dolce, but there really wasn't anyone in this genre. The Fall 2000 launch of 7 For All Mankind truly created the birth of premium denim. We started with women, and eventually moved into men's. It was all about the fit, fabric, feel. Many have followed, but we have truly lasted and withstood the test of time. Our brand's point of difference was who we were and what our customer was doing and where they were wearing them. Now we wear jeans to work, but originally it was called the 'date night' jean. It's a more dressed up jean, a going out jean.
You have a wonderful family of four, with your husband David and children Zev and Summer. You married in 2009, prior to the Marriage Equality law being passed, and chose to adopt. What was the experience like for you in changing the way people viewed you and your family? How were you able to continue opening paths to love and acceptance, while persevering in an era where stigma still exists?
I have lived through what in history will be a really short time period. Between Stonewall and legalizing marriage, that is such a short time period for a complete societal change, but we have come a long way. I have helped create change just by living my life. Every time we checked into a hotel, got on an airplane, went to work, someone asked about my kids, asked about my wife; I always answered with complete honesty and took solace in the fact that I could have opened up someone's eyes to a new perspective. That was always about creating a change.
Our kids are multi-racial and adopted. There are so many kids in America that need homes. If you are open to having kids, then there are thousands of kids. But if you want a white, blonde haired, baby boy, there are not so many. I think the fear of adoption comes from too many "made for TV" movies about birth mothers coming back and trying to get the kid, but it is so rare that that would happen.
It's such a shame that people aren't educated about adoption. Why is there a need to have someone who looks and talks like you?
Not to disparage my own sex, but I think that for a lot of men the progeny thing is really important to them. People will say to me all the time "You know Zev looks just like you" Even though he is adopted the facial expressions, the walk, they're all similar. I don't see it, but they see it. The nature/nurture part is so fascinating.
Fashion has been an enormous part of your life and you've lent your talents as President to many companies, including Versace, Zegna, Marc Jacobs, and Zac Posen. What is your one quality that withstands time?
I have always loved clothes. I started working in stores in High School and I realized after college I could make money, travel, and work with clothes, and I liked that. Everything I've done has built upon itself with the help of exposure in San Francisco and a great mentor. I have had a very broad experience and I started at the top, which gave me a very good foundation. If you start at the top with designer fashion, the rest can trickle down. It was New York every 4-6 weeks, Europe four times a year. Then, to be able to be there at season 2 of Giorgio Armani, to meet Claude Montana, Sonia Rykiel; to be there at that moment in time was really impactful.

You wear many different hats. How do you keep your finger on the pulse of consumer trends?
What is common throughout is the product. All the marketing in the world, all the best store design, it doesn't matter unless you have a good product. Because otherwise it will eventually catch up with you. I am really a merchant marketer by trade and I have evolved into a strong leader and general manager. In my beginnings I was in the industry because I had a genuine love for fashion. One big shift was waking up one day and saying "OMG this is really a business." You don't really get that in Project Runway, the glamour and celebrity. Even with a designer brand, you may have those 15 minutes a year where you're on the runway. But the rest is not; it is a business at the end of the day. The good buyer is giving the customer what they want and taking them somewhere new.
How do you stay relevant to Millennials that care about the greater good?
I think if you want to stay relevant you have to bring in new people. If you're based on a boomer generation, what happens to you? They're moving out of their spending years. Now we're talking about the H.E.N.R.Y's. (High Earner Not Rich Yet) You can liken it to the 1% versus the 10-15%. The older millennials are in the HENRY's group. They care about product and quality, but they have a different filter around value. If you want to continue to be relevant, you have to think what is it about your brand that is important? What is your quality and value proposition?
I have two Z-generation kids at home and they are the next big group after millennials, and even bigger. I can understand when people say that brands are dead, but I have two Z's at home and they still care. Nike, Vans or Converse? That choice is important. They are so aware through social media. They grew up with the iPhone, so for them it's all fluid. The point is, as a brand you can't change who you are or you will lose yourself. So we need to be who we are, but it's important to understand what insights are important.
What do you feel is the biggest paradigm shift you've experienced when seeing something differently changed your life?
An Italian clothing company asked me to look at one of their sub brands and see what I could do with it, because it had gone to zero sales in the US market. I spent a couple months travelling Europe and the US and then realized, this is a dead brand. It has no relevance and especially not in the US, which should have been 30% of their sales. Contemporary women's had already begun but it hadn't yet transferred to the men's side. They were all missing the new urban, contemporary guy. So I said forget this whole thing and try this new contemporary category. And they said no, we're Italian, we don't do radical and we don't do revolution. The breakthrough was going away and saying, 'I really believe in this, so let's have evolution, not revolution. We are going to reintroduce the brand in the US, and then over 3 seasons, we'll transition the rest of the world.' Your suit is $2,000 but my suit needs to be $850. To do that, I had to make the suits in Mexico. It was still Italian fabric, management, and machinery. It became a younger, cooler contemporary brand and a nice, vibrant business for them. It was a white space for the company and a white space in the market.
What kind of legacy do you wish to leave behind?
For me having balance in your life is what is important. For me, and for the company. Do I stay at work or go to my daughter's soccer game? I could stay here, but at the end of the day, which is more important? I want to show people that they don't have to sacrifice personal life for a career. I have a wonderful husband and two amazing kids, plus an amazing career. Balancing the two hasn't always been easy, but I love my family and I love what I do. If you're passionate about something balance can be achieved. Without passion, there is no purpose.
You always create an illusion of what it is going to be like when you sit down with a legend. You might think to yourself that someone in the industry for so many years could be somewhat jaded, but my sit down with Barry was only the contrary. It was not only an unveiling of what it takes to stay true to self while making a notable career, but what it takes to honor your truth throughout your walk through life. Recreating yourself to see through that your passion converts into a viable purpose is of those things Alchemist do - turn silver into gold. Barry realized that the industry was not the glitz and glam he originally envisioned, but he quickly adjusted to make it work to fulfill his purpose. This is pretty epic. Lastly, being adopted myself, I revere people like Barry. Those who are audacious enough to stand up to the status quo in order to create a life for those who otherwise might not have had a fair start.

Calling all HuffPost superfans!
Sign up for membership to become a founding member and help shape HuffPost's next chapter