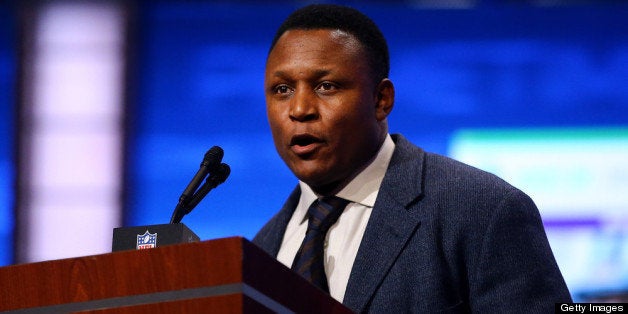 Barry Sanders is now 44 years old and hasn't played in the NFL since 1998. Yet 2013 will mark the second time he's graced the cover of the "Madden NFL" video game and, as he says, "my career has been excited and kept alive" as a result. In the course of that career, Sanders won the 1988 Heisman Trophy and was an All-Pro every single year that he was in the league. He still has plenty to say about Madden, a forthcoming documentary about his life and the role of running backs in the modern NFL offense.
I have to ask this, right? Are you somebody who plays a lot of "Madden"?
I play some "Madden," and I definitely have the game at home, you know. The boys play a little more than I do, but I certainly play it from time to time.
I'm sure you saw that Tiger Woods encouraged his Twitter followers to vote for you to appear on the cover of the game this year. Were you surprised, or did you know he was going to do that?
No, I had no idea he was going to do that, and I owe him a big thanks for that ... I've met Tiger several times, been around him, and he's always been very, very generous.
I've seen the preview for the film "Barry Sanders: A Football Life." What can we expect from that film?
I love how it came out. I lost my dad almost two years ago, but we do a great job of really getting inside my world growing up, you know, and his influence, and just a lot of the backstory of my life and people who were important to me.
As you know, the modern day NFL running back isn't used as much as he was in your day because of the spread and passing attack, but it does seem like some really great young runners are coming up. Is there anybody in whom you can see similarities to yourself?
There are some terrific young running backs, and I've always said -- even the last couple years, as you've seen that trend away from the running game -- that everything goes in cycles. Defenses had the running game figured out, and that will change and you will get some guys in there who know how to run the ball. And there's really a lot of reasons for it, even going back to little league and how the game evolves. But it's great to see a crop of runners who are showing the NFL, you know, that there is a lot to be said about a ground game. You look at what Adrian Peterson did this year, you look at [Arian] Foster, Ray Rice ... There are still some running backs who are showing people that you can still be very successful running the ball. And it's very meaningful running the ball: The top three passers did not make the playoffs this year, and the top three runners did. We can't give up on the running game just yet.
Email me at jordan.schultz@huffingtonpost.com or ask me questions about anything sports-related at @Schultz_Report.
Calling all HuffPost superfans!
Sign up for membership to become a founding member and help shape HuffPost's next chapter