Barry West, commissioner for Coffee County in Middle Tennessee, is under fire this week after posting a picture to Facebook over the weekend that claimed to offer advice on "how to wink at a Muslim."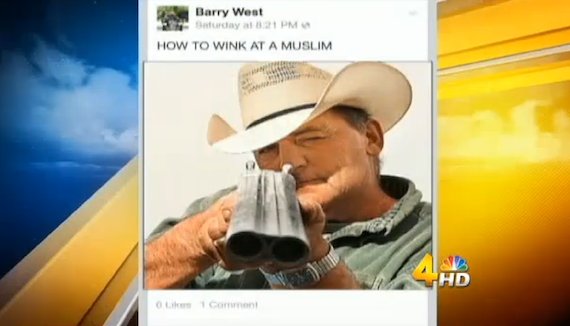 (Photo via WSMV)
The Tullahoma News first questioned West about the image on Tuesday, after a screenshot of the image was passed around on social media. He denied having anything against Muslims in particular, but claimed to be "making a point" with what he called a "humorous" image. He has since taken it down.
"I'm prejudiced against anyone who's trying to tear down this country, Muslims, Mexicans, anybody," he said. "If you come into this country illegally or harm us or take away benefits, I'm against it."
As the Tennessean reports, West's Islamophobic display came at a time when some Muslims in the state are likely on edge:
Commissioner Barry West's post follows a string of anti-Muslim acts throughout Middle Tennessee in recent years, including at least four incidents of mosque vandalism. Opposition to a new mosque in Rutherford County was so strong it took federal Justice Department intervention to open it last year.
The Islamic Center of Murfreesboro addressed their concerns in a statement.
"This does not only incite hatred but also violence against law-abiding citizens of our great country," they said. "Mr. West obviously lacks in wisdom and judgment and, therefore, cannot be trusted as commissioner. I wonder what would Mr. West's response would be if the same photo was posted by someone with a caption that says: 'How to Wink at Mr. West, a Coffee County Commissioner?'"
Tennessee's WSMV caught up with Coffee County Mayor David Pennington, who appeared to dismiss the idea of firing West.
"I seen the post," Pennington told the station. "My answer to that is, you know, what a commissioner does on his off time -- as long as he's not in a full commission meeting -- you know, I have no control over what a commissioner does."
West has meanwhile shifted his argument, telling the Tennessean that he believes he is being "singled out" for sharing the image.
"No I did not Twitter this," he said. "[N]o I did not create this picture ... yes I shared it ... so why am I being singled out?"
Before You Go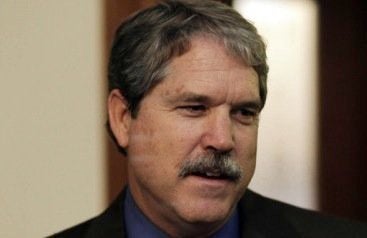 Racist Remarks Made By Politicians
Popular in the Community