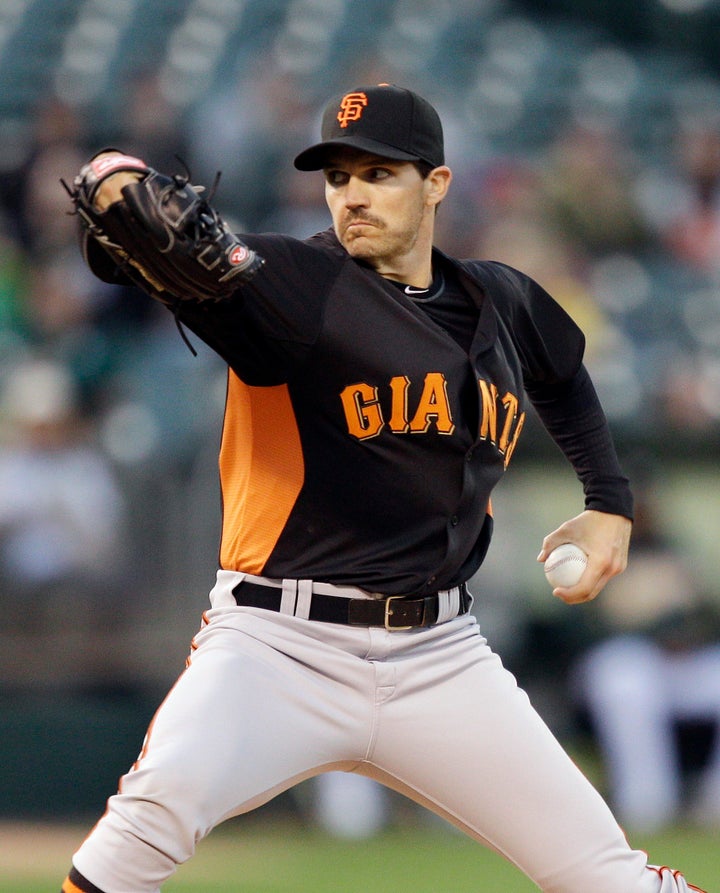 Barry Zito hasn't exactly lived up to expectations since joining San Francisco in 2006 as MLB's highest paid pitcher of all time. Zito's contract is worth $126 million through 2013, and his overall performance has been a colossal failure.
He's only had three complete games since 2006, in comparison to the four he had just in 2003. After compiling a 102-63 in 222 big-league starts with Oakland and winning the 2002 Cy Young Award, he has gone 43-61 with the Giants. Zito has been so bad for so long that both Kevin Brown and Mike Hampton -- the only other pitchers to eclipse the $100 million mark -- have essentially been forgotten. Seriously, when was the last time you heard a Mike Hampton joke? For five years, it's been all Zito.
This is precisely what makes Zito's start in 2012 so fascinating. Baseball, as we know, provides its fans with few certainties. One is that the season is really, really long. Another is that making a big deal out of a fast start is not very smart with a season as long as 162 games. In the case of Zito, though -- a three-time All-Star -- it's rather hard to avoid.
At the top of the Giants' rotation is Matt Cain and Cy Young winner Tim Lincecum -- easily one of the game's best pitching duos. Thus far, however, Zito already has more innings pitched (16) in two starts than Lincecum has in three. His miniscule 1.13 ERA and 0.69 WHIP are both stellar. Most recently, his shutout of the Rockies on only four hits and no walks at run-happy Coors Field suggests that perhaps the old Zito has returned, at least for a brief moment in time.
It's only been two starts, but the 33-year-old hurler is throwing more upright than ever before, and while his velocity is average at best, he is in prime control. Batters are hitting a mere .177 against him and slugging just .213. These numbers are not going to hold up, at least not like this, but with Zito's habitual batting-practice mound habits, they are hard to ignore.
To be clear, Zito has in the past shown glimpses of his old self with San Francisco.
During the Giants' championship season of 2010, he boasted a sub-3.00 ERA as late as June 1, and the year before he maintained a 1.93 ERA for the entire month of August. But as Pac Bell dwellers (sorry, AT&T Park) can attest to, the lanky lefty was never able to sustain such success for any extended period of time.
When the club signed him to that mega-deal back in '06, it had hoped Zito would become the face of the franchise as the perennial Cy Young candidate he was across the bay. Barry Bonds is long gone, and while Cain and Lincecum have assumed such a role, Zito continues to pitch every fifth day, reminding fans with his occasional sickly 12-6 curveball that he still has something left in the tank.
His velocity is never going to be in the mid 90s like it once was, but most pitchers -- see Lincecum -- aren't able to sustain the same life on the fastball as their arms begin to break down. The Giants themselves are far from an offensive juggernaut. Similar to the title team, this club will rely heavily on elite starting pitching. Without All-Star closer Brian Wilson, who will undergo Tommy John surgery and miss the whole season, the importance of another plus-starter is only amplified. Zito's career in San Francisco has been a catastrophe, but baseball works in mysterious ways, and Zito has been given an incredible opportunity to help rectify the past five years.
He won't ever get a better chance.
Email me at jordan.schultz@huffingtonpost.com or ask me questions about anything sports-related @206Child.
Plus, check out my new HuffPost sports blog, The Schultz Report, for a fresh and daily outlook on all things sports and listen to my radio spot on 1280 The Zone Friday nights at 6:10.
REAL LIFE. REAL NEWS. REAL VOICES.
Help us tell more of the stories that matter from voices that too often remain unheard.