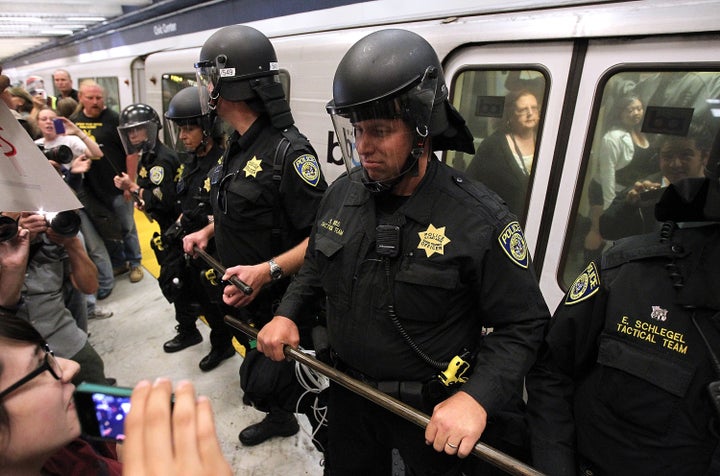 The Egyptian activists are calling it "muBARTak."
When authorities from Bay Area Rapid Transit decided, last week, to cut off cell phone service in their stations in order to prevent a protest against transportation police abuses, it drew the notice of more than just San Francisco radicals and Anonymous.
In the Middle East, where a handful of burgeoning democracies are struggling to cast off decades of autocratic rule, the cell phone blockage seemed to be part of a disturbing trend -- and eerily reminiscent of local protest experiences.
Mostafa Hussein, an Egyptian blogger who prominently used Twitter as part of the revolution there, said the BART practice reminded him of the events of January 25, when the regime shut off mobile networks only in the area around Tahrir Square a few short weeks before Mubarak fell.
"What they did was actually exactly like January 25," Hussein said. "On the night of the protests, around 7 or 8 p.m., this happened, and they also blocked twitter. But three days later they switched off mobile systems in [the] entire country. Definitely there's a difference because the Bay Area Rapid Transit doesn't control communications for the whole city ... but it's a slippery slope."
But the move also comes on the heels of another prominent attempt to blame social media and unmitigated information networks for playing a role in the rioting and social unrest in London.
"Everyone watching these horrific actions will be stuck by how they were organized via social media," Cameron said in a speech before Parliament. "Free flow of information can be used for good. But it can also be used for ill, and when people are using social media for violence we need to stop them."
Global democracy advocates say that when Western governments block, or threaten to block, the free exchange of information -- even in the name of maintaining law and order -- it undermines attempts to challenge similar actions by third-world regimes.
"It totally demolishes any Western ability to criticize blocks and shutdowns as a general principle in other countries," said Danny O'Brien, the Internet advocacy coordinator for the Committee to Protect Journalists. "It makes my job a lot harder when trying to argue with these governments they shouldn't do these things. It sends a really bad signal."
Hossam el-Hamalawy, one of the leading organizers of the protest movement that brought down Egyptian dictator Hosni Mubarak, agrees.
"It makes my job so much harder when politicians even slightly consider moving the lines on what's acceptable and what isn't -- it makes it very hard to answer accusations of hypocrisy," he said. "Protests, or attempts to control protests, are always framed as public safety issues. There are very few countries in the world where they say, 'Oh yeah, we're trying to shut down free speech here.'"
"Learning a hard lesson from bitter experience, the British government eventually recognized that a balance needs to be struck between freedom and the monitoring of social media tools," the editorial noted.
"In fact [the Chinese] did have a pretty good point," Hussein said. "If you can't handle free communication in your country, stop telling us to handle it your way."
Calling all HuffPost superfans!
Sign up for membership to become a founding member and help shape HuffPost's next chapter