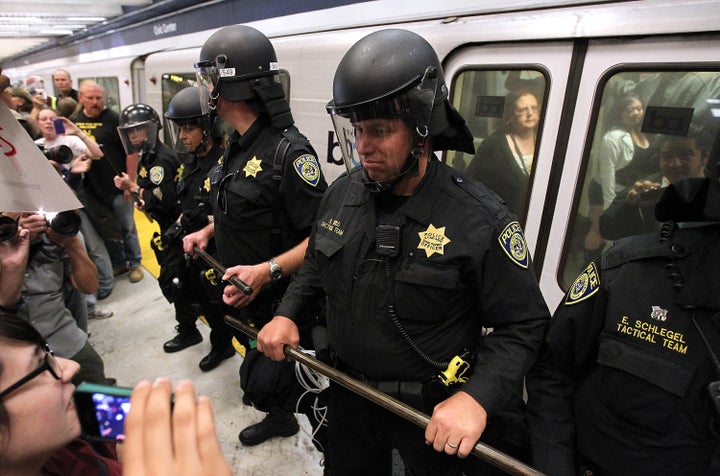 Between 25 and 30 people, including several members of the KTVU news crew, were arrested at Powell Street BART station on Thursday evening during a protest.
Protesters blocked the fare gates of the Powell Street BART station, forcing riders to use the emergency exit lane, in an effort to keep riders from paying BART fares. BART officials then closed the station from 5:35 to 7:30pm.
BART police arrested the demonstrators, citing section 369 I of the penal code -- interfering with the safe operation of a railroad. In the process, several journalists were also arrested.
BART officials released an on-the-scene video interview with BART Deputy Chief Dan Hartwig regarding the arrests. When asked about the members of the media, Hartwig explained that officers asked everyone in the area to leave the station. Those who did not leave the station -- including members of the media -- were arrested.
Thursday's protest marks the sixth BART protest in two months. Demonstrators have been protesting alleged police brutality, marked by the July shooting of Charles Hill, and an alleged impediment of free speech, marked by a BART-orchestrated cell phone service shutdown in an effort to avert an earlier protest.
UPDATE (10:36pm PST): According to "No Justice for BART" spokeswoman Callie Maidhof, protesters didn't block the actual gates: "The BART protesters never actually blocked any of the fare gates," she told The Huffington Post. "The police arrested everyone when there was only shouting."
Watch the video interview with Deputy Chief Hartwig below:
Related
Popular in the Community