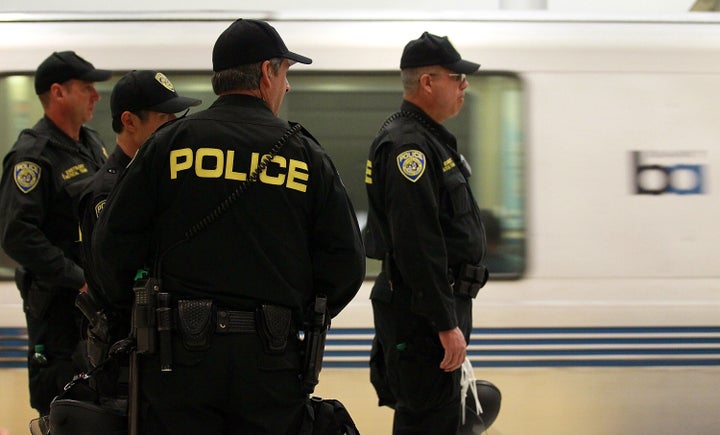 Commuters, it might be time to buy a bike.
(SCROLL DOWN FOR LIVE BLOG)
Infamous hacker group 'Anonymous,' responsible for last week's BART protests that shuttered downtown stations during rush hour, has organized another demonstration slated for 5 p.m. Monday outside the Civic Center station. A Twitter feed affiliated with the anti-BART movement has been tweeting threats ("We come in peace and stand up for what's right. Expect Us!") and tips ("If the cops get violent, film, don't fight") throughout the day in preparation. BART officials warned that they may need to close down area stations yet again if the activity gets out of hand, a move that would create a repeat nightmare for commuters.
It's been a rocky couple months for the transit agency, which first faced an uproar of opposition after BART police fatally shot a homeless man in July. Revelations that BART executives deliberately suspended cell phone service in an effort to quell a planned protest of the shooting has sparked further backlash. Civil liberties advocates like the ACLU have publicly condemned BART's actions, while 'Anonymous' and other hackers have launched cyberattacks against BART's online properties. According to 'Anonymous,' the physical protests will continue until BART admits wrongdoing.
Meanwhile, BART officials maintain that they did nothing wrong in cutting off cell phone service in their stations, citing a need to protect commuters against "serious and imminent" safety threats in an open letter to passengers issued over the weekend:
Early in the week of August 8, the BART Police Department received credible information that individuals were planning a surprise demonstration against BART police shootings at specific BART station platforms on August 11. On August 10, BART Police obtained further information regarding the individuals' plans for color-coded teams to conduct lawless activity on the platforms. The additional information disclosed detailed organizational coordination among multiple "affinity groups" in addition to the organization that had sponsored the July 11 disruption.

The August 10 intelligence revealed that the individuals would be giving and receiving instructions to coordinate their activities via cell phone after their arrival on the train platforms at more than one station. Individuals were instructed to text the location of police officers so that the organizers would be aware of officer locations and response times. The overall information about the planned protest led BART to conclude that the planned action constituted a serious and imminent threat to the safety of BART passengers and personnel and the safe operation of the BART system, at a level that could far exceed the protest of July 11.

Based on that assessment, BART decided to interrupt cell phone service at targeted portions of its system for up to 4 hours, beginning at 4:00 p.m., the time that the individuals were scheduled to assemble. BART notified the affected cellular service providers shortly before it implemented the temporary interruption. Service was turned back on at 7 p.m., earlier than planned, when safety concerns abated.
Popular in the Community