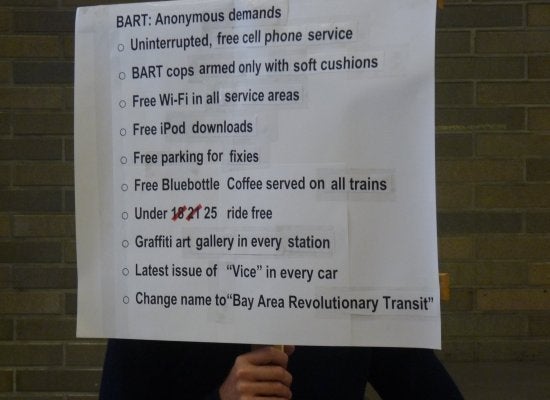 On Tuesday morning, in the wake of Monday night's rowdy BART protest, infamous hacker group "Anonymous" announced that the organization would be protesting, yet again, at the Civic Center BART station next Monday evening.
In a post on the group's Tumblr page, Anonymous promised to continue protesting. The group wrote: "We have proven that we stand by what we believe. […] We have stated and will keep our promise of a protest EVERY week until our demands our met."
Anonymous's demands are as follows:
1. Fire Linton Johnson and BART Chief Kenton Rainey
2. Mandate new training for all BART officers.
3. Publicly apologize to the people or shutting down cell service.
4. Take the guns away from the BART police.
5. Reopen the investigation to the killing of Charles Hill.
The post concludes with a classic Anonymous signoff: "We are Anonymous, we are legion, we never forgive, we never forget, expect us."
On a slightly amusing side note, at Monday night's protest, HuffPost Assistant Editor Aaron Sankin discovered an anti-protester with list of satirical demands hiding near the Anonymous protestors. The demands read as follows:
1. Uninterrupted, free cell phone service
2. BART cops armed only with soft cushions
3. Free Wi-Fi in all service areas
4. Free iPod downloads
5. Free parking for fixies
6. Free Blue Bottle coffee served on all trains
7. Under 18 21 25
8. Graffiti art gallery in every station
9. Latest issue of "Vice" in every car
10. Change name to "Bay Area Revolutionary Transit"
REAL LIFE. REAL NEWS. REAL VOICES.
Help us tell more of the stories that matter from voices that too often remain unheard.