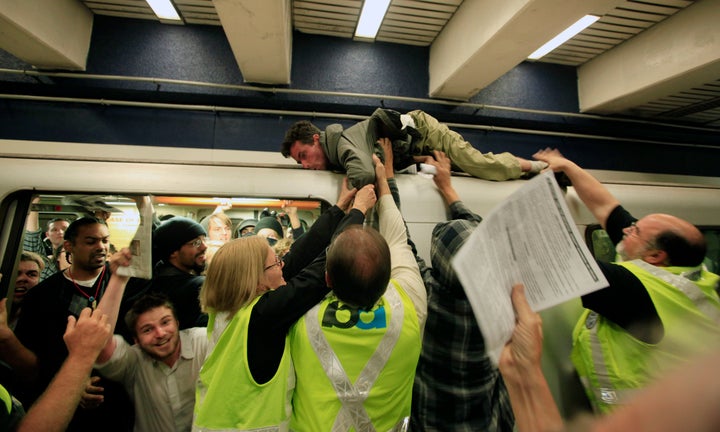 The footage of the Civic Center BART shooting of Charles Hill has been released.
(SCROLL DOWN FOR VIDEO - GRAPHIC CONTENT)
On July 3, BART police shot and killed Hill, a 45-year-old homeless man. According to BART police, Hill threw a bottle of vodka at the officers and came after them with a knife. The officers then shot Hill to his death on the platform. On July 11, a raucous protest over the shooting disrupted service at the Civic Center station.
The video still leaves plenty of questions to be answered (Hill is not shown anywhere, for example), but BART has drawn a handy blue circle around an object that flies into the shot which the audience can assume is supposed to be the knife.
According to KQED, the July 3 shooting was caught on video, but BART refused to release the footage until the witness interview process was completed. The video has now been released, accompanied by the following announcement:
At 3:00 pm, BART Interim General Manager Sherwood Wakeman, Police Chief Kenton Rainey and Independent Police Auditor Mark P. Smith will release the Civic Center Station platform security camera video of the July 3 officer involved shooting.

The video is being released today with the cooperation of the San Francisco Police Department, which has completed its interview of witnesses and has stated that sharing the video with the public will no longer interfere with its investigation. BART had said it would not release the video until the San Francisco District Attorney's Office received a copy, but is releasing it today in the interest of providing the public with information about the case as soon as possible and since it will not interfere with the SFPD investigation.
Watch the video on below (warning: graphic content):
Popular in the Community