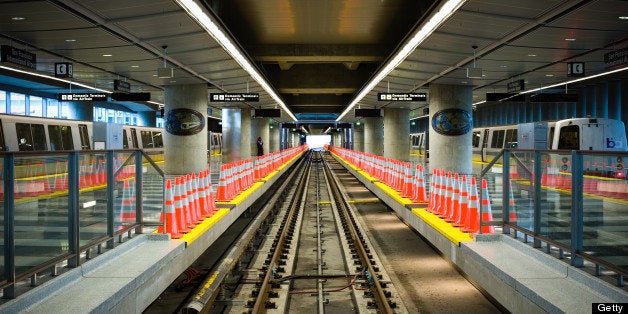 As negotiations between BART management and the unions representing nearly 3,000 employees grow more contentious, a strike that could leave the transit system's 400,000 daily riders stranded seems nearly inevitable.
Management, on the other hand, is pushing to shift an increasing portion of healthcare and retirement costs onto employees in a stated effort to divert funds into overhauling its fleet of traincars, which is one of the oldest in the nation.
Union rank-and-file are set to vote on Tuesday whether to allow leadership to call a strike. An affirmative vote seems relatively likely, considering the unions filed a lawsuit in Alameda County court on Monday charging that BART management was not bargaining in good faith.
"It's difficult to negotiate improvements with politicians who won't even admit the most obvious problems," Antonette Bryant, president of Amalgamated Transit Union, Local 1555, told SF Weekly. "First they tried to create a phony budget crisis to justify increased fares for riders and wage cuts for workers, and now they're ignoring a mounting wave of violence against workers and riders. All we want is a fair wage and a safe workplace--that's not too much to ask."
BART spokesperson Alicia Trost immediately sent out a statement condemning the lawsuit and insisting that the agency is seeking a sustainable and fair contract.
"We have drawn no line in the sand and have already made concessions and compromises. We suggest our unions stop diverting attention from the real issues of increasing pension and medical costs and join us at the table for a thoughtful conversation about how best to invest in our employees and our system," said Trost. "These ploys are a smoke screen for the fact union leaders are refusing to bring our contracts in line with what is normal for the Bay Area and the transit industry. Employees need to begin paying a share of their pension plan and more than what they currently pay for healthcare--only $92 a month."
State mediators have been called to help the two sides come to an agreement.
Earlier this month, Bryant briefly broke off talks demanding management seriously address concerns that many BART employees have about their personal safety--an issue recently thrust into the national spotlight when a video of a naked man assaulting passengers at San Francisco's 16th Street station went viral.
"For years, we have been alerting BART and its Board of Directors that our Station Agents are facing assaults and other violent attacks at work, where they often work alone at night, even in stations where BART knows that hundreds of serious crimes are committed each year," wrote Bryant in an open letter to the opposing negotiators. "BART police statistics show that just in the past three years, 2,446 serious crimes took place in just five stations."
The union has asked for the installation of bulletproof glass in transit station booths and for station agents to be able to work in pairs when pulling overnight shifts in high crime areas.
Metropolitan Transportation Commission spokesperson John Goodwin told CBS San Francisco that the region's other public transit systems--such as Muni, Samtrans and AC Transit--are already operating at near capacity and would be unable to cope with the additional load triggered by a BART closure.
"Make no mistake, the loss of BART service would be regional transit emergency," Goodwin explained. BART reached an all-time high for overall ridership over the past year. "The impact is going to be widely felt all around the region, whether you ride BART or not."
While a BART strike was threatened in 2009, the last time labor unrest actually exploded into a work stoppage was in in 1997, when a nearly week-long strike triggered massive traffic jams across the Bay Area.
REAL LIFE. REAL NEWS. REAL VOICES.
Help us tell more of the stories that matter from voices that too often remain unheard.
BEFORE YOU GO
PHOTO GALLERY
BART Idiot Hall Of Fame