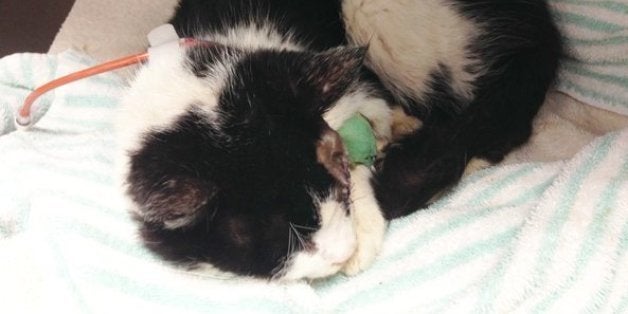 "I met with the owner for about 40 minutes," Sherry Silk, executive director of the Humane Society of Tampa Bay, told The Huffington Post. "I told him at that time some things had come to light that I was really uncomfortable with."
Ellis Wayne Hutson, Bart's owner, told ABC News this week his pet was hit by a car a couple of weeks ago. Hutson said he was sure the animal was dead and enlisted his neighbor to bury the cat near his home. However, Bart returned -- severely injured and covered in dirt -- five days later.
Humane Society workers posted Bart's story on the organization's blog, calling him the "miracle cat." But now, Silk told HuffPost that the team is suspicious of some of the circumstances surrounding Bart's injuries and Hutson's story about them. They don't want to return the cat, she said.
Hutson told ABC Action News that he wants the cat back.
"If we have to go to court, we have to go to court," he told the outlet. "I haven't done anything wrong, and I don't think it's right to take my cat."
Dusty Albritton, who the Tampa Bay Times reports is Hutson's neighbor, set up a GoFundMe page on Jan. 23 for the cat's medical expenses. As of Saturday, it had raised over $7,000. An update posted Saturday afternoon and signed as coming from both Albritton and Hutson accuses Silk of not telling the truth about the situation.
The update also noted that the account was initially set up "solely for Bart," but that they did not expect so much money to pour in. It said funds will be donated to emergency veterinary services "in Bart's name."
Albritton did not immediately return a request for comment Saturday, and attempts to reach Hutson were unsuccessful.
The Humane Society website notes that it is not affiliated with the GoFundMe campaign, and as of Friday had received no funds from the account. The site also states that Bart's medical expenses have already been covered by the organization's emergency medical fund.
In a YouTube video that appears to show Bart and is posted to an account listed under the name "Dusty Salas," a voice is heard saying, "He might not have been dead. 'Cause when I found him … he was moving and stuff." A Facebook page under the name "Dusty Albritton" has linked to the YouTube account repeatedly.
Silk told HuffPost she does not believe Hutson will be able to provide a home environment suitable for Bart's fragile state of health, and expressed concerns that Bart will not be kept indoors.
"I just don't want [Bart] to go there," Silk said. "If it's a legal issue, and it could be, we may very well lose. But we're going to fight to do what we think is right for this cat."
Silk says she hopes that Hutson will ultimately surrender Bart to the Humane Society so they can find him a home more suited to his situation. While not everyone is equipped to care for a special-needs cat, Silk said she urges those who are moved by Bart's story to adopt another shelter cat in his honor.
UPDATE 2-2-2015: Dusty Albritton told The Huffington Post that she will be returning money from the GoFundMe account to those who ask. She said if Bart returns home, the money remaining in the account will go to his long-term medical care, but if he is not able to return home, the money will be donated to Frankie's Friends and Tampa Bay Veterinary Emergency Service.
Albritton also confirmed that the YouTube video of Bart was posted by her. She told HuffPost that the woman who said Bart was "moving" was mistaken because she was "in shock" when she first saw him in the road. Albritton clarified that they call Bart "Markie" in the video because Markie is a nickname for the cat.
UPDATE 2-3-2015: Silk told The Huffington Post that she believes those who buried Bart "knew he was breathing" when they did so. Read more here.
Calling all HuffPost superfans!
Sign up for membership to become a founding member and help shape HuffPost's next chapter