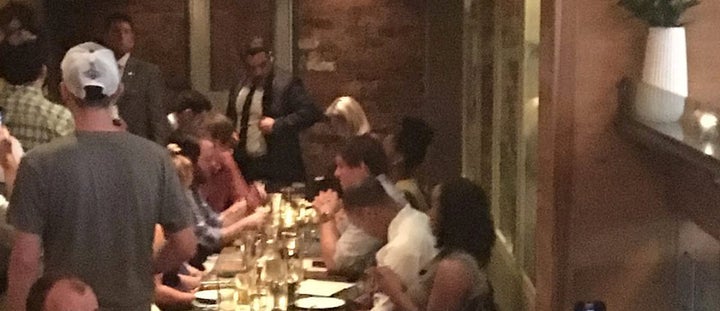 WASHINGTON ― It was about a week before the 2016 election, and Tommy Ewing-Brown had several angry Donald Trump supporters on the other side of the bar where he worked with their cellphone cameras pointed at him.
"So you're not going to let us come in here and have a drink because you don't like Trump?" one of them said.
"Yes," Ewing-Brown told them. "I don't like racist bigots."
The scene foreshadowed the heckling several Trump administration officials received in D.C. restaurants this week. Department of Homeland Security Secretary Kirstjen Nielsen's dinner at a Mexican restaurant was ruined when a group of protesters stormed the restaurant, yelling about her agency's policy of separating migrant children from their parents. And someone reportedly called White House adviser Stephen Miller a "fascist" at another Mexican restaurant two nights earlier, though there's not much detail confirming it.
The situation reminded me of my old colleague Ewing-Brown, with whom I worked at a Capitol Hill bar in 2006. As the protests against the Trump administration turn personal, invading the social spaces of D.C. where a detente had typically been observed, more service workers may find themselves in the position Ewing-Brown was in on that Saturday afternoon in October 2016: risking his job over a small act of conscience.
Ewing-Brown, a 40-year-old native of Belfast who's lived in the U.S. for nearly 20 years, admits that he was confrontational with his Trump-supporting patrons as soon as they approached the bar ― "opening my fat mouth," as he put it. They had on "Make America Great Again" hats, and one wore a T-shirt that said "Killary" with a ghoulish photo of Democratic candidate Hillary Clinton. 
What happened next was captured in a video posted on Twitter by Joe Biggs and promoted by Jack Posobiec, influential Trump boosters who have appeared on InfoWars and peddled the PizzaGate conspiracy theory. They'd spent the afternoon staging a rally near the White House before Biggs and several others made their way to Maddy's Taproom. When they complained about Ewing-Brown's service, he told them they were being aggressive and that he was done with them. But they weren't done with him.
"We just want to get you on camera and post you all over Facebook," one of them said. "Because you just said you wouldn't let us have a drink in here because we're Trump supporters."
At this point, Ewing-Brown appeared uncomfortable.
"I was just joking until you guys started getting ― being assholes," he said.
One of them asked for a Heineken, which Ewing-Brown said they didn't carry. Another guy requested a Miller Lite. Then the video ends.
Here's what happened next, not caught on video: Ewing-Brown bought them a round of Miller Lites and thought he had smoothed things over, at least a bit. Biggs told HuffPost the confrontational atmosphere didn't entirely dissipate.
Meanwhile, the retweets were piling up. And then, at 5:17 p.m., Posobiec tweeted: "Update: Bartender just got fired." (To date, the video has more than 3,200 retweets.) 
Ewing-Brown and Biggs both said the manager arrived and swiftly fired Ewing-Brown. "He walked in and said, 'Get out. You're fired,'" Ewing-Brown said.
Biggs said nobody in his group had asked the bar manager to fire Ewing-Brown and that he felt sort of bad someone lost his job, apparently because of the video he'd put on Twitter. Not that he thought it was appropriate bartender behavior: "I'm sorry that he felt that that's the way he needed to be."
The federal Civil Rights Act protects people from discrimination based on race, color, sex, class and religion, but not political views. A Manhattan Supreme Court judge threw out the case of a Trump supporter who sued a New York bar for not serving him in January 2017, on the grounds that political beliefs aren't protected under the state's laws. The D.C. Human Rights Act, however, does protect people from discrimination based on their political views.  
"You could get sued for refusing to provide service on that basis," Tom Spiggle, owner of an employment law firm that sometimes represents workers suing under the city's law. Spiggle said it's not clear if Ewing-Brown would have a case for being fired for refusing to serve someone due to his own political views, however, but he wasn't aware of any cases that had tested that question.
After three months of unemployment, Ewing-Brown said he got a job at the Capitol Hill Club, a swanky Republican hangout near the Capitol. He has since left that position and now works part time at another downtown Washington restaurant.
Though he wishes he hadn't gotten fired, Ewing-Brown doesn't regret what he said. "I genuinely believe I did the right thing."
Calling all HuffPost superfans!
Sign up for membership to become a founding member and help shape HuffPost's next chapter