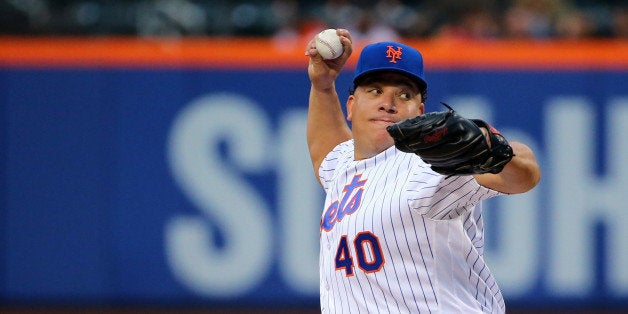 Congratulations Bartolo Colón, the Dominican pitcher who is proving that age does not matter.
42 years old and Bartolo Colón continues to be like that energizer bunny, he just keeps "going and going."
On Monday May 2, Bartolo pitched eight shutout innings in a 4-1 win over the Atlanta Braves at Citi-Field before a hometown crowd to record his 220th career win surpassing Pedro Martínez as the second most wins for a Dominican pitcher (*guess who is the #1 Dominican pitcher).
Baseball players, like most other professional athletes have a short retirement age and as a result there are very few over 40-year olds in the game. In fact, there are only 6 players (Bartolo, Suzuki, R.A. Dickey 41, Koji Uehara 41, Alex Rodríguez 40, and David Ortiz 40) Bartolo is the oldest of them all. He beats out Ichiro Suzuki also 42, but born October 22, while Bartolo was born May 24 when he will be celebrating his 43rd Bday.
Bartolo' success as a pitcher has come from his ability to reinvent his pitching to his present skills, that of a 42 year old. As a result, he has developed a variation of three fastballs - a sinker, cutter and straight four seamer that are enough to keep him in the game like it did last night against the Braves.
Bartolo won the 2005 Cy Young Award and has appeared in three All Star Games (1998, 2005, 2013). He also won the prestigious LatinoMVP Award for the best comeback player of the 2013 season
*Name the Dominican pitcher with the most wins in the comments section below.
REAL LIFE. REAL NEWS. REAL VOICES.
Help us tell more of the stories that matter from voices that too often remain unheard.