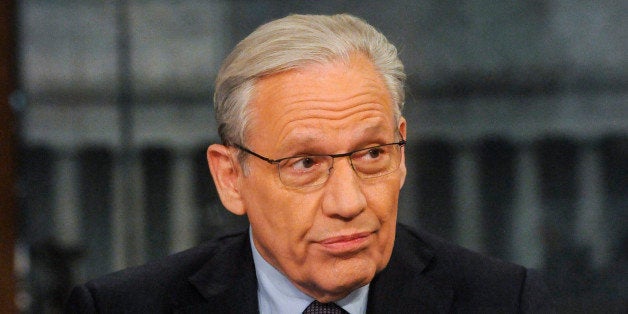 NEW YORK -- Barton Gellman fired back Thursday at Washington Post colleague Bob Woodward over Woodward's remarks that former National Security Agency contractor Edward Snowden should have come to him first with documents "instead of others, particularly The Guardian." Woodward also said he doesn't consider Snowden a hero.
Gellman has led The Washington Post's recent coverage of the National Security Agency, with Snowden as his source.
"I can't explain why Bob would insult the source who brought us this extraordinary story or the exemplary work of his colleagues in pursuing it," Gellman said in an email to HuffPost Thursday.
"The 'others' he dismissed include [The Washington Post's] Greg Miller, Julie Tate, Carol Leonnig, Ellen Nakashima, Craig Whitlock, Craig Timberg, Steven Rich and Ashkan Soltani -- all of whom are building on the Snowden archive with me to land scoop after scoop," Gellman continued. "I won't get into why Snowden came to me or didn't come to Bob. But the idea of keeping Snowden anonymous, or of waiting for one 'coherent' story, suggests that Bob does not understand my source or the world he lived in."
In an interview with Larry King posted to Hulu on Wednesday, Woodward said Snowden should have come to him first, and explained how he would have handled the story differently. "I would have said to him, 'Let's not reveal who you are. Let's make you a protected source and give me time with this data and let's sort it out and present it in a coherent way,'" said Woodward, who is an associate editor at the Post.
He added: "I think that people are confused about whether it's illegal, whether it's bad, whether it's bad policy."
It's one thing for Woodward to take a shot at The Guardian, which has extensively covered the surveillance story since June. They're a competitor. But Woodward's remarks were striking considering that the Post has also aggressively reported on the NSA documents from the beginning, with Gellman one of the three journalists who communicated early on with Snowden. (Snowden also provided documents to Glenn Greenwald, formerly of The Guardian, and filmmaker Laura Poitras).
Gellman, who won two Pulitzer Prizes with The Washington Post before leaving in 2010, returned on contract to work on the NSA stories. Gellman and Poitras first wrote on the agency's PRISM program, and the Post has published a number of deeply reported stories related to the Snowden documents, including one detailing the "black budget" that funds U.S. intelligence agencies.
"If Bob has any second thoughts about what he said, he hasn't told me so," Gellman added. "As far as I know he hasn't told anyone else."
Washington Post executive editor Marty Baron told HuffPost that "Bob is speaking for himself and not for The Washington Post." (Gellman, too, is speaking for himself and not the Post).
In an email, Baron praised the Post's coverage of the still-unfolding surveillance story:
The Post's involvement with this story began with Snowden's communication with Barton Gellman, among the most highly respected and courageous national security journalists. Since then, The Post's stories have consistently been at the leading edge of revelations about government surveillance and other highly consequential national security matters.

We are immensely proud of the defining work by Bart and other outstanding Post journalists. They were the right people for this story, they have done right by it, and they continue to work energetically to publish information that warrants public disclosure and debate.
Baron added that the Snowden documents "have revealed government surveillance of breathtaking scope and intrusiveness" and the result "has been an important public policy debate about the proper balance between privacy and national security."
Woodward, who broke open the Watergate scandal with Carl Bernstein four decades ago, more recently has focused on writing books outside the newsroom.
But since Amazon founder Jeff Bezos closed on his purchase of the paper last month, Woodward -- who accepts a salary of just $25 a month from the Post -- has increased his presence in the newsroom. He recently told HuffPost that "those of us who have been around, like myself, and have clearly benefited from our association with the Post, we want to redouble, triple our efforts."
Support HuffPost
The Stakes Have Never Been Higher
Related
Popular in the Community