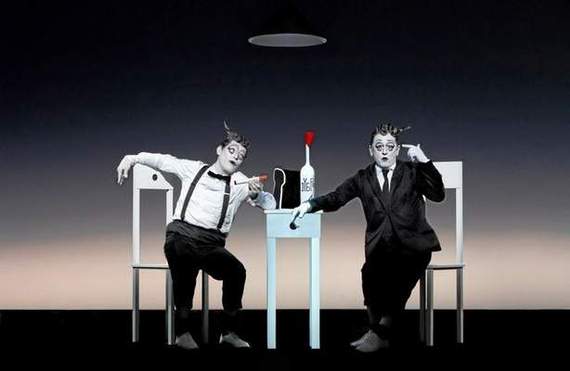 Two super stars of the stage -- ballet icon Mikhail Baryshnikov and actor Willem Dafoe -- in a fantastical, almost two-hour pas de deux, performed under the direction of gay theater genius Robert Wilson ( Einstein on the Beach). In black tie, with clownish Dada faces and pomaded wigs that make them look like schwul hairdressers in a 19th century picture book (think of "Struwwelpeter"). They are almost identical in their motion perfection, exchangeable marionettes running, bouncing, dancing, screeching, singing, stepping, talking and running some more. It took me some time to determine who was who: can Baryshnikov really speak in such a melodious, even suave baritone without a Russian accent? Can he really move without any display of ballet mannerism and self-conscious curlicues? "It was the hardest thing I've ever done," the master of 11 pirouettes admitted. Dafoe, seasoned experimental theater hound after 26 years with the New York Wooster Group, reported that he was at first intimidated by having to move and dance alongside Baryshnikov, but the two of them sweated it out under Wilson's implacable command, creating dance theater par excellence at the highest level.
The style is ur-echt Wilson if you have seen other (dance) theater creations like The
Black Rider: a mix of vaudeville and music hall, Punch and Judy, slow motion and stop motion, Commedia dell'arte, Cabaret and Grand Guignol. Throw in some silent movie expressionism, shadow play, and Tango - then imagine a seamless fluidity of all theses styles thanks to two bodies in unison, with constantly astonishing ease and originality. Does anyone care about the story? Is there a story?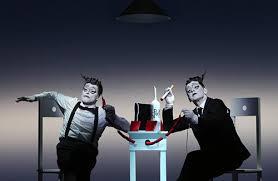 The Old Woman is based on a novella by a fairly unknown Russian modernist, Daniil Kharms, son of an anarchist. He was born in 1905 and died as a victim of Stalin's persecutions in 1942. Wilson and his dramatist Daryll Pinckney cut the avant-garde novella into twelve stark, clipped scenes featuring the author as split into two - his self and his double. Both in turn impersonate additional characters, a friend, a girlfriend, and the bully of an old woman who ends up dead on the floor but isn't dead -- a story quite as absurd and repetitive as Gertrude Stein's "Blood on the Dining Room Floor." The split personae talk about hunger, about women falling from windows; they persecute, torment and court each other, screech, sob, giggle, hoot and shoot at each other, switch from English to Russian and back, and talk about asking a clock without fingers what time it is, concluding, "So that's what it is. That's what it is." But what is it?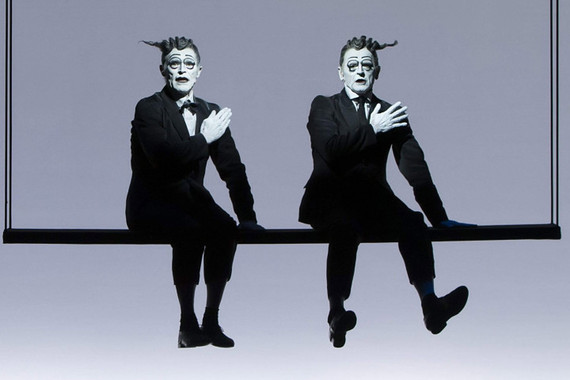 It hardly matters in a universe where one isn't sure any more how to count. Does seven come before eight or after? They ask everybody, "An amazing thing happened to me today..." They ask the store clerk and are "sad because her words had no meaning." An ironic swell of movie music takes care of the sentimentality. At some point one of them remembers, "how I learned to kiss myself on the foot." He describes it and concludes, "I was happy." Sappy violins follow. The audience laughs. In another scene the two sit like lost birds on a swing high up in the sky and dispense philosophies ("I can't stand dead women and children." "A straight line broken at every point is a curve...") while a white toy airplane looms nearby and suddenly turns fire-red.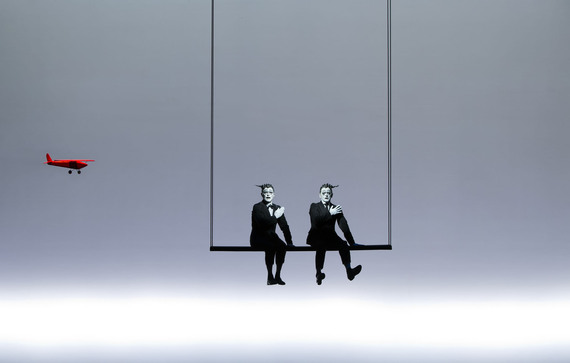 What matters is the beauty of the execution, the perfect synchronicity of movements and puppet-like hand gestures, the implacable comic timing of gags and tricks, the illusory champagne-bubble-ease of the whole desperate rigmarole. And then there is the magic of the stage created for the duo by Wilson, one of the great architects of stage sets and lighting. Futuristic, edgy-unreal furniture, screwed window frames hanging in empty space, street scenes out of a childhood picture book (a green cage and blue-striped cock), paper cut-out trees and skies in raspberry or other luscious colors of early Kandinsky paintings. Then suddenly a street scene right out of a Hollywood B-movie: A blinding light shaft high as a studio wall, the light reflection thrown across the floor at an angle, the menacing (or menaced) silhouette of the author in the door frame.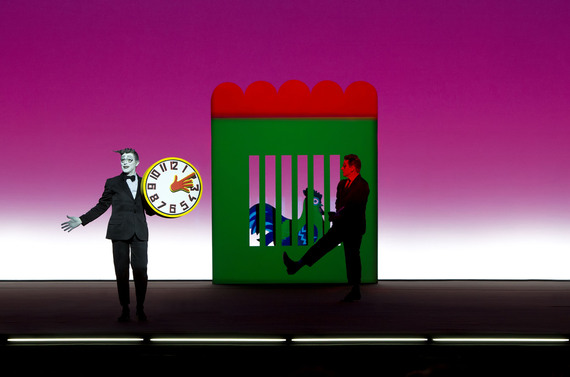 On and off, the brightly colored tragi-comical Dada farce snaps into stark, minimalist black and white. In one of the funniest scenes the author (Baryshnikov) tries to get rid of the old woman (Dafoe). A gigantic green suitcase glides in for stuffing the corpse. Baryshnikov winds invisible ropes around the very lively corpse and at the same time ropes her/him in with Tango moves that culminate in an unexpected slow-motion embrace. Still, Dafoe ends up in the suitcase. The stage snaps back into black and white. Another street scene. On one side a tower of open slats -- a neon-lit bar lazily scrolling up the sky scraper; on the other, a few neon-lit slats of a train track. In between, the two actors sit next to each other with little attaché cases. "They will catch me this very day..." The attaché cases make off on their own. Dafoe repeats the story of "how I learned to kiss myself on the foot." This time, it ends, "I was happy, and I understood the happiness of others." Randy Newman's "I'll be Home" plays. The two turn their faces and look at each other in a moment of ... who knows? The suggested eloquence of "So that's what it is. That's what it is."
Calling all HuffPost superfans!
Sign up for membership to become a founding member and help shape HuffPost's next chapter