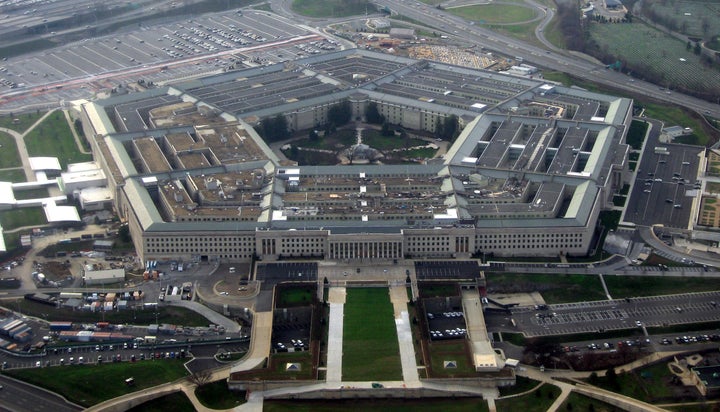 The Friday before Thanksgiving, the Pentagon quietly and for the first time released raw figures on the number of reports of sexual assault across all U.S. military installations at home and abroad, by base. The release of this data generated a certain momentary buzz in headlines across the U.S., but failed to provide context in terms of rates by population. Large bases with greater numbers of personnel could be expected to generate larger numbers of reports; but without a sense of rate by population size of the base it continues to be impossible to compare bases with one another. But never fear, not-so-gentle Internet. Those missing context-providing rates can be generated from verified population figures, and we've done that work.
Looking only at military personnel — not dependents, civilian contractors or others — attached to a base, and using only figures from a 2015 Department of Defense report or more recent figures provided by installations themselves — a clearer picture emerges of which bases seem to have more of a problem with sexual assaults, at least as indicated by number of reports. (Without getting into all the possible disclaimers, an important one is that a reporting-friendly environment — which is a positive development — should result in a greater incidence of reports made.)
Accordingly, of the approximately three-quarters of U.S. bases for which recent population figures of military personnel were available, an average rate for installations in 2016 is 0.56 percent, or almost six reports (total, restricted and unrestricted) per 1,000 personnel. The average figure for 2015 was slightly lower at 0.53 percent, or closer to five reports per 1,000.
(Take these percentage rates per 100 and multiply them by 10 for rate per 1,000 population, as is done in the data visualization directly above; or by 100 for rate per 10,000 population. Either is far more conversational.)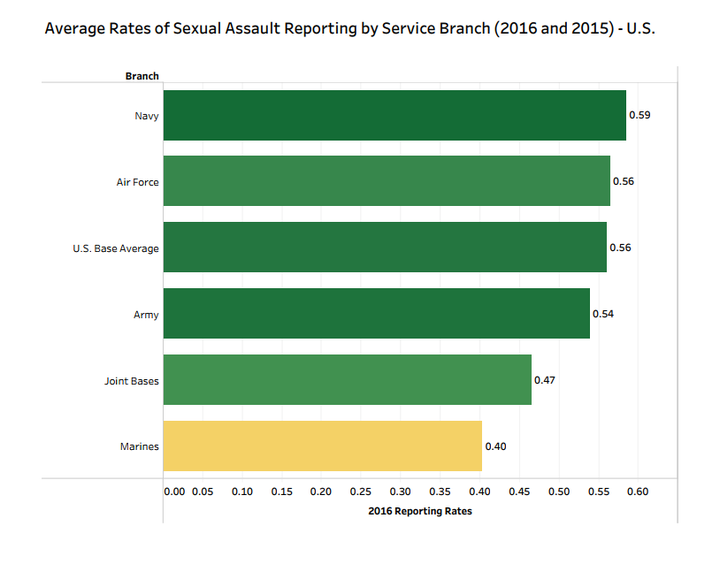 Comparing average report rates by branch, the Navy led the way in 2016 with almost six per 1,000; and the Marine Corps was lowest, with approximately four per 1,000. (The Air Force and Army weighed in at only a few points apart, both in the mid-fives per 1,000.) For 2015, Navy and Marines were in the same spots — highest and lowest rates — and Air Force and Army switched rankings.
Impressively — and perhaps even surprisingly — bigger bases did not seem, by default, to have larger problems with sexual assault, at least using recent reporting rates as a guide.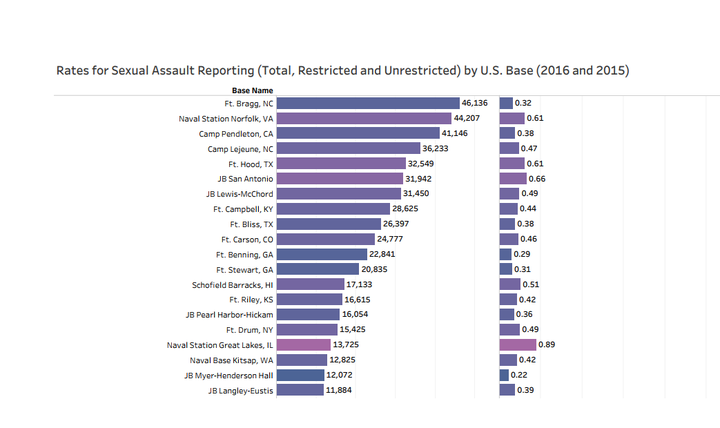 Of the 20 largest U.S. bases and joint bases by military population, only four were above the U.S. average rate for sexual assaults reported in 2016 — Naval Station Great Lakes (IL); Joint Base San Antonio (TX); Fort Hood (TX); and Naval Station Norfolk (VA).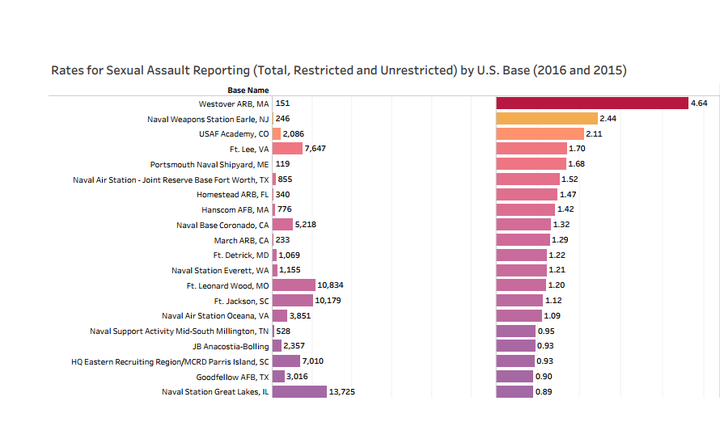 Of the 20 bases in the U.S. with the highest rates in 2016 — some multiple times over the U.S. average for military bases — many were smaller bases and even reserve bases located throughout the country.
"The distinction between numbers of incidents (volume) and rates (accounting for population size) is very important for understanding the contexts in which assault is occurring," said Richard J. Harris, Ph.D., a sociologist and professor at the University of Texas at San Antonio (UTSA) who has studied military sexual harassment and assault for more than 20 years. He added,
"An above-average rate may help identify locations in which sexist attitudes and sexual harassment are more prevalent. These 'environments' may be conducive to more egregious forms of assault, and warrant special attention from command. Serious attention from high-ranking commanders can influence the likelihood that such behaviors can be prevented in the future."
(You can expand the view above and find any U.S. base for which Pentagon reported raw numbers of reports and installation population data — 2015 or more recent — was available. You can also sort on any column from high to low or vice versa, and on base names alphabetically.)
Army Major General (Ret.) Robert Shadley understands the connection between sexual harassment and sexual assault levels, too. "Don't be lulled into complacency just because the numbers are small," Shadley says he tells installations when he presents on military sexual trauma. "A small number of perpetrators can still cause severe damage to individuals and organizations." His theme, he says, is "eradicating the cancer of sexual assault — and its precursor, sexual harassment, from our military."
To further underscore the apparent lack of relationship between base size at the large end of the range and rate of sexual assaults reported, try viewing the graphic above, where bases are separated into five ranges by population size, smallest to largest.
By comparison, joint bases as a whole fared generally better than average, as we can see above.
Addressing under-reporting and rates
Because sexual assaults whether in military or civilian life are notoriously under-reported, a different adjustment could be made to bring the numbers more in line with assumed reality. According to RAND's reporting in 2014, reports about sexual assault in the military can be understood to be at about 15 percent of the actual total of sexual assaults committed. So using that figure, we can extrapolate to a more realistic percentage of how many sexual assaults happen on the bases in question as we see in the interactive tool above.
Additionally, according to RAND: Within the 15 percent in the past year who
. . . experienced sexual assault and filed an official report about it, (there was) . . . a higher proportion of women reporting than men (22 percent of women, 8 percent of men). Respondents in the Navy were less likely to file an official report than those in the Air Force or Army, and officers (3 percent of O4–O6) were less likely to report than junior enlisted personnel (19 percent of E1–E4).
While male, female and transgender service members all report sexual assaults but at different rates, journalists and advocates should request that the Pentagon make this data available by gender at a minimum.
Disclaimers: Approximately three quarters of U.S. military installations had verified population data available, and these bases were more concentrated in the U.S. than abroad. Those are the bases included in these data visualizations. If you have verified population data (military personnel only) for any base not listed, please contact the author via Twitter DM. Note: Use with attribution.
Popular in the Community