"I see great things in baseball. It's our game - the American game. It will take our people out-of-doors, fill them with oxygen, give them a larger physical stoicism. Tend to relieve us from being a nervous, dyspeptic set...and be a blessing to us." -- Walt Whitman.
I have always loved baseball. I first loved to listen to baseball. It's one of my few memories of my maternal grandfather. He played pinochle, drank Ballantine beer and smoked cigars, while the Brooklyn Dodgers played on the radio in the background. If you approached him, he put down his cigar; fished a pile of butterscotch balls out of his pocket for you, patted you on the head, and went back to his card game. He loved the Dodgers and so did I. Ebbets Field and Roy Campanella sounded very exotic when you lived in Scranton, PA.
My dad loved the New York Yankees. As a student athlete at Fordham on the great football teams of the late thirties, Daddy rode the train down to Yankee Stadium to see as many games as possible. He was there to see Joe DiMaggio play his rookie game, he confided to me on his 75th birthday. He told me that Joe was a star from his first game, the epitome of grace and excellence.
Growing up in Pennsylvania, we all still rooted for the Yankees because they were our dad's team. I can't think of summer without hearing the sound of baseball games, and savoring the taste of hot dogs. Of course, they were usually my six brothers' Little League and high school and college games. Later, when Dad returned to Fordham as Athletic Director, we were so excited when he hired the great Yankee third baseman Gil McDougald to coach there. By then, my family lived in Montclair, New Jersey, and we all came to know the legendary Yogi Berra. He was one of the first people to arrive at our father's wake.
I try to get out to Yankee Stadium whenever possible. I love the slow, measured pace of baseball, and the unwavering simplicity of the rules. I find it comforting. I can listen to it on the radio in the car, or in the kitchen while I'm cooking. I can watch baseball live, or on TV, and I don't mind when the games go on forever.
"It ain't like football. You can't make up no trick plays." -- Yogi Berra
To this day, I wait for the season to begin. We lost our dad seven years ago this week but I always feel like he's there when I can hear the Yankee game in the background. I'm positive he likes Robbie Cano as much as I do. At this time of year, I have to stop and get a hot dog from one of the street carts. Dad loved his dogs just the way they made them at the ballpark in the old days, boiled within an inch of their lives and smothered in sauerkraut with mustard and relish.
Our good friend George Duran, the host of Food Network's Ham on the Street, and now TLC's Ultimate Cake Off, grew up in Venezuela where baseball is an obsession. George shared his recipe for Venezuelan Hot Dogs with us that includes crushed potato chips. We brought them out to the ballpark at Coney Island as a surprise for some Venezuelan minor leaguers and made their day!
George Duran's Venezuelan Hot Dogs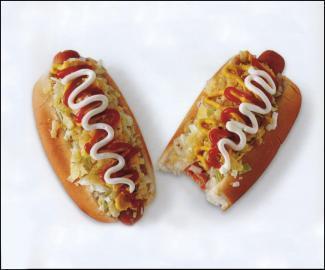 photo Blaine Moats and Scott Little
Ingredients:
8 hot dog rolls, preferably potato
8 hot dogs, preferably pork
1 sweet onion (such as Vidalia), cut up
1/4 head green cabbage
1 (6-ounce) bag potato chips
Mayonnaise, to taste
Mustard, to taste
Ketchup, to taste

Preparation:

Fill a large pan fitted with a flat-bottomed steamer insert with water and bring to a boil. Arrange the rolls in the steamer and put the hot dogs in the boiling water. Put the steamer into the pan and cover. Cook about 5 minutes or until the hot dogs are heated through and the rolls are warm and soft. Be careful not to oversteam the rolls or they may become soggy.

While the dogs are cooking, put the onion into a food processor. Process with several on/off turns until finely chopped. Remove the onion to a bowl. Put the cabbage into the food processor; process with on/off turns until finely chopped. Finely crush the potato chips.

Put a hot dog in each bun and top with onion, cabbage, and crushed chips. Top with mayonnaise, mustard and ketchup.

© Pop Cuisine Publishing, Take This Dish and Twist It (Meredith Books, 2008)
This recipe and many other family favorites are available on DishandDine.com. Stop by and become part of this grass roots global food community!
DishandDine - It's All About Food
dishanddine.com
twitter.com/dishanddine
facebook.com/DishandDine

Calling all HuffPost superfans!
Sign up for membership to become a founding member and help shape HuffPost's next chapter