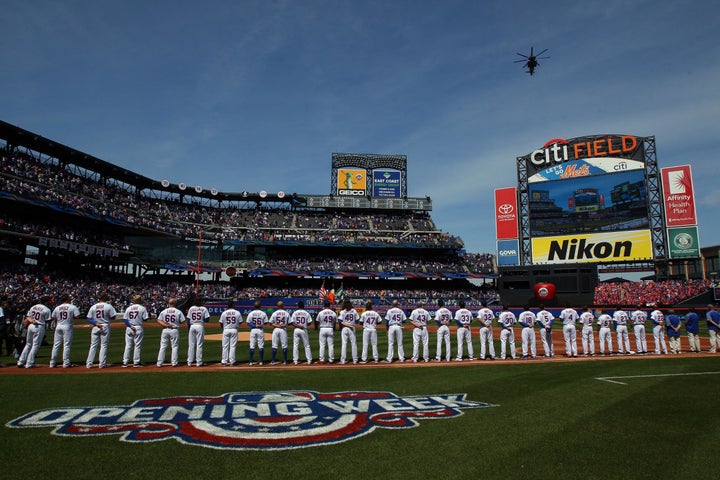 New York has two baseball teams. The New York Yankees and the New York Mets. For as long as I can remember, except for the "Miracle Mets season of 1969" it's always been the NY Yankees capturing the majority of the back sports pages and fans of New York City.
However I believe that has been changing a bit. For example, I have been seeing many more NY Mets hats and jerseys in the streets of our five boroughs that I am used to seeing. The fact that the Mets have been having more winning seasons lately than the Yankees has much to do with it. Also, the fact that the Mets have players that many younger fans seem to relate to, Thor (Noah Syndergard), Captain America (David Wright), La Potencia Yoenis Cespedes to name a few makes them more of a conversation piece for younger fans.
The baseball Gods must be looking down on this Queens, almost New York's foster child baseball club and that seemed to be evident for this 2017 season.
The NY Mets opening day game on Monday had a temperature that was pleasant for a baseball-opening day in New York. The sun was out and the above 60° temperature was perfect for the second largest opening day crowd in Mets history. The fact that it has been cold and cloudy for days before and the day after made it appear as if there was a divine intervention.
The fans came out and that was obvious as the Citi-Field parking lots were all full and there were cars parked in every available spot along the park leading up to City Field. There were also cars along the fence surrounding the Mets parking lots and the cars in every spot under the highway and along the now demolished streets where the once chop shops used to be.
The fans came out and they were not disappointed. The fans got to see what they were all waiting to see from the only New York team that has been bringing post-season games to the city. They saw one of their ace pitchers, Noah Syndergaard, pitch six scoreless innings, walking none and striking out seven with a combination of high-90s sinkers and demonic breaking balls, all below a low pitch count of 86.
They saw some key hitting and running when Wilmer Flores raced home from second base on a single to center field by Asdrubal Cabrera. Flores not necessarily known for fast feet made this one close when the umpires out call were overturned after a video review (I'm sure many Mets fans were praising MLB for bringing video review to the game). That made the score 1-0 and jumped started the Mets offence to eventually
Fans wanted to see Mets batters like, Curtis Granderson who drove in a run with a sacrifice fly and Bruce who drew a bases-loaded walk and Lucas Duda who cleared the bases with a double to left-center field. Fans also saw clutch hitting a good defense and a bullpen with Mets' relievers. Hansel Robles and Fernando Salas who each tossed scoreless innings, and a closer like Gsellman who closed it out in the ninth, getting some work as he waits for his first start.
It was a great opening day game with the Mets beating the Braves 6-0. But they also gave all of New York something to cheer when the other team, New York Yankees lost their away opening day game to the Rays by a score of 7-3. Lets see how the Baseball Gods shine on the Bronx team next Monday for their home opener vs the Rays.
REAL LIFE. REAL NEWS. REAL VOICES.
Help us tell more of the stories that matter from voices that too often remain unheard.