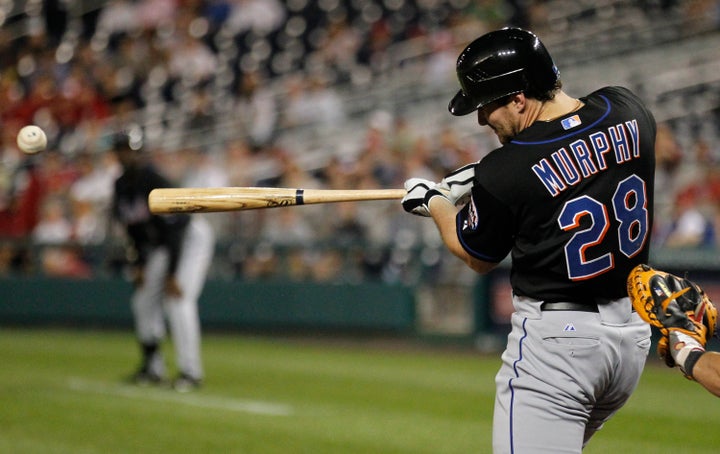 "Lopez wants it away, and it's hit deep to left center, Andruw Jones on the run, this one has a chance... home run!, Mike Piazza!, and the Mets lead 3 to 2!" This call was from September 21, 2001, the first professional sporting event played in New York City since 9/11. It was the bottom of the eighth inning, and the Mets were down 2-1 to the Atlanta Braves before Edgardo Alfonzo drew a walk and Mike Piazza stepped to the plate and hit, without a doubt, the most momentous home run I have ever seen.
I was just nine-years-old when the events of September 11 took place. I was in the fourth grade and very ignorant of the world around me. I knew something terrible had occurred, but I obviously didn't truly understand what it was. And when I sat down with my father 10 days later to watch this baseball game, I thought it was just another game. But as it turns out, that was not the case. It wasn't just another baseball game. Baseball, America's national pastime for so many years, had become such an integral part of New York's culture that it now had to take on the responsibility of not only entertaining, but also healing a nation.
When I think of September 11, I of course think of the thousands that died and all of the policemen and firefighters who risked their lives trying to protect our country. Having said that, the role that Major League Baseball played in the aftermath of September 11 is something that was truly special to me. From Mike Piazza's dramatic home run to the epic World Series played between the New York Yankees and the Arizona Diamondbacks, baseball was a significant distraction that millions used to force themselves away from the fear that surrounded our nation in late 2001, even if it was just for an inning or two. When Mike Piazza hit that home run against Steve Karsay, anyone who was watching was able to forget, just for a moment, about the tragic events that unfolded before our eyes, and was able to concentrate on something other than heartbreak.
So when I heard late Sunday night that nearly 10 years later, Osama bin Laden had finally been killed, I immediately thought back to Mike Piazza and the incredible power and strength he singlehandedly provided to the city of New York on that emotional night in Flushing. After watching President Obama speak about our country's victory, I turned back to the Mets who were tied 1-1 with the Philadelphia Phillies at Citizens Bank Park in the twelfth inning. The crowd was cheering "U-S-A, U-S-A," and I felt immediate chills. But as great as it might have been for Phillies fans to see their team win on a such a historic night, it was perhaps more important to me than ever before that the Mets find a way to win this game. In some strange way, I thought it would provide some sort of closure, as if beating the Phillies was comparable to winning the war on terror. Thankfully, in a terrifically played baseball game, catcher Ronny Paulino came through in the clutch and gave the Mets the go-ahead RBI in the top of fourteenth inning, eventually making the final score of the game 2-1 in favor of the Mets.
Of course, there never will be "closure" for September 11. It was a horrible day in our history and a day that none of us will ever forget. But tonight's victory for America, as well as the victory for the Mets, certainly gave me a lot of joy. After Piazza's home run in 2001, he said, "There was a lot of emotion. It was just a surreal sort of energy out there. I'm just so proud to be a part of it tonight." Had Piazza been at Citizens Bank Park tonight, I think he would have used the same words.

REAL LIFE. REAL NEWS. REAL VOICES.
Help us tell more of the stories that matter from voices that too often remain unheard.