 It is often said that baseball is a game of numbers. How ironic that one of the only major sports without a clock should be so counted. But count we do, with large numbers invariably celebrated over the small: most wins, most home runs, highest average, biggest hits. This season, that equation was flipped on its head, as quality beat quantity. It was a season of firsts, born of several second chances. Stars outshone statistics, delivering memorable moments as inflated totals were eclipsed by singular achievements. Small numbers made big news as offense was measured in rarely-seen feats, and a string of zeros on a scoreboard meant somebody was perfect. And so, as we tip our caps to the past year, we raise our glasses to a new one, and count down twelve top highlights of the 2012 Major League Baseball season:
The hitters were on the attack: the strike zone was squeezed; fences brought in; foul territory seceded to VIP seats. They lowered the mound and raised the players as steroids blew up batters and records. Finally, the pitchers rebelled. With their battery mates deployed, their arsenal was deep: they lobbed sinkers, exploding sliders and some really hard cheese. Fighting on all fronts, they fired four no-hitters across the nation: Anaheim Angel Jared Weaver secured the West, while New York's Johan Santana took the East for the Mets. In Seattle, Kevin Millwood made a stand with five other Mariners, while in Cincinnati, the Reds' Homer Bailey held down the fort.
Three pitchers would take their hills with distinction, waging perfect campaigns: Philip Humber of the Chicago White Sox and Seattle's Felix Hernandez both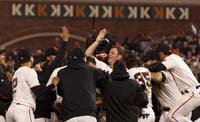 bombed scoreboards with goose-eggs, as did San Francisco Giant Matt Cain, whose 14 strikeouts tied Sandy Koufax's mark for most ever in a perfect game. Indeed, Cain was everywhere, leading the All Star game charge that gave his club a strategic home-field advantage in the final battle. He'd start all three clinching Division, League and World Series games. By war's end, the pitchers had taken back the diamond field, restoring sweet balance and peace.
The Triple Crown: three little words for leading three categories, seldom achieved simultaneously. Only sixteen players in baseball history had taken the title. The last to earn the crown was Boston's Carl Yastrzemski back in 1967. Forty-five years later, the Triple Crown seems as rare a sighting as Halley's Comet, but on October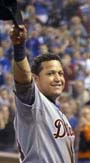 18th, those two phenomena would cosmically cross paths.
It was the weekend of the Orionids as debris shed from Halley's Comet fell to Earth. Down below, the Tigers' Miguel Cabrera launched a two-run rocket to help Detroit clinch the ALCS to sweep the Yankees. Cabrera had already clinched the Triple Crown with the .330 batting average, 44 home runs and 139 RBI that bested his league. As Cabrera rounded the bases to the chants of "MVP!" his run soared to the heavens, intersecting the meteors that lit up the sky. Ultimately, Cabrera would win that MVP award for, like Halley, the comet that was Cabrera's Triple Crown season was something you just had to see. It was that rare.
They called him "Chipper" because he was a chip off the old block. Like his father's favorite player, Mickey Mantle, he learned to bat from both sides of the plate. Chipper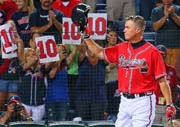 Jones would amass huge numbers, becoming the only switch-hitter to have a career batting average higher than .300 (.303) while hitting more than 400 home runs (468). His 2726 hits would contribute to a record 1623 RBI, the most ever for a third baseman. His 19 active seasons with the Braves included twelve postseasons, eight All Star games, an MVP, batting title and World Series ring.
By career's end, Atlanta's number 10, like his Yankee hero, had become the face of his franchise. Five years from now, that face will grace a bronze plaque in the Baseball Hall of Fame, and when it does, there will be no question as to which cap he'll wear. Because while that plaque will invariably boast all his bloated switch-hitting numbers, Chipper, like The Mick, may best be remembered for the one thing he never switched -- his team.
Hitting a bull's-eye takes perfect aim, something reliever Fernando Rodney didn't have back in 2009 when, after a frustrating outing, he hurled a ball into the press box, earning him the ire of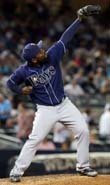 writers and a suspension. But in 2012, the Tampa Bay Rays' closer rose above it all, taking control of his emotions and pitches. After each of his 48 saves, he pantomimed drawing back a bow and shot an invisible arrow to the sky.
A tradition evolved where teammate Carlos Pena would ask Rodney where the arrow was going. One place it didn't go was into the press box, which extolled his sharpened aim as he passed Dennis Eckersley's single-season mark for the lowest ERA of any reliever with at least 50 innings. With that 0.61 ERA practically as imperceptible as his celebratory arrows, "Rodney Hood" wound up with both the AL Delivery Man and Comeback Player of the Year Awards. And that's a bull's eye no matter where that arrow goes.
Buster Posey couldn't walk. The Giants' catcher had to be helped off the field after a brutal leg injury in 2011 while blocking the plate. The 2010 Rookie of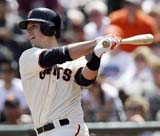 the Year had won a World Series in his first season. But as goes Posey, so go the Giants, and they both missed the 2011 World Series as he sat out the year. And yet, Posey has always been a walking contradiction. With a tough-guy first name married to a floral last, this baby-faced backstop doesn't look like he could grow a beard if he wanted to. But in 2012, Posey was Samson with a bat.
Fans rewarded Posey's return to form with a record 7,621,370 NL All Star game votes, and he rewarded their faith by leading the majors in hitting from that game on. His .336 average would win him the NL Batting Title, making him the first catcher to do so in 70 years. But perhaps Posey's most important numbers were the ones he overcame, because one fractured lower leg, three torn ankle ligaments and two screws later, Posey had his second World Series. And like that series, when the votes for the NL Comeback Player of the Year and MVP awards were tallied, it was no contest: Posey took both in a landslide, only this time, he walked away.
Everything about R. A. Dickey is moving. Born without an ulnar collateral ligament (the magnet for Tommy John's eponymous surgery) it was a wonder that Dickey would make the majors at all. But after ten years with four teams, The Mets' peripatetic pitcher had arrived.

Still, the most moving thing about Dickey was his mastery of the pitch that moves most of all: the knuckleball. With its tight, unpredictable late motion, Dickey's jitterbugging gyro had batters baffled all year.
By the time the music stopped, Dickey had 20 wins, a 2.73 ERA, and the league-leading 233.2 innings and 230 strikeouts that had New Yorkers kvelling. While the Rays' David Price edged out the Tigers' Justin Verlander for the AL Cy Young Award, the NL honor, as predicted, made Dickey the first knuckleballer in MLB history to take the prize, making even Cy Young jump. The Mets, asserting their short-term commitment to non-contention, promptly traded Dickey to Toronto, sending the feel-good story of America's Game out of the country. But that, too, was predictable; R. A. Dickey is always on the move.
Rookies are a lot like guppies; you never know which ones will survive. But Mike Trout made a huge splash in his jump to the majors, emerging as a big fish in the Anaheim pond. In his inaugural All Star season, Trout swam to the top of the tank, becoming the first rookie in MLB history to hit 30 home runs and steal over 40 bases (49), while scoring an AL-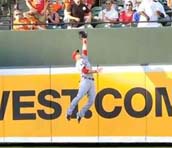 leading 129 runs. (Punned out yet? Wait, there's more!)
Trout also reeled in catch after highlight reel catch. The biggest came on June 28th against the Orioles, when Trout leapt the center field wall with the well-timed grace of a dolphin skipping water, and plucked a home run ball on its way to the birds. As he pounded his chest, Angel fans were reminded of retired outfielder Tim Salmon who they called the King Fish. Salmon had been an AL Rookie of the Year. Trout, too, would take that award, in a unanimous vote. It's no wonder fans dubbed him King Fish 2.0. Apparently, history, like fish, repeats itself.

½. It's not even a whole number, yet sometimes that fraction is more than enough. When it comes to closers, The Rolaids Relief Man Award counts every little bit, measuring what they don't let hitters do. With a 1.01 ERA, Atlanta's Craig Kimbrel didn't let hitters do much, leading the NL league with 42 saves. By fanning 116 of 231, Kimbrel became the

first pitcher in MLB history to strike out at least half the hitters he faced in a single season, and that's a really big half.
Kimbrel's AL other half was Baltimore's Jim Johnson who led the majors with 51 saves. But what really blew batters away was that Johnson did it in his first full season as a closer. The lights-out reliever is only the tenth pitcher since saves became an official statistic to record 50 or more saves in one season. It's enough to give any hitter heartburn.
Despite a Major League-leading 245 home runs, the 200 million dollar Yankees could not buy a hit in the playoffs. But when baseball's biggest chunk of change, Alex Rodriguez, was benched, it was still a shock. Down in the ninth in Game 3 of the ALDS, 40-year-old Raul Ibanez pinch-hit for the slumping slugger against Oriole Jim Johnson as, in the Yankee dugout, legendary savior Mariano Rivera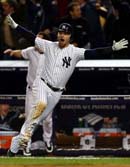 leaned over to Rodriguez. Like some Major League fairy godmother, Rivera called the shot, and - bibbidi-bobbidi-boo - Ibanez's bat kissed the ball out of the park. As slumbering fans roared awake, Rodriguez rushed the dugout steps to hug the game-tying hero.
Ibanez's fifteen minutes of fairytale ticked into the 12th inning as he blasted the first pitch he saw to become the oldest player to win a postseason game with a walk-off. His storybook stretch-run reached Game 1 of the ALCS with another ninth inning blast, making him the first to hit three home runs in the ninth or later in a postseason. It linked him again with Rodriguez, along with Johnny Bench, as the only players to hit two game-tying postseason home runs in the ninth or beyond. But even in a clockless game, midnight strikes, and while the Yankees went home, tales of Ibanez's eleventh-hour heroics live on, happily ever after.
The Young and the Restless
Gnats are pesky little critters, always getting in your face. Each year, a clip of those gang-flying insects engulfing hapless players appears on TV. But in 2012, they swarmed stadiums in a good way, as the Washington Nationals led the MLB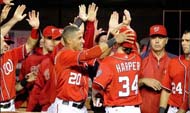 with 98 wins. Among the Nats' energetic newbies was Bryce Harper, who brought 254 total bases and 57 base hits to his debut, the most ever for a player under 20. Would it be enough to make the talented teen NL Rookie of the Year? That's what Harper might call a "clown question."
A more nagging question arose after the Nats blew several chances to win the NLDS. Having shut down ace Stephen Strasburg earlier in the year to preserve his arm, they had to wonder if starting his season later would have been the better choice. They may spend the offseason in DC debating that but, unlike the other players in our nation's capitol, the Nationals may actually come up with some answers. After all, they work well as a team.
"The Giants win the pennant! The Giants win the pennant!" The iconic call of '51 by Russ Hodges is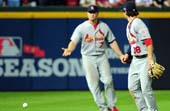 baseball lore. Somehow "The Cardinals are the second-place wild-card!" just doesn't have the same ring. But don't blame the Cards. "Second seed" St. Louis met their Atlanta betters in a one-game playoff that got plenty wild as an infield-fly rule, designed to protect runners, was controversially called to favor confused Cardinal fielders. But the Braves were wild, too, throwing the game away as their fans trashed the field, letting the Cards clean up.
With both Cardinal and National red-clad fans in the stands, the NLDS looked like a bloodbath. Game 5 saw the redbirds down 6 - 0, but coming back is a Cardinal specialty. Down to their last strike, three times in the ninth inning, the Cardinals hit their way back from the excruciating brink for the biggest comeback ever in a winner-take-all postseason game. The series clincher was their sixth straight elimination-game triumph. In Game 7 of the NLCS, as the two previous World Series Championship teams met, that streak would be stopped and matched.
Giants and Tigers and Beards, Oh My!
Eventually, the food chain ran its course: the Cardinals who had devoured the Nats were squashed by the Giants who tamed the Tigers. While the too-rested Tigers rolled over, the Giants played with more frenzied focus than a Hunter Pence pep talk: Barry Zito found his inner-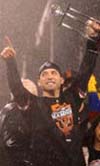 Maddux when it mattered most. Sergio Romo was the designated closing beard. "Panda" Pablo Sandoval tied a World Series record, Kung Fuing three home runs in one game.
But towering over them all was Marco Scutaro. He may not have had the hair or the height, but he had the heart. Making second base sexy, "The Blockbuster" consistently gave his team multiple hits in multiple games, tying an NLCS record with 14. Scutaro would go on to drive in the clinching run of the World Series in Game 4's tenth inning. With the Championship swept, San Francisco could claim baseball's best title: the Giants were number one.


For Devra Maza's superheroes of the 2011 baseball season go here. For her best and worst picks of the 2010 MLB season go here. For her highlights of the 2009 MLB season go here. For more on historic All Star games, go here. For more on great World Series calls, go here. To read Devra Maza's Hall of Fame poem, "The Great Greg Maddux" go here. For more on the author, visit www.devramaza.com.

Photo credits: Cain, Cabrera, Jones, Posey, Dickey, Trout, Harper, Scutaro, Athletics, courtesy of AP; Rodney, Kimbrel, Johnson, Ibanez, Cardinals, courtesy of Getty Images.


Tip your cap: Does a second wild-card team help or hurt baseball? What was your favorite play or player of the 2012 baseball season? Tell us in comments.
REAL LIFE. REAL NEWS. REAL VOICES.
Help us tell more of the stories that matter from voices that too often remain unheard.