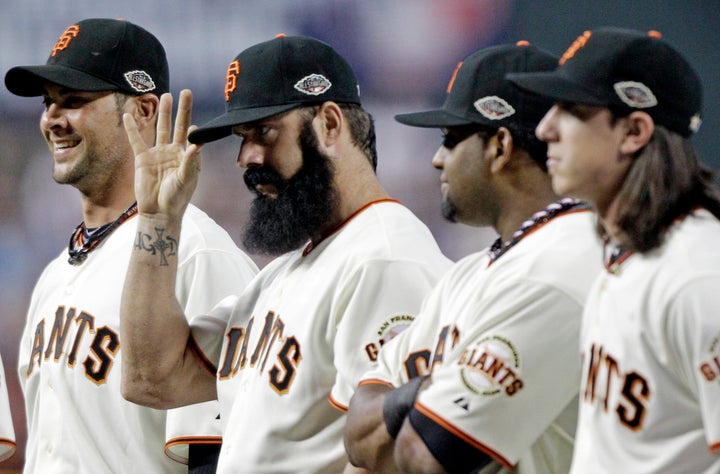 It's Baseball season again. The cable guy on the phone says I can see every professional game in the United States. He calls it a "buffet of pro-hardball," and I begin to see what he means, flipping my new remote higher and higher. Channel one thousand, four hundred and thirty-one? 1431. When did we hit a thousand? I think of Morgan Freeman in The Electric Company in the 70s, a time when six channels gave you the world. Up near 1450 I see my old friend, Tim McCarver. I love his huckleberry laugh, self-induced by one of his ironic statistical parallels. 1451 offers the White Sox. Ken Harrelson is waving to the crowd from behind home plate. He hands a little girl a baseball and leans in to kiss her check. Channel 1452 in LA with the one and only, Vin Scully. His voice so neighborly, so hopeful, his aftershave still tingling on his cheeks.
"Today is gorgeous in Los Angeles," he tells us. "So I hope you're settled in. We're here to play nine."
Vin has no partner, no one in the booth to share banter with. In the seconds I listen to him he goes from announcing "Fireworks Night" straight into a tale of a boy, a prospect, a prodigy, an athlete from a town called Hurtle.
"Well, that young man is standing in centerfield today and he's doing it in Dodger blue." The camera finds his mother, his father and the player himself, warming up in the outfield. "A great day for a great new player," he says.
It's always a great new day when Vin Scully's on the air.
Channel one thousand, four hundred and fifty three brings me to St. Petersburg in April.
"Hittin' has less to do with muscle than people think," the announcer says. "It's more about picking the best pitch to drive. Patience... poise... timing... soul. Hitting is in the trust of yourself. You have to hit to hit well."
A Minnesota Twin I've never seen before hits an opposite-field dong that nicks the roof of the Trop. The umps are having a pow-wow near short to decide if it's fair. The announcer says, "You hit a catwalk that high and that deep in this park and it's as good as gone in my book."
The skinny ump waves his finger in tiny circles above his head and the kid who hit the home run gets pummeled with kudos in the dugout. I lift the remote. The Mets are on channel 1454. Their announcer is discussing the fact that Citi Field in Queens has chosen to move their "fence" much closer inward, toward home-plate so the fans can see more homeruns.
I thought there was an uproar a few years back about steroids and how Bonds and Sosa were hitting too many homeruns. Now you move the wall in? If the pitching's so tough, why don't we just make the ball bigger? They don't know what they want. The Mets, the most dysfunctional Jewish family since Portnoy's Complaint.
Channel 1457. The Miami Marlins. Look, it's political analyst Ozzie Guillen, back in the dugout after a five game suspension for praising Castro. He's giving a press conference now, pointing at his hairline, lifting his cap, perhaps trying to explain that he really shouldn't be probed on anything other than bunting with less than two outs.
I settle on the Yankees. 1459. The cool-kids table. Look at them. Tall, handsome, swaggering to the plate. They better win. I decide to root for them until they fail me. There he is. I hate him. There's the other one. He looks so smug. Strut, strut, I'm a Yankee, I wear white with navy stripes and sleep with the hottest girls on the planet. Within an hour the two of them have nine hits combined and one might hit for the cycle.
I head to Dwayne Kuiper and my Giants. Brian Wilson, our closer, the one who looks like Big Foot will need a second Tommy John surgery. The Six Million Dollar Man didn't have two Tommy John Surgeries. I am sad about this. Deeply. Truly. There is melancholy in my blood-tream, just like that, imbued in the marrow of my bones. Sort of depressed. Something's been taken from me. What is it?
Without Brian Wilson the team will die in late August. I flick the channel to get away from the rankness of this truth. How can it be over in April? I find baseball pundits, five of them, Krucky, Harold, all talking about Brian Wilson of course.
"Big blow to morale, not sure if this means lights out for the Giants. 2011 was a horrendous offensive year, I don't know, maybe if Posey gets hot. All that pitching... maybe they should make Lincecum the stopper."
Why do I care so much? Why do I care at all? Neither Tim nor Brian nor Krucky will ever care about me. Not even if my elbow turned to dust.
Patience...poise...timing...soul.
On 1472 Jim Leiland has his arm around Justin Verlander. "One hundred and twenty pitches and you let him stay in," says the announcer to Jim. "What'd you tell him out there when you got to the mound?"
"I told him he was going to get me fired," the manager says and smiles at the camera for an appropriate blink. "No, he's a great pitcher... and I knew he'd get through that tunnel."
I turn the channel back to San Francisco. Pablo Sandoval hit's a 2-0 fastball high and deep, just shy of the water in McCovey cove. He rounds second base with a smile that lights a huge, boyish beam around him. The reaction of the crowd is booming and raw and hard to imagine for a mortal man. But Tommy John surgery or not, there's hope on channel 1460 as the Panda steps on home plate and points to the sky. And I know the hope will remain in my heart, all the way to the very next pitch.
Related
Popular in the Community