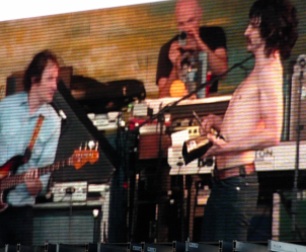 Based on the first weekend of the New Orleans Jazz and Heritage Festival, Nicolas Cage is selling his New Orleans houses too soon. All roads lead back to NOLA, evidenced when Wilco's Jeff Tweedy said from the stage, "It feels like home. John is home." Louisiana native John Stirratt somehow managed to keep a straight face while their John Holmes-looking cowbell player stole the show dashing around the stage during Hoodoo Voodoo - a song written by Wilco and Billy Bragg with reclaimed Woody Guthrie lyrics. Speculation ran rampant that the mystery cowbeller was a roadie, but it could have been a Second City alum doing a shirtless impression of the most enthusiastic cowbell artiste since Will Farrell on SNL.
(*Update from John Stirratt, it was guitar tech Josh Goldberg who will probably be booked on a solo cowbell tour once video of his, ummm, acrobatic performance gets out.)
It was Old Home Week when Stirratt was interviewed by reporter David Fricke of Rolling Stone. We caught up with him after his interview and before the cowbell and thanked him for the Wilco benefit that helped the Preservation Resource Center and New Orleans Musicians Relief Fund jump into action shortly after Katrina. Both are still going strong - the Preservation Resource Center sponsors programs to deconstruct and reuse materials in rebuilding New Orleans, and the New Orleans Musicians Relief Fund donates repurposed instruments and, on a good day, used cars for evacuation.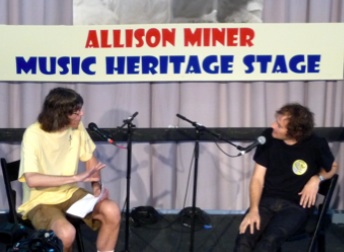 When Fricke asked the Wilco bass player which CD he most recently bought and enjoyed, it was a recent reissue of legendary songwriter Bobby Charles, of "Walking to New Orleans" fame. Bobby often co-writes songs with Mac Rebennack, a/k/a Dr. John, and Mac passed the word back to Bobby that he received a shout out at Jazzfest, so there's your full circle. Gambit Weekly's Entertainer of the Year, Mac played the New Orleans Musicians Relief Fund benefit and Eddie Bo tribute at the new Mid City Lanes Rock n Bowl Tuesday; interviews Wardell Quezergue at the Ponderosa Stomp Wednesday; plays at the House of Blues with the full band on Friday; at the 40th New Orleans Jazz and Heritage Festival on Saturday; and with the Voice of the Wetlands on Sunday so it's worth a trip down to New Orleans - at the very least for Weekend 2 of Jazzfest.
Hugh Masecela closed down the first weekend in the WWOZ Jazz Tent describing how he still tours with the same white bandmate the South African police used to harass him about having in the band when Apartheid still separated the races. In response, Masecela gave the quote of the weekend: "We didn't give a shit."
With so many returnees, evacuees and relocatees walking the track at the Fest these days, I keep finding myself pulled into a mini-reunion around every corner with relocated friends like Jimmy Descant whose found object artwork rocked the art booths. Standing in the sandy racetrack path on Friday afternoon, our crew listened to Joe Cocker belt out "With a Little Help from My Friends." I've been humming it ever since.
Popular in the Community