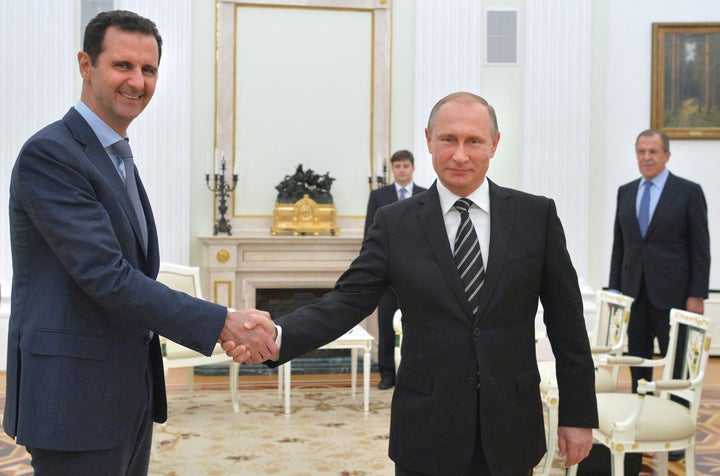 Syrian President Bashar Assad told reporters Saturday that "mistaken policies" by the French government -- a veiled reference to its support for the anti-Assad opposition -- are to blame for the assault because they have empowered terrorists. Assad, speaking from his capital of Damascus, offered to work with France and other countries to help stamp out the group, which is also known as ISIS.
The brutal behavior of Assad's regime is also understood to be one of the chief draws for foreign fighters flocking to the radical group and other extreme elements within Syria. Because Assad is a member of a minority sect of Islam known as Alawites and the Shiite theocracy of Iran is one of his chief supporters, the radical Sunni Islamic State is able to frame the war in Syria in sectarian terms and convince potential supporters they are playing a key role in a battle for Islam's future.
The Islamic State gained influence in Syria during the civil war there, which began in 2011 after Assad's forces attacked peaceful pro-democracy protesters.
Western nations, including France and the U.S., have since backed the Syrian opposition. So have Turkey and the Sunni Arab states of the Gulf. Those nations argue that aligning with Assad would only amplify the trouble in Syria by radicalizing even more Sunni Arabs and preventing a resolution of the divisions within Syria that are driving the conflict.
"What I ask [French President Francois Hollande] to do is to act in the interest of the French people -- which means changing his policies," Assad continued.
Assad and his chief supporters, Iran and Russia, define all non-regime forces in Syria as "terrorists." That includes nationalist rebels supported by the U.S. and its allies, who have been the primary focus of a Russian military intervention in Syria launched earlier in the fall. (Though a Pentagon program to train Syrian rebels to fight the Islamic State largely imploded this year, a parallel CIA program to train anti-Assad forces is ongoing, and those rebels are also gaining stronger American weapons from their Arab backers.)
The French government is one of the primary critics of that argument. Hollande said in September that Assad's regime was "pointing fingers at Daesh" (another way of referring to the Islamic State) to distract from the true source of instability in Syria -- Assad's violent rule and stubbornness toward a peace process.
The Syrian autocrat has previously tried to win support abroad by playing up his ostensible secularism and fear about radical Islam. He blamed the January attacks on the Charlie Hebdo offices in Paris on the West's Syria policy.
Major powers met in Vienna on Friday and Saturday for the latest round of talks regarding Syria's future. They announced that they had reached an agreement on an elections schedule and a United Nations call for a cease-fire but had yet to agree on what would happen to Assad. Analysts warn that future talks about that question may be skewed by the Paris attacks if Assad and his supporters continue to deceptively promote the Syrian regime as the solution to the Islamic State problem.
More than 250,000 people have died in the Syrian conflict since it began. The majority, observers say, were killed by pro-Assad forces rather than the Islamic State.
Related
Popular in the Community