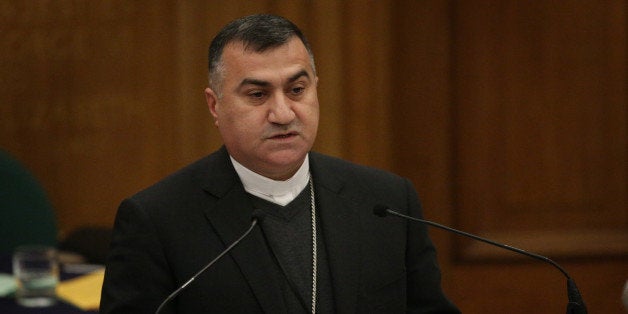 The Iraqi city of Mosul fell to the Islamic State on June 10, 2014. When the militants laid out an ultimatum -- convert, pay a tax or be killed -- thousands of Christians and other religious minorities fled to neighboring cities, like the northern city of Erbil.
Even though it's been more than a year, Erbil's Chaldean Catholic leader, Bishop Bashar Warda, still vividly remembers what it was like to watch the streams of refugees enter his city.
"It was [a] really sad occasion," Warda said in an interview with Vatican Radio. "The memories that we have is the queue of thousands of people arriving, tired, crying and leaving behind everything, memories and properties."
Warda said the situation just became "more painful" as time went on.
"At least [during the early days], there was ... a hope that it would [end] soon and they would be able to go back," the bishop continued.
The Brookings Institution estimates that Iraq now has nearly 3.5 million internally displaced persons, or IDPs, a large number of whom have sought refuge in the Kurdish Region of Iraq. IDPs often lack access to adequate shelter, healthcare, food and water.
Other refugees have fled to neighboring countries like Jordan, Syria and Lebanon.
Mosul's Syrian-Catholic Archbishop Monsignor Yohanna Petros Mouche visited Ireland this week to ask for humanitarian aid -- and to ask the government to support the resettlement of Iraqi refugees to Western countries.
"I am calling on the international community: if they cannot protect us, then they must open their doors and help us start a new life elsewhere," Mouche said, according to Christian Today. "But we would prefer to be in Iraq and be protected in Iraq."
Warda calls what's happening in Iraq a genocide.
"You cannot say genocide is just killing the body," Warda said. "When you kill the memories, when you kill the past, when you destroy the culture, when you destroy homes, when you destroy the future. People [are] living in tents, what kind of life is this?"
Calling all HuffPost superfans!
Sign up for membership to become a founding member and help shape HuffPost's next chapter
BEFORE YOU GO
PHOTO GALLERY
Mosul Before and After ISIS