(WARNING: The content of this blog post may not be safe for all work environments.)
"Transition is always a relief. Destination means death to me. If I could figure out a way to remain forever in transition, in the disconnected and unfamiliar, I could remain in a state of perpetual freedom."
--David Wojnarowicz, Close to the Knives: A Memoir of Disintegration
I am a visual artist, and my body is my medium. I use a rigorous physical training practice as my form. I see the physical body as a sculptural mass with which to rupture norms. My process runs the gamut of performance, photography, sculpture, video and watercolor. Additionally I use weight lifting, explosive power training, Muay Thai, traditional boxing, diet manipulation and supplementation to forge a series of powerfully trained bodies for different performative and formal purposes. I draw on conceptualism, feminism, body art, gay male aesthetics, and Hollywood cinema. Additionally, I am inspired by artists such as David Wojnarowicz and Ron Athey, who questioned the brutality of the status quo in reaction to the devastation of the AIDS crisis. I return again and again to the work of Adrian Piper and Douglas Emory, who apply varying conceptual approaches to language and representation, making powerful work surrounding issues of race and class. These artists create a visual language that is at once emotionally striking and conceptually incisive.
Inspired by these histories, I aim to make images that bash through binaries and the notion that in order to be officially transgender, you have to have surgery or take hormones. I perform trans not as something about a crossing from one sex to another but as a continual becoming, a process-oriented way of being that works in a space of indeterminacy, spasm and slipperiness.
Body of Work, my upcoming exhibition (Sept. 7 to Oct. 12) at Ronald Feldman Fine Arts in New York City, will present four separate projects in which I forged a series powerfully trained bodies for different performative and formal purposes. (Please note that there is a live performance of "Becoming an Image" Sept. 7 at 6 p.m. Tickets are free, but space is limited to a first-come-first-serve basis.) It is with sweat, blood and sinew that I bring these images to you.
"The spectacle is not a collection of images but a social relation among people, mediated by Images."
--Guy Debord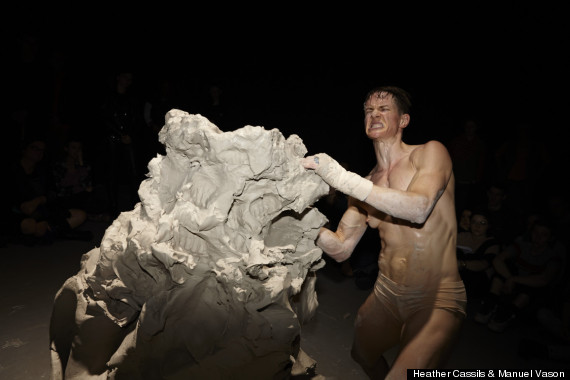 "'Becoming an Image' Performance," National Theater Studio, SPILL Festival, London, 2013, photo by Heather Cassils and Manuel Vason (22 inches by 30 inches).
The centerpiece of this exhibition is "Becoming an Image," a work where performance and sculpture collide. "Becoming an Image" was originally conceived as a site-specific work for the ONE Archives in Los Angeles, the oldest active LGBTQ archive in the United States. Staging this performance in the gallery on Sept. 7 at 6 p.m., I will unleash an attack on a 2,000-pound block of clay. Delivering a series of kicks and blows in total darkness, the spectacle will only be illuminated by the flash of a photographer, burning the image into the viewer's retina, creating the effect of a "live" photograph. The remains of this violent sculpting, a soft, passive clay body bearing the indexical trace of the beating it has taken, will be displayed for the duration of the exhibition, accompanied by a four-channel sound installation that recreates the sounds of the my grunts, breath and movements, the sound circling like a ghost.
A black, concrete cast of the beaten clay from a previous iteration of the performance is displayed as an enduring monument to senseless acts of violence against trans and queer bodies that occur outside the realm of statistical notation and beyond the periphery of the historical lens. I wanted to draw attention to the fact that many of our genderqueer and trans brothers and sisters are 28-percent more likely to experience physical violence. Worldwide, transgender murders increased by 20 percent in 2012. Transgender people of color are two times more likely to experience physical violence than those who are not LGBT people of color. My long-term plan is to make a few of these sculptures and install them as "monuments" of sorts to mark the place and create awareness of where acts of violence have occurred.
I also present large-scale performance photographs encircling the sculptures, raising questions of witnessing, documentation, memory and evidence.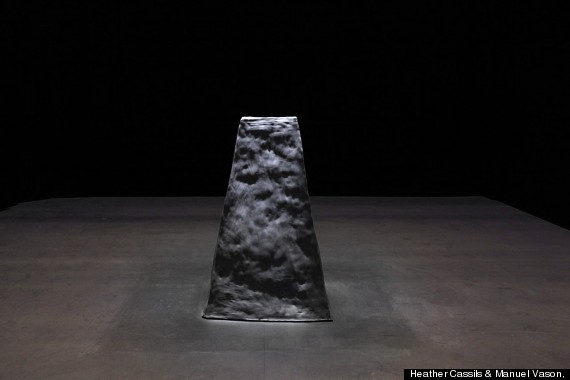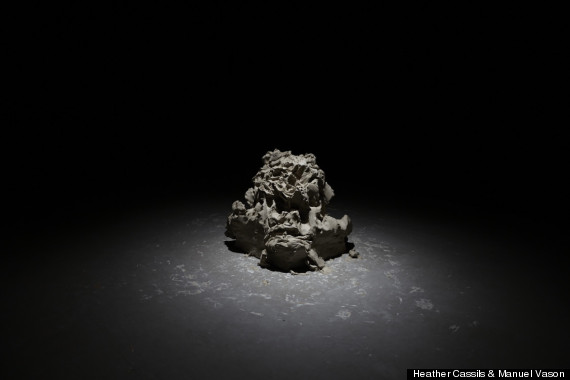 "Becoming an Image," National Theater Studio, London, 2013, photos by Heather Cassils and Manuel Vason.
"Becoming an Image smashes the weight of accountability directly on everyone involved -- the audience for agreeing to partake in, and by proxy silently approve of, an act they are not completely aware of; the photographer for distancing himself of responsibility by hiding behind the officially of the lens, and finally even the performer -- an exhibitionist and punching machine taking refuge in the dark."
--Bojana Jankovic
"Cuts: A Traditional Sculpture"
"One reason for making and exhibiting a work is to induce a reaction or change in the viewer.... In this sense, the work as such is nonexistent except when it functions as a medium of change between the artist and viewer."
--Adrian Piper
The newest iteration of my work "Cuts: A Traditional Sculpture" is on view in the rear gallery. In a reinterpretation of Eleanor Antin's 1972 performance "Carving: A Traditional Sculpture," in which Antin crash dieted for 45 days and documented her body daily with photographs from four vantage points, I used my mastery of body building and nutrition to gain 23 pounds of muscle over 23 weeks. As opposed to the feminine act of weight loss in Antin's performance, my work performs a transformation into traditionally masculine, muscular form. On view are four grids of time-lapse photographs of my transformation, sorted by vantage point, offering an overview of my muscle gain. These images are shot in the neutralized white of a studio. Their almost medical quality allows the viewer to inspect my body as it changes. This twist on "getting cut" queers the trans body by showcasing the cut of musculature as opposed to the cut of the surgeon's knife.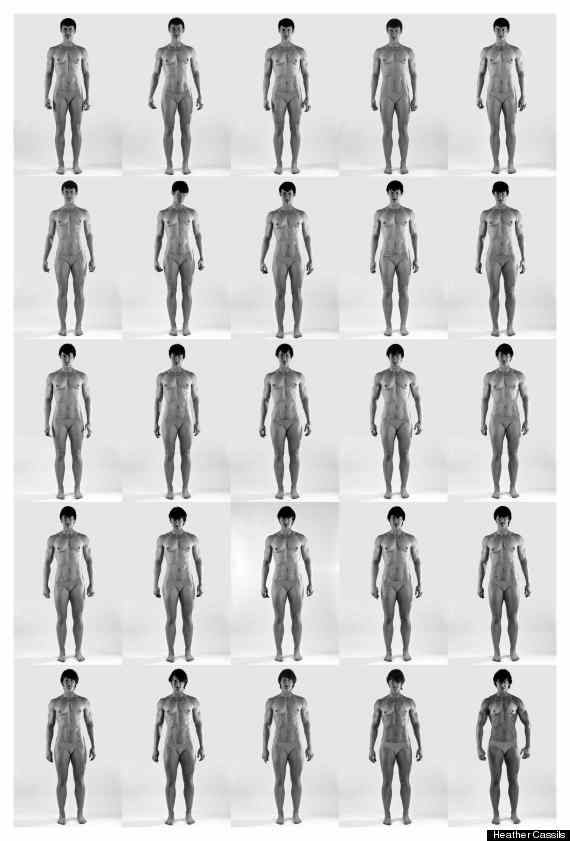 Time-lapse images from a 23-week period documenting a 23-pound muscle gain, photos by Heather Cassils.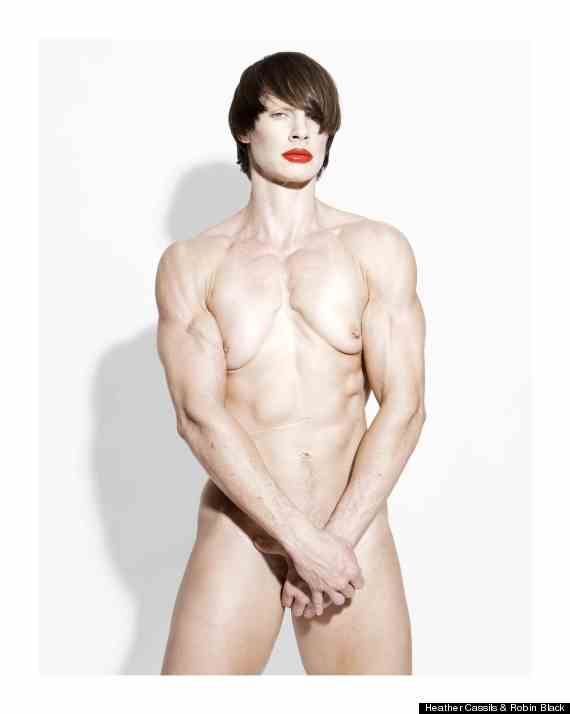 "Pin-Up," from the Lady Face Man Body zine by Heather Cassils and Robin Black, 2011.
These grids are accompanied by a series of "pin-ups" made in collaboration with photographer Robin Black to stage an homage to Linda Benglis' "Advertisement" (1974). Rather than buying advertisement space in Artforum, we capitalized on our connections in the gay fashion/art publications, both online and off, to disseminate these self-empowered images of trans representation. Substituting a ripped, masculine physique for a double-ended phallus, we leaked the image without disclosing anything about its subject but linked the image to a blog about the project at ladyfacemanbody.com. Placing these pin-ups within these contexts signals the shifts in our cultural landscape and the role of artists like Benglis in bringing about those changes.
When we circulated these trans-positive, self-determined images on the Internet, they were met with a litany of hatred, confusion and phobic comments. Alongside these initial images I have created a series of defaced pinups, made by burning the images, scratching the emulsion from the photos with razor blades, and using paint and markers. These defaced images reflect my desire to push representation forward regardless of the hostility with which such acts are met.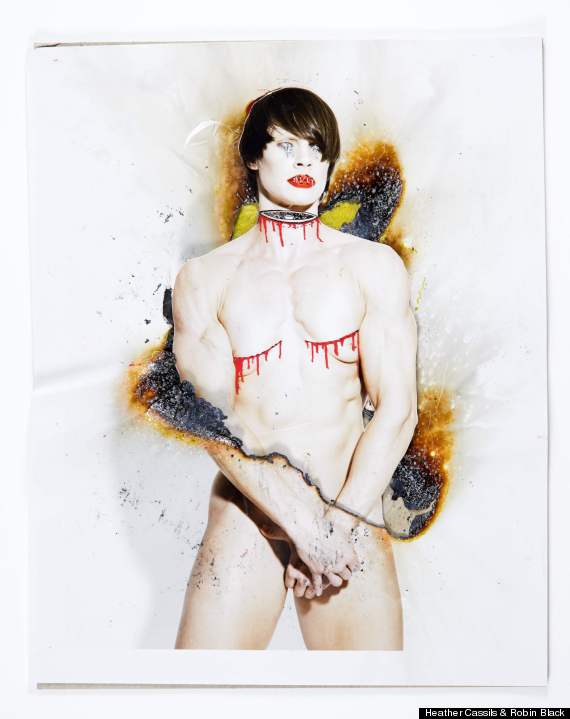 "Disfigured Image: The Resilient 20 Percent," photo paper, marker, gold paint, gouache and razor etching, photo by Robin Black and Heather Cassils, 2013 (11 inches by 17 inches).
For this exhibition Black and I have created a limited-edition, affordable book entitled CUTS, which also includes self-portraits, rendered in watercolor, of my face as it twists in the moments of final exertion as I perform the heaviest lift.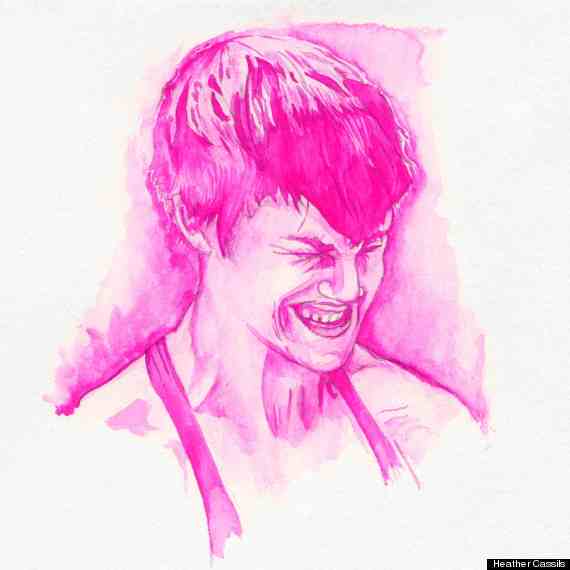 "Maxing Out Opera Pink (Version 1)," watercolor, by Heather Cassils, 2013.
The durational performance "Tiresias" uses the mythological figure of the blind prophet of Thebes, famous for being transformed from a man into a woman for seven years. We display a video installation of this performance, in which my body is pressed up against the back of a neoclassical Greek male torso, carved out of ice for precise contact with my physique. I melt the ice sculpture with pure body heat, which, over a four- to five-hour period, slowly reveals my own reddened flesh. Choosing not to take hormones or have surgery means that most of the time people might not read my "transness." The moment I stop training and manipulating, my femaleness asserts itself. (Breasts grow; muscles shrink.) In this work I recast the myth of Tiresias as a story of endurance and transformation. I perform the resolve required to persist at the point of contact between masculine and feminine.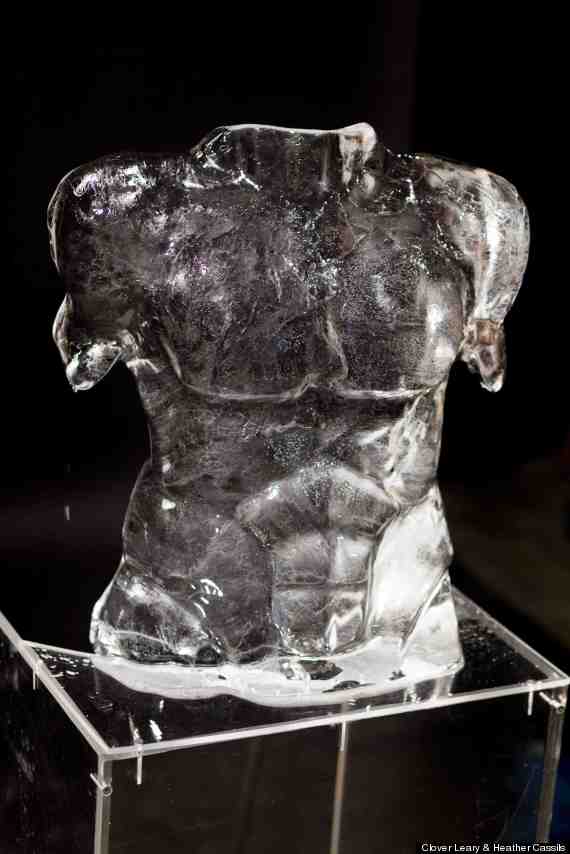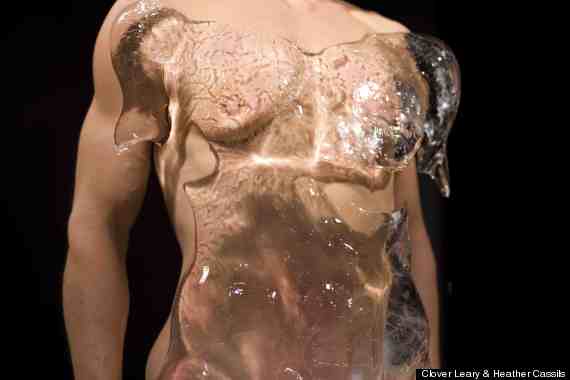 "Teresias," photo by Clover Leary and Heather Cassils, 2013.
As Ron Athey told performance artist Franco B, "It's always been important to reveal the destructive elements in [my] work, otherwise it's promoting an ideal."
"Hard Times" was the initial work using the figure of Tiresias. Here I perform wearing a prosthetic mask, a frosted blonde wig and the deep bikini tan of a female bodybuilder, posing in slow motion atop a wooden plank precariously hovering over the audience. I hold deep muscular contractions that overload the central nervous system, causing uncontrollable shaking, leaving the image of a body that sputters and twitches with the exertion required to maintain its manicured surface. Bodybuilding is a sport with no other purpose than to present a "perfected" surface. I see the construction of this unsustainable body as a stand-in for our culture's insatiable appetite to consume and the drive of capital regardless of consequence. "Hard Times" is a portrait of a social body that rots from the inside out.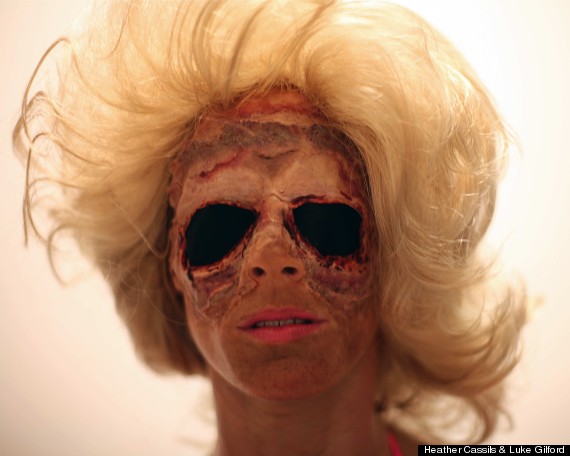 "Hard Times," photo by Heather Cassils and Luke Gilford, 2010.
In closing, I do not just see my self as an "athlete" or a "fighter" in the sporting sense. On a more personal note, I strive to be an activist; I'm a survivor and, yes, a fighter in the way that I engage with society on a day-to-day basis. This work is dialogical in nature, aiming to engage the public through strategies that heighten viewers' awareness of the material aspect of the work and how it was made. Given this emphasis on the viewer's subjective experience and understanding of my gesture, the underlying concerns of this mode of art making and "abstraction" are potentially as political as they are aesthetic.
I see my practice as a process of creating images that empower, but also those that point to the atrocities and hate crimes that are still happening every day. This is personal for me. If I can use my role as an artist to open people's minds, then I am serving my purpose. I am interested in performative actions that create a ripple effect in the minds and bodies of those who experience them.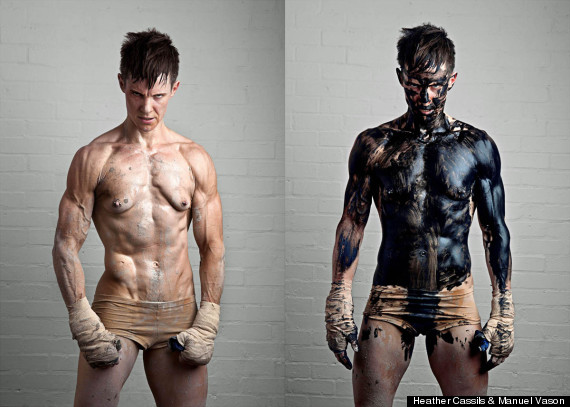 "Post-Performance of 'Becoming an Image,'" photo by Heather Cassils and Manuel Vason, London 2013.
"With all these occurrences of death facing me, I thought about issues of freedom. If government projects the idea that we, as people inhabiting this particular land mass, have freedom, the for the rest of our lives we will go out and find what appear to be the boundaries and smack against them like a heart against the rib cage. If we reveal boundaries in the course of our movements, then we will expose the inherent lie in the use of the word freedom. I want to keep breathing and moving until I arrive at a place where motion and strength and relief intersect. I don't know what's ahead of me in the course of my life and this civilization. I just don't feel I have reached the necessary things inside my history that would ease the pressure in my skull and in my future and in my present. It is exhausting, living in a population where people don't speak up if what they witness doesn't directly threaten them."
--David Wojnarowicz, Close to the Knives: A Memoir of Disintegration
A press kit with more information can be found here.
Reception: Saturday, Sept. 7, 6 to 8 p.m. at Ronald Feldman Fine Arts, 31 Mercer Street, New York, N.Y. Gallery hours: Tuesday to Saturday, 10 a.m. to 6 p.m., and Monday by appointment. For more information contact Erika Kram at 212-226-3232 or erika@feldmangallery.com.
Images courtesy of Ronald Feldman Fine Arts
Related
Popular in the Community