Let me start by first saying there's a reason these cookies are expensive! They're stubborn and difficult to get the hang of, so don't be discouraged if it takes some time for them to come out of the oven looking the way they are supposed to. Fortunate for you, I am a beginner, as well, and I've compiled tips and tricks that I've learned through trial and error. When I first started, my macarons were as flat as a pancake. It has taken me countless attempts along with reading numerous articles and books to realize that almost every recipe is different in some way. Fear not, beginner bakers! I think I've found a "go to" basic macaron recipe to help you get started.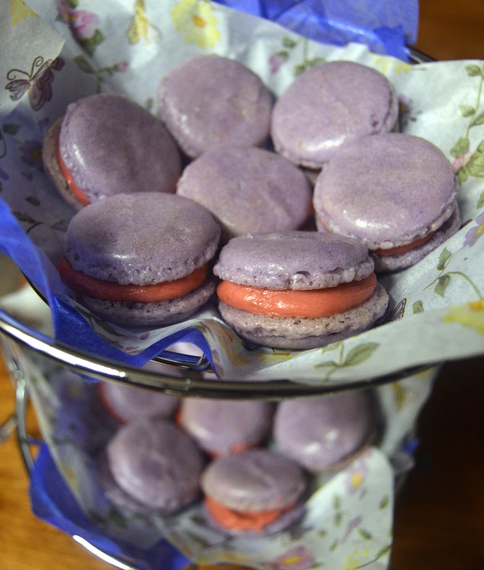 1 ¼ cup of almond flour
¾ full cup of confectioners sugar
¾ cup of granulated sugar
1 Tbsp. of dried/powdered egg whites
½ cup of fresh egg whites (a bit less than 4 egg whites)
5 drops of gel food coloring
¾ of a stick of salted butter at room temperature
Packed ½ cup of confectioners sugar
2-4 Teaspoons of almond or vanilla extract (depending on how strong you'd like the flavor to be)
3 or 4 drops of gel food coloring
Line 2 baking pans with silicon macaron mats. It's definitely worth it to purchase two mats from Amazon.com. They make your macarons the perfect size, and as long as you keep them clean they will make it easier to remove your cookies from the pan once they're cooled.
Pour the almond flour, confectioners sugar, and the powdered egg white into a mixing bowl then whisk the 3 ingredients together. After whisking, sift the mixture a little at a time into another mixing bowl.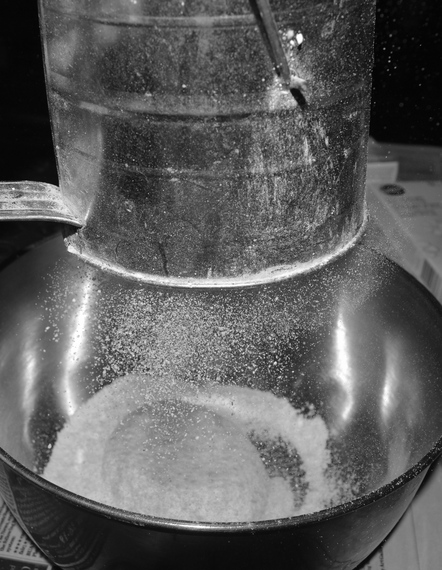 It's normal to still have some of the mixture in the sifter at the end of this process. You can just throw that away.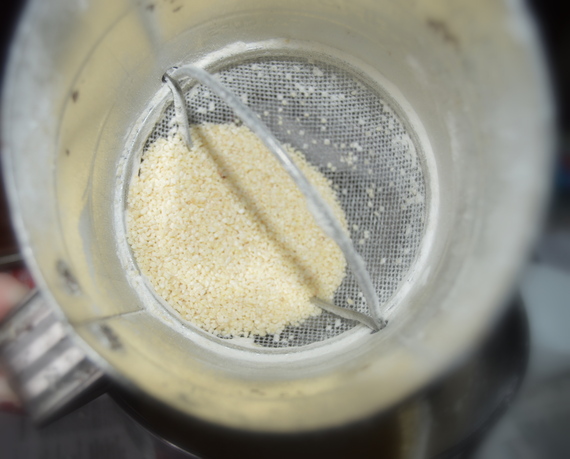 Pour the fresh egg whites into a separate, smaller mixing bowl. With a hand mixer, beat the egg whites at a medium speed until they develop foam on top.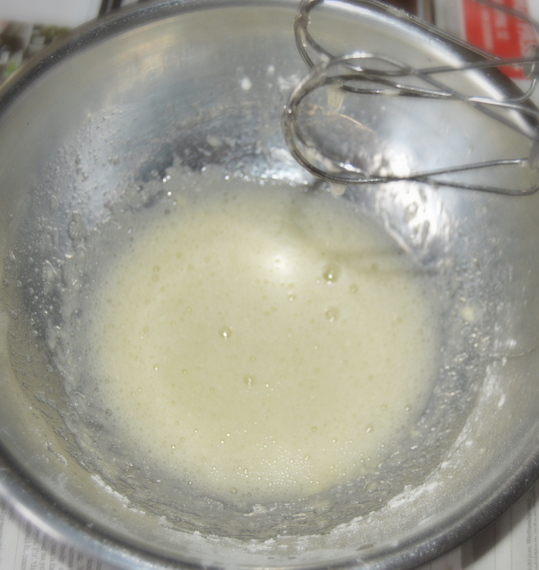 Once the fresh eggs whites are foamy, keep the hand mixture at a medium speed while slowly adding the granulated sugar (about a tablespoon at a time) and a few drops of food coloring. Continue to mix for about another minute or 2.
Pour the wet ingredients over the dry. Using the fold technique, mix the wet and dry ingredients together. It's very important not to over-fold the ingredients. You want the consistency of the batter to be quite thick, almost resembling "lava." When you lift the spatula, the batter should fall off slowly in one sluggish drop. Cover the batter in the bowl with plastic wrap, so it doesn't harden. Let the batter sit out at room temperature for about 45 minutes.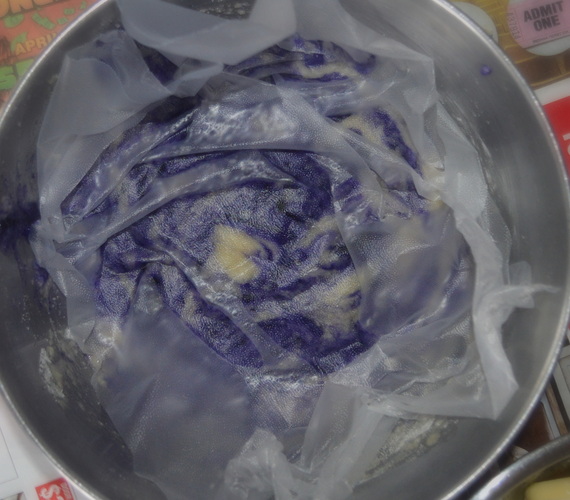 Use a spatula to place the batter into a piping bag with a ¼ - ½ inch round tip. Carefully pipe the batter onto your silicon marcaron mat and place on the baking pan. Slam the pan down on your counter once or twice to remove any air bubbles in the batter. Let the piped macarons sit at room temperature until they start to develop their "skin." You want to be able to gently touch them without any of the batter sticking to your finger. This will help shape your cookie before it even enters the oven. This process usually takes about 30 minutes, but will depend on the humidity in the room. Preheat your oven to 300°F while waiting.
When the "skin" develops on the macaron and your oven is up to 300°F, place the pan into the oven and set the timer for 10 minutes. Now, I know we're programmed to think that we shouldn't open the oven while things are baking, but I'm convinced that for some reason it helped. Keep a close eye on them, opening the oven to check on them a few times throughout the baking process and watch them carefully to make sure they are maintaining their shape. After 10 minutes, rotate the pan and cook for another 10 minutes, continuing to check on them every so often to make sure they're developing the ruffle around the bottom and that they're not cracking.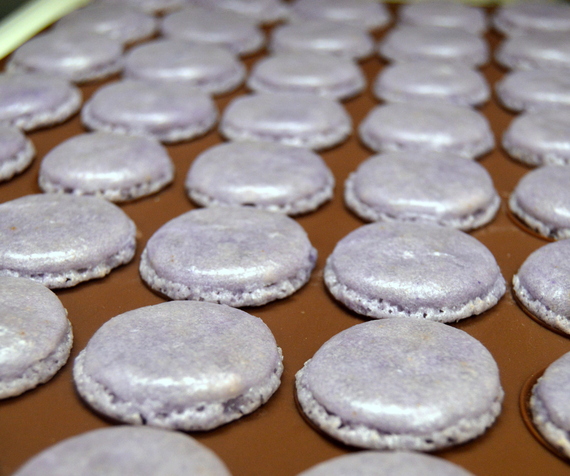 When they're done cooking, remove the silicon mat from the baking pan and place the mat on a cooling rack. It is extremely important to wait until the cookies are completely cool before trying to remove them from the mat. When they're hot, they crack very easily.

While waiting for the macarons to cool, you can make your filling. Common macaron fillings include chocolate ganache, caramel, jams, custard, sweetened cheese spreads and buttercream. Once you master the cookie and start testing out different flavors, you can decide what filling will pair well with the cookies you made. For the basic almond macarons, I like to do a simple buttercream. You blend the softened butter, sugar, food coloring and almond (or vanilla) extract together with a hand mixer until creamy.
When your macarons are cooled, place one hand under the mat and use your fingers to work each macaron off carefully so you can pick it right up. Place the buttercream in a plastic bag and snip a small piece of the corner off.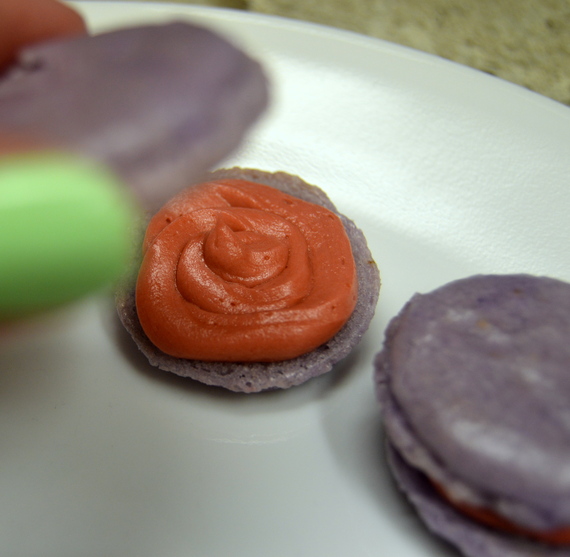 Squeeze a single layer of buttercream on to one macaron, and then top it with another. Voilà! French macarons!