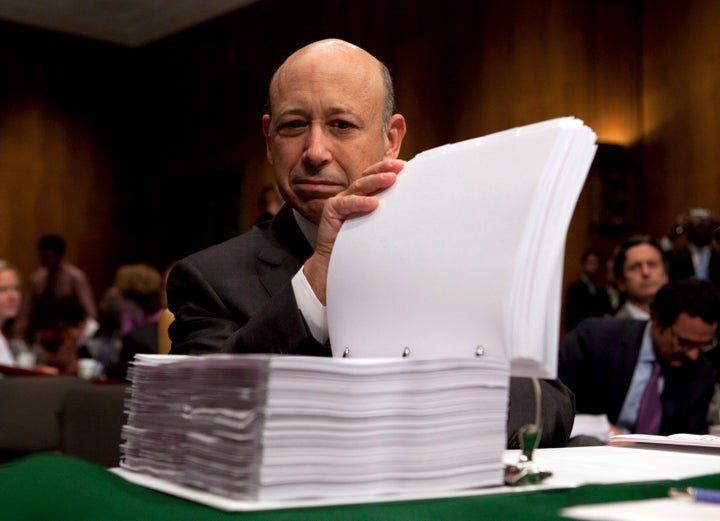 A new lawsuit accuses Goldman Sachs of purposely unloading $93 million in mortgage-backed securities it knew to be junk onto a client, then betting against those same securities in the lead-up to the financial crisis.
Basis Yield Alpha Fund, an Australian hedge fund, filed the lawsuit against Goldman Sachs on Thursday, asking for more than $1 billion in damages. The lawsuit alleges that Goldman Sachs overcharged for two sets of mortgage-backed securities that it sold to Basis; lied about the securities' expected performance; did not provide timely, accurate information about the securities' true value; and failed to disclose that the firm was actively betting against the securities at the time of the transaction -- all which the hedge fund says contributed to its collapse.
"They were lying to clients in order to get junk off their books," said Eric Lewis, the Washington-based attorney who is leading the Basis Fund's lawsuit against Goldman. "They were basically selling a time bomb ... and what they sold blew up in our face, but what they couldn't sell blew up in their face."
Goldman Sachs declined to comment on whether they believed at the time that the securities in question were a legitimately good investment. In a statement, they denied any wrongdoing and noted that Basis was an experienced hedge fund.
"We believe that we acted appropriately and refute in the strongest possible terms any suggestion that Basis Capital was misled in any way," Goldman Sachs said in the statement. "Goldman Sachs was also an investor in Timberwolf securities and lost several hundred million dollars."
Asked specifically for details on Goldman's net position on the Timberwolf deal, Goldman Spokesman Michael DuVally declined to comment. But the firm did short about 35 percent of the security, according to an April report by the Senate's Permanent Subcommittee on Investigations that details Goldman's development of the now infamous Timberwolf securities, a bet that would reap Goldman significant gains.
And the firm had been shorting the housing market long before selling Basis the two mortgage-backed securities. By February 2007, it had a $10 billion net short position on the housing market, according to the Senate report.
Lewis said that Goldman lost money on the Timberwolf securities only because they eventually were unable to find customers. And Goldman's bet on the failure of the securities suggests, Lewis said, the firm had designed the securities to fail.
Goldman sought to sell the Timberwolf security at inflated prices as quickly as possible, the Senate report suggested, because they knew that the vehicle's assets would plummet in value as the housing market crumbled. And just as Goldman promised Basis that the Timberwolf mortgage-backed security would provide a 60 percent return on the investment, according to the report, a Goldman executive privately called the investment "one shitty deal."
The Senate report also found that Goldman didn't disclose the poor performance of the Point Pleasant vehicle, which it had sold to Basis a few months before the Timberwolf deal, so that it could successfully peddle the Timberwolf securities to the Australian firm. According to the Senate report, Goldman sold Timberwolf to Basis at significantly higher prices than they were internally valuing the securities. Soon after selling the securities, Goldman demanded collateral from Basis several times in order to cover for the securities' plummeting price.
The Basis Fund filed a similar suit against Goldman in June 2010, but a U.S. district court dismissed the suit in July since the Australian hedge fund was not able to prove that its purchases from Goldman were made in the United States. Basis filed its lawsuit on Thursday to the New York County Supreme Court, rather than in the federal court system, in order to sidestep that complaint.
Basis lost $67 million in its dealings with Goldman Sachs in 2007, according to Lewis: Eleven million dollars from a $12 million investment in Point Pleasant and another $56 million out of a subsequent $81 million investment in Timberwolf. The hedge fund is suing for an additional $1 billion in punitive damages, because they say Goldman practiced systemic fraud as it tried to unload $1 billion in Timberwolf on unsuspecting customers.
Lewis said that Basis plans to use the discovery process in order to dig up more information about Goldman's development and marketing of the Point Pleasant and Timberwolf securities. They said they plan to look at internal emails; investigate Goldman's dealings with Greywolf, a firm with Goldman ties that helped select Timberwolf's underlying assets; probe the ratings agencies that stamped Timberwolf with a AAA rating; and ask Goldman executives to testify in court.
In the end, Lewis said, Goldman failed to fulfill its role as an underwriter, and instead opted to act as a market-maker.
"They were giving different prices based on what would make them the most money," Lewis said. "Goldman had information that we didn't have. We asked the right questions, and [as an underwriter] you can't lie when you're asked a direct question."
Popular in the Community