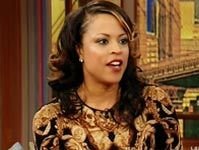 I wish I could boast that I spend my free time reading great works of literature. Instead, I often spend hours watching reality TV shows. From the Real Housewives to Basketball Wives, I love the mind-numbing drama. Because the cast predominantly consists of women of color, however, the show has made me question my commitment to such low-grade programming.
As entertaining as Basketball Wives is, when we regularly witness African-American and Latina women cursing each other out and throwing bows seemingly for sport, what message does this send to us about ourselves? Perhaps that we don't respect each other, so why should anyone else, including our men? To that point, at the end of the second season, model-pretty Jennifer William's not-so-pretty ex-husband Eric Williams mimicked what he'd seen on the show and splashed his former bride in the kisser with a cocktail.
Furthermore, does a regular diet of reality TV encourage women old enough to know better to lash out against each other instead of resolving conflicts like rational adults? Never mind the example this bad behavior sets for the young women watching.
In an editorial in Juicy magazine, Tionna Smalls, self-proclaimed love advisor and co-star on the VH1 reality show, What Chili Wants, wrote about how she, too, loves Basketball Wives. Smalls, however, asserted the show had gone too far when hot-tempered Tami Roman referenced fellow cast member Meeka Claxton as "your black ass." Since I'm a Black woman of a darker hue, I also recognized that reference as a perpetuation of the played out light-skinned versus dark-skinned battle. But I didn't find that comment more offensive than Tami's physical assault on Meeka at a nightclub in Italy.
I think that assault, for which Meeka is reportedly suing Tami, and all the incessant profanity laced-bickering and drink throwing is where the show has gone too far. Sure, Meeka's habit of playing both sides and talking in circles is annoying. But that didn't warrant a beat down. In the early days of reality TV, if you hit or aggressively touched another cast member, you were automatically kicked off. Ms. Roman should remember that, considering in 1993 she had a male cast mate kicked off her season of the Real World: Los Angeles for trying to remove her bathrobe.
As executive producer and creator of Basketball Wives, Shaunie O'Neal has said she is ashamed of the catfights and would like more of the women's charitable work to be shown. But we have to question how much power O'Neal really has since her ex-husband Shaquille O'Neal's rumored jump-off, Laura Govan, co-stars on the show's L.A. incarnation.
On a recent episode of the Wendy Williams Show, O'Neal told Williams, "The fighting isn't good. I'm not always proud of what happens... but it draws you into watching."
While writing this post, I admit I felt embarrassed that I've given such trivial matters this much thought. My justification for being so preoccupied with reality TV in general and Basketball Wives in particular, however, is it provides an escape from my everyday life and gives me an opportunity to play couch potato therapist.
The women on Basketball Wives have struggles with their friends and families as we all do. I understand that behind their glammed up, tough girl exteriors, Tami and company are probably sensitive and vulnerable women who apparently aren't as skilled at expressing their hurt and disappointment verbally as they are physically.
To be fair, the show has its tender moments. Although the ladies of Basketball Wives L.A. literally came out swinging (the climax of the first episode was a brunch brawl between the aforementioned Laura Govan and Malaysia Pargo), I'm touched by Jackie Christie's story line about her elderly mother's battle with cancer.
But if reality TV shows like Basketball Wives become kinder and gentler, will fans -- including me -- still tune in? Something tells me the ratings would dip, but as viewers don't we deserve more positive programming? And as women of color, don't we deserve more ladylike portrayals of ourselves on television? Let's give peace a chance.