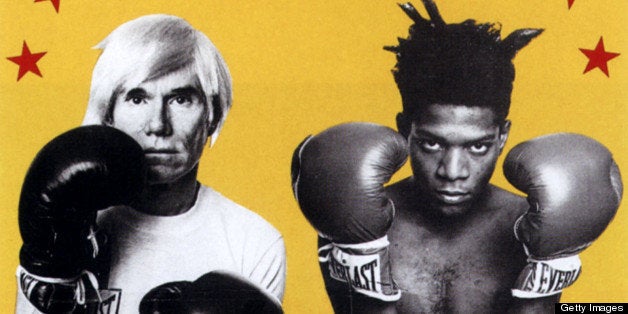 When art dealer Tony Shafrazi needed to promote a unique two-man show at his gallery in 1985, he devised one of the most iconic images in contemporary art history: On one side, a waifish Andy Warhol stands in a t-shirt and boxing gloves, one glove tentatively raised like a cat's paw; beside him stands the challenger, a shirtless Jean-Michel Basquiat, both gloves raised, eyes daring the viewer from beneath an adamant brow.
Shafrazi has always had a flare for the combative and an affinity for transgressive artists like Basquiat, whose roots lay in the downtown graffiti scene. He knew a thing or two about transgression and graffiti. In 1974, the young, Iranian-born artist had committed one of the most notorious acts of graffiti vandalism in history by spray-painting Picasso's seminal anti-war painting, Guernica, with the words "KILL LIES ALL" in red letters a foot high -- a protest, in part, against the Vietnam war.
The raw urgency of Basquiat's paintings attracted Shafrazi immediately, and he's been one of Basquiat's strongest advocates ever since -- mounting shows of his work every few years since the early 1980s and publishing a Basquiat monograph in 1999. He is undoubtedly one of the reasons Basquiat's work commands such high prices today. On Wednesday, Basquiat's rich, dark painting Dustheads (1982) goes on auction at Christie's, and is expected to break the artist's record, set in November at $26.4 million. In 1996, Shafrazi sold the same painting for just $410,000.
Christie's spoke with the provocateur ahead of the auction about his relationship with Basquiat before he died at age 27, and with his work in the decades since. The conversation lasted two hours; here are some of the gems.
AUSTIN CONSIDINE: How did you first get to know Basquiat?
TONY SHAFRAZI: Bill Beckley, who did photo narrative art, mentioned one time as I was getting ready to do a show, 'oh, by the way, if you need somebody to help paint the walls, two of my students who've come from Pittsburgh are great to come and help.' It was Keith Haring and Kermit Oswald, school friends from the age of eight or nine when they used to do newspaper deliveries together. Little by little I befriended Keith and after a while Jean-Michel was coming by.
When I first met Jean-Michel, he was making small postcards. And Jean during that time -- he went through different periods -- he had a long overcoat almost to his ankles, paint splattered here and there. And then of course he'd show up suddenly and his hair would change into a Mohawk or something. But he was always very elusive and a wonderful, sweet, sweet boy. He was an incredibly handsome, charismatic, magnetic and magical guy.
CONSIDINE: And you started supporting him and his work in group shows very early.
SHAFRAZI: Well, number one I started supporting him because I fell in love with him. And most important, I respected his and Keith Haring's friendship, which was remarkable to watch. They were cool. They would go clubbing. They knew about music. They knew about the latest things. They were different races. One was gay the other was straight. It didn't matter. It was the most remarkable kind of friendship, born out of the respect that they had for each other. And they maintained that all the way to the end.
As well, their approach to art-making was so remarkably, innovatively revolutionary and raw. That is what drew Andy Warhol to become their very good friend. And of course, Jean-Michel's friendship ended up in collaborations with Andy.
CONSIDINE: Including the famous show at your gallery in 1985. That was your idea to do the boxing poster, correct?
SHAFRAZI: One hundred percent. I took a taxi and I ran into Paragon sporting goods, which was off Union Square, close to Andy's, and I bought two sets of boxing gloves and boxing shorts -- and I bought also two t-shirts because both had scars on their bodies, especially Andy. Once the two of them were together, it was OK. But they didn't know how to hold their hands for boxing. They'd never boxed before. So I showed them how to do it because I'd boxed myself.
CONSIDINE: Why boxing? What was the idea there?
SHAFRAZI: Well, the idea is they're sparring. I always found the idea of boxing very romantic. Especially going back to the old posters. And so, these two, the fact that they would be almost matching each other or painting together or painting over each other, the dialogue, the conversation, I thought the boxing thing was perfect.
CONSIDINE: And there was something kind of combative about what Basquiat was doing with his art, right? It shows in the way he's posing in the poster. He's much more confrontational than Warhol.
SHAFRAZI: In Jean-Michel's case, his was a very particular thing. Because besides his charisma, the way he painted was very unusual. And the way he held his brush was very unusual. That approach made the actual act of putting down a mark extremely intended. Each thing became deliberately odd and different to what you'd seen before. He was unqualified, untrained, and yet, little by little, this was a person who, like Keith Haring, trained themselves in public. And that was the genius they both had in common.
CONSIDINE: Did you and Basquiat talk about the Guernica incident and the possibilities of what graffiti can do -- its potential as a transgressive tool?
SHAFRAZI: I don't really like to tell the story. But the idea was to put Picasso and Guernica on the front page of the world. Guernica was a painting specially made by the greatest artist of the century -- it's certainly the number one painting against war, no doubt about it. And that painting's history, having secured a very important position at the Museum of Modern Art -- the fact that it was there, daily, and meanwhile the bombings [in Vietnam] were taking place for ten or twelve years, it was unbelievable to me. It was unacceptable. You could buy [the painting], but not listen to it. Somehow, the voice had been silenced. So I had to give the voice back so it would scream to the world. I gave it that red scream.
CONSIDINE: Was there an affinity that you had for guys like Basquiat and Haring because they were putting their words and works in places they weren't supposed to be?
SHAFRAZI: Well, because of the spirit of the time, the streets became alive again. It was all about the street, the wealth of the street, the business of the street and what happened in the street -- hanging out at night, going to clubs at night and doing exhibitions in the clubs. So, yes, the urgency of the street, the reality of that world became prominent -- no longer ruled fascistically by well-educated morons of curators and idiots who come to be art patrons immediately. They think they know everything. They act like policemen of art.
CONSIDINE: It seems you've helped change that attitude towards Basquiat's work in the very least.
SHAFRAZI: When Jean-Michel passed away, it was a very sad event. Thereafter I continued working quietly and every two or three years I would do a show [featuring Basquiat's work]. And my job in doing a show was to hunt around and find where his paintings were in different collections and gather them together and pair them off, create a sort of historical continuity, a context to tell stories about the work and what was going on.
I say this as his friend and fellow artist: I didn't do it so Basquiat could break records. I wanted to bring Basquiat to a more important place of recognition, to join the ranks of masters like Jackson Pollock and Francis Bacon.
CONSIDINE: Did you have a sense then that Basquiat was going to be considered as revolutionary by posterity as he was?
SHAFRAZI: Yes, I knew that these artists were very, very important. I always thought of Basquiat as being, in a way, the Van Gogh of our times. There's a certain kind of truthfulness and a kind of authenticity of the natural way of mark-making that he did. For me his marks are as authentic as the early Picasso. And, if anything, next to that, Picasso's work becomes that of a European who was obviously admiring that kind of sensual authenticity.
It's a bit like a drawing you would do at maybe two or three inches, that kind of intimacy of sketching or doodling. But he was able to do it on a large-scale canvas. And knowing that you're addressing the whole world, and that the canvas ought to belong to history... When you have no training, that's a remarkable sense of belief in yourself. It's such a vulnerable, delicate, extraordinary, lonely walk -- to walk that edge, that line. And that line was what he lived on.
Calling all HuffPost superfans!
Sign up for membership to become a founding member and help shape HuffPost's next chapter