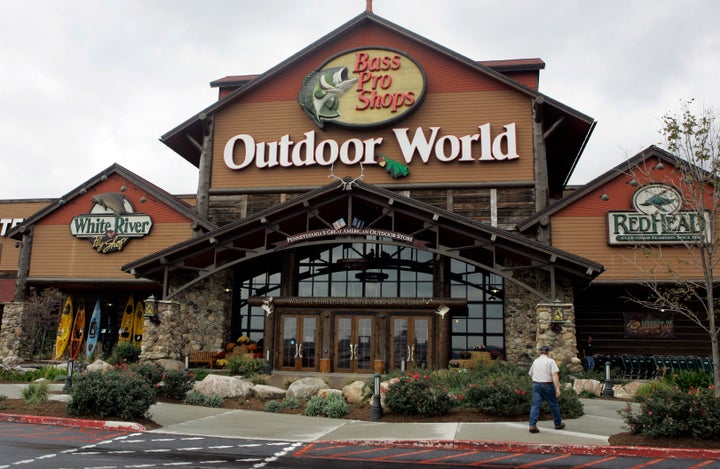 WASHINGTON -- Bass Pro Shops, one of the leading retailers of outdoor gear, is being sued by the U.S. Equal Employment Opportunity Commission for allegedly discriminating against African American and Hispanic applicants in several of its stores, according to a suit filed Wednesday in Texas federal court.
Describing the lawsuit as both "major" and "nationwide," the EEOC alleges that the retailer discriminated against minority applicants, retaliated against employees who spoke out about what they considered unfair hiring practices, and destroyed internal records related to hiring. Certain non-white applicants, the agency claims, were not given jobs because they did not fit the Bass Pro brand.
"Bass Pro has been discriminating in its hiring since at least November 2005," the EEOC said in a release.
Minority job seekers, the agency said, were "routinely denied" positions as cashiers, sales associates, team leaders, supervisors and managers at Bass Pro stores. Managers at Bass Pro stores also made "overtly racially derogatory remarks" affirming the practices and noted that African American candidates "did not fit the corporate profile," the EEOC asserts. The alleged discrimination occurred at Bass Pro stores in Texas, Louisiana and Indiana.
In a statement, the company said it was "extremely disappointed" in the agency's decision to file suit. The company said it fully cooperated with the investigation and denies the allegations. "This investigation and the EEOC's conduct demonstrate a troubling tendency by the EEOC to stereotype those who love outdoor sports and support conservation as people who unlawfully
discriminate or oppose equal opportunity for all," Mike Rowland, vice president of human resources, said in a statement.
The Springfield, Mo.-based company has 50 stores in 26 states and Canada, and it bills itself as "The World's Greatest Outdoor Store," according to its website. Started with a single location in 1971, the chain has become a staple for American sportsmen and women, selling guns and bows, fishing equipment, camping gear and outdoor clothing. Like Cabela's, its primary competitor, Bass Pro's megastores can run up to 300,000 square feet and often boast aquariums, restaurants and fishing-and-hunting games. The chain is known to have a loyal following, with families sometimes driving hours to spend time at one of the superstores.
Based on its potential tourism draw, the privately held company has also been a major recipient of government subsidies over the years. The company has received half a billion dollars in taxpayer money based on its promise as an anchor for economic revitalization in certain communities, according to a report issued last year by the Buffalo, N.Y.-based Public Accountability Initiative, but in some cases the revitalization never arrived.
The EEOC had tried and failed to come to a settlement with Bass Pro before filing suit, the agency said. The lawsuit seeks back pay and punitive damages for the alleged victims, and also asks that Bass Pro be required to implement fair "recruitment and hiring procedures."
"Bass Pro compounded its harm by retaliating against those who stood up to the discrimination and by destroying documents," said R.J. Ruff, director of the agency's Houston office. "The EEOC takes allegations of retaliation and document destruction very seriously."
Correction: The original report mistakenly said the lawsuit was filed on Tuesday. The story has also been updated wiht comment from Bass Pro.
Related
Popular in the Community