Christian Van Horn is Oroveso in San Francisco Opera's new production of Bellini's Norma. The bel canto gem opened the 2014/15 Season on September 5, making Christian's resounding bass-baritone the first voice to be heard in the Company's 92nd Season. As Chief of the Druids and father of Norma, the community's High Priestess, Oroveso enters and instructs the soldiers and priests to watch for the light of the silvery new moon. At that moment, the sacred gong will be struck, whereupon Norma will enter and deliver a mandate from their god. In no uncertain volume, Oroveso rouses the mens spirits predicting that the message will be a clear declaration of war against the occupying Roman forces. The clamor of defeat will reverberate even to the streets of Rome. Oroveso is persuasive in his vision of victory and Christian Van Horn is precisely the brand of baritone Bellini had in mind. For die-hard fans of Norma, a season opening is a dream come true. It has been nine years since San Francisco Opera last presented the work - and another seven before that.
"This is not La Bohème, you know," observed Christian. "I think it says a lot about the audience - that the company feels comfortable putting this on. This is a big opening and I think San Francisco is ready for it. Even Wagner has opinions about Norma, being one of his favorites - you have to cast heavy, top-to-bottom. You get vocal theatrics and there's no opportunity for passive performing. You have to be aggressively on top of it to make the opera what it needs to be. It is a privilege to sing this music. My role is a good size role. Bellini left us a document to go by and we have to follow what's in there. But within that - with Maestro Nicola Luisotti at the helm - there are these slight moments to be artistic."
In Act II, Oroveso must again use his powerful gift of persuasion - this time to convince the populace to swallow their thirst for blood and stifle themselves until further notice. "Heaven help Rome when the altar gives the signal for battle!" Oroveso's vocal line does not include florid passages of coloratura. In some respects, the role is similar to another in Christian's bel canto repertoire - Raimondo in Donizetti's Lucia di Lammermoor.
"When you listen to a lot of bel canto music, such as Lucia, there are plenty of characters who are doing a lot of coloratura or florid singing. But any time you're looking for gravitas or somebody who's in charge or leading - it's often with a lot fewer notes. That's a power technique on the composer's part. We also know that the first person to sing Oroveso [Vincenzo Negrini] was quite ill at the time. He was Bellini's favorite bass, but could not sing all night long. He broke Oroveso's role down into just two scenes, with a large berth in-between, so that he could have a break. The role is more closely related to Bellini's friend than anything else."
Last summer at SF Opera, Christian displayed his dramatic versatility and sensual appeal in his depictions of the four villains in Offenbach's Tales of Hoffmann - Coppélius, Dapertutto, Dr. Miracle, and Lindorf. His rendition of Dapertutto's diamond aria, "Scintille, diamant" was scintillating and devilish. In a rare piece of staging, Christian was positioned alone in front of a simple backdrop and sang the piece straight out to the house. The sort-of mini-recital was a thrilling exhibition of Christian's overall meaty range and brilliant upper register. The villains are a mainstay in the bass-baritone repertoire and, for the right guy, can be available to the singer for many years. The 1972 recording of The Tales of Hoffmann with Norman Treigle and Beverly Sills in the multiple roles still packs a wallop. I was first in line when it was released. Christian was introduced to the recording a few years ago when he was at the Lyric Opera of Chicago singing the role of Crespel (Antonia's father) and preparing the four villains.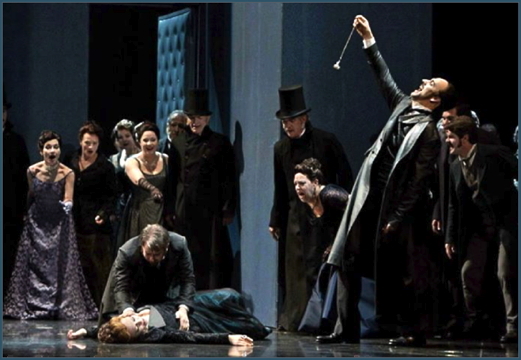 Matthew Polenzani (Hoffmann), Irene Roberts (Giulietta), Christian Van Horn (Dapertutto). SFOpera 2013. Photo, Cory Weaver
"That's how I learned them," said Christian. "Listen to the recordings with James Morris, Sam Ramey, and José van Dam. Their performances are all phenomenal. But Treigle's recording with Beverly Sills was by far my inspiration. He was singing like it was the last day of his life - and it almost was. What a robbery that Treigle died so early, we could have had so much more. But, I got my Scintille, diamant and the Antonia scene and the Lindorf all from Treigle. It was an audition on the heels of that production in Chicago that I was offered the job here in San Francisco to sing my first villains. It was luck plus preparation. It was the right place, at the right time and being ready. All the pieces came together. It was an absolute dream come true."
Christian is very visible this season at San Francisco Opera. In November through the first week in December he will dovetail performances as Alidoro in Rossini's La Cenerentola amd Colline in La Bohème. He returns in June for the Berlioz epic, The Trojans and the world premiere of Two Women by Marco Tutino. In January he will sing Colline at San Diego Opera and in late March the four villains at Bavarian State Opera. I asked Christian if he had always envisioned an operatic career.
"I really wasn't exposed to opera until I got to college. I had sung just a little bit of musical theatre when I was younger. I love the process of a live show and the immediacy of it, the danger of it. It's alive! When you see the curtain go up, a bit of magic begins. It can go so right and it can go so wrong. In that respect, the gamble is really the draw for me. I didn't want that feeling to end. I just wanted it to keep going. When I got to college and met my one and only teacher, Richard Cross - he told me that if I wanted to do this for a living, he thought I could. And I understood that he did not say that to everybody. I'm really lucky to have found an artistic home here in San Francisco. The company is very good to me. They treat me like a family member and, frankly, so does the audience. After this season, I'll be closing-in on a hundred performances in San Francisco. That's a lot for someone who has only been working here for five years."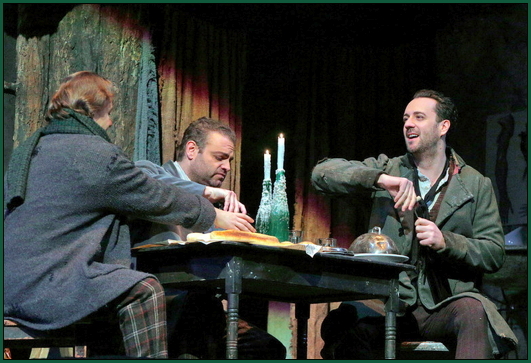 Christian Van Horn (as Colline), with Alexey Markov and Joseph Calleja. Metropolitan Opera 2014. Photo, Cory Weaver
"I won the Metropolitan Opera Competition in 2003. From the time I won it to the time I came back as a principal artist was ten years. This is rarely easy for anybody. Nobody is just handed this. You don't leave college and step on the Met and have a huge success. One in a million do. But it's not what happens most of the time. Everybody has to earn it. It's a privilege to sing for a living. This is not lost on me and I don't take it lightly. There are all sorts of reasons why you can't sing anymore. Every time the curtain goes up I know that I'm lucky. This is something earned. To that end, I keep it tight. If it's over tomorrow, I have zero regrets. Every performance is special to me. I hope that comes across in my performance. To be able to sing these big roles in these big opera houses - is like playing ball in Yankee Stadium."
Related
Popular in the Community