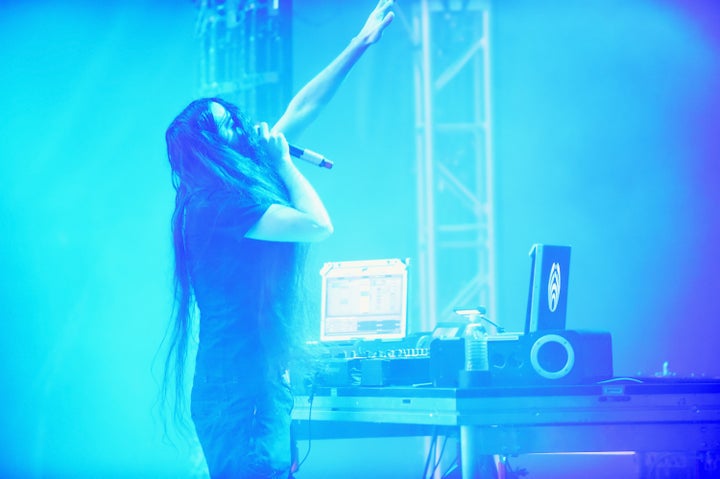 In the electronic music world, few artists elicit the intense passion and frenzied loyalty of their fans quite like Bassnectar, aka Lorin Ashton. 
"Unlimited Combinations," the title track for the new LP, has all the makings of a "classic" Bassnectar track. It will no doubt be heard at festivals and shows throughout the summer. "Level Up" is a track that promises to hit, and hit hard, delivering on its promise that "we came to get down." 
In addition to the new album, Bassnectar is headlining Mysteryland USA this weekend, held at the hallowed Woodstock grounds in Bethel Woods, NY. 
The Huffington Post had a chance to connect with Bassnectar to discuss the new tracks, the upcoming album, Mysteryland USA and the upcoming mega-event Bass Center 2016 at the end of July.  
Take us into your mind for a moment here. With these two tracks - "Unlimited Combinations" and "Level Up" - what is the story behind each for you? What's the experience are you trying to create for the listener with each?
The title track "Unlimited Combinations" encapsulates the theme of the album: it's about the "unlimited combinations" of ideas in the creative process. At every step of the way, there are a million different paths to take, or doors to open -- and the combinations are endless. It's like being lost in a maze within the mind. There were so many versions of this song -- some with no drums, some with vocals, some with a totally different sequence -- and the interwoven melodies were like a symphony on their own, so it was just bursting with possibility. I found it exhausting because I wanted to explore every path and possibility, and then as the theme for the album emerged, I noticed this with everything: the art for the album cover, the order for songs, all the songs I had to leave off in the end due to lack of time. And the whole process gets even more complex when you factor in all the collaborators. With "Level Up," working with Levitate and the vocalist Macntaj, it lead to further layers of bewildering complexity -- in this case, the song is about constantly pushing yourself further and further creatively, like the high of drive and ambition within art.
The whole album is about art, and the magic and mystery of the artistic process. I've been collaborating with so many folks on this, not just musically. So many visual artists, app makers, collage artists, stylists and lighting designers, even directors. We have been working on special films and creative pieces for each song and the winter and spring were full of dedicated projects, working 24/7 with artists all over the country, as well as in Asia, Australia, Europe, Malaysia, Bali, etc ... 
It's been so interactive, and working with all the different artists makes me feel like we are a part of this huge team. The album art, too: a super in-depth process working with a new app called FREEMIX, a collage art program. Their team compiled various collages and then we worked with other artists to mutate it for the cover as well to animate it for future shows. And with all the musical collaborators in the mix, the creative possibilities have been endless. Hence the title of the album.
How does the sound of both "Unlimited Combinations" and "Level Up" reflect on the sound of the upcoming album? How do they tie into what we'll hear on the 17th?
Well, the four songs we released last week were pretty well-rounded. "Reaching Out" is sparkling melodic downtempo, "TKO" is a banger, "Music Is the Drug" is, to me, a very powerful song which has a lot of dynamic, and "Paracosm" is a deep chillout song. Overall, the album is very downtempo and a lot of deep, melodic exploration, so when I chose the two tracks for this week, I wanted to release "Level Up" because it hits so hard, like a slow-motion freefall and "Unlimited Combinations," because it felt to me like a classic Bassnectar track. I used sounds/samples/parts from almost a dozen older songs to create this one.
What will the set at Mysteryland USA be like? Should fans expect classic Bassnectar, or should we get ready to get wild to a lot of new music from the upcoming album due out next week? 
A bit of both ... I'll be playing a lot of the album for the first time, but also there are some old classics I haven't played in over a year or more, which I'm really excited to play. I've also been nonstop in the studio working on new remixes and ideas, and I play totally different sets each night. So there is a lot of careful planning ahead to preserve that originality, yet also a lot of freestyle improv because that's fun. :)
Back to "Unlimited." When you begin creating an album, is there a certain direction or particular theme in mind or that you're trying to capture? 
Sometimes there is, but this time, I was just working on music during my break, really enjoying life and finding myself compulsively heading to the studio each day, even though I was set out to be "on vacation." Eventually, enough tracks emerged that I started conceptualizing a release, and after the song "Unlimited Combinations," I decided i wanted to dive head first into that theme.  
You've made so many albums, EPs, and many have seen great success. What's your creative process like at the outset of each project, and have you noticed a difference in your approach to "Unlimited"?
Well, usually I am creating music for the live shows, and only rarely have I "set out" to write a concept album. In my mind, I imagine the personality of the song as a puzzle piece within future sets ... I feel so lucky to have this career -- It's truly a "unicorn career" -- because its full creative freedom, with an unbelievably supportive and interactive fan base, and I don't need to mess with any of the noise or lunacy of the pop/mainstream world ... I like to be reclusive and have my own life, and then when it's music time -- the shows & crowds are so intense and magical. It makes music writing a constant part of my life.
Zion I, Levitate and Luzcid were all on your last album and are now present on this one. From album to album, do you look to build on an idea/momentum, or are they treated as their own entities on a new album?
Each song is like a child I am raising, or like a close friend I am hanging out with ... it has a unique personality, and the interactions are very meaningful and intuitive.
Do you have any other notable collaborations fans should be looking forward to that you could tease for us?
I never think in terms of "noteworthiness" -- to me, it's music, not marketing. So if you enjoy the music, I'll be thrilled for you. If not, I hope you find whatever you enjoy, and really enjoy the process of enjoying it. The collaborators I work with are people whose musical talent I love, and whose personalities I enjoy working with. Collaboration is such an important part of my life as an artist, so everyone I work with is someone who is a joy to work with, and whose personality allows our synergy to flourish.
That said, I am excited about each and every collaboration on here. The first two that popped into my mind were The Glitch Mob, with whom I've been close friends for eons, yet "Paracosm" is our first official song we have made together. Also Crywolf, because I simply heard his original song and fell in love with it: I reached out just to say thanks, and also to try and get interactive with the song. He sent over parts, and then I got to strip it all down and build it back up exactly as I wanted to hear it ... that kind of musical intimacy and respect is sacred to me.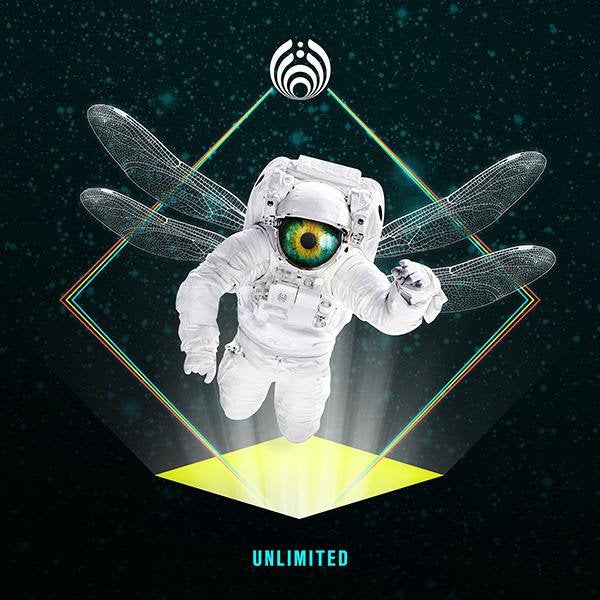 You, of course, have a fanatical group of incredibly intense and enthusiastic fans -- bassheads. To them, you are their bass god. How has their loyalty and passion for you and your music helped to shape your identity? Does consideration of them ever influence your music and creative process, for better or worse? 
Haha, no! I am a bass nerd. I don't want to be mistaken for anything other than a normal human, who is friendly and empathic, and makes as many mistakes as anyone else. The more attention and adulation I get, the more uneasy I feel ... I just want to make art and share it. If people like it, then that's magical! I make art for myself, but I 100 percent make it to delight, stimulate or reflect back to other people. I think I am doing this because I have been so inspired by life, and I feel so grateful for everything, that I just want to reflect that inspiration back to the world. So there isn't a need for approval, but if/when it makes a positive impact on someone else, I am happy. 
Bass Center is set to be held on July 29-30. What is it like basically hosting your own festival? 
Well, to be clear, I don't really think of this as a festival. To me, it's the largest Bassnectar event we have ever put together. But for over a decade my team and I have worked tirelessly on tours and events, and each one of them is overflowing with intention and creative ideas, and they all feel like "the most important show ever" -- so this one is different because it's so ridiculously massive. I didn't expect this many people to come, and so I'm just pretty humbled and amazed, and inspired to throw down that much harder.
The lineup we have is fucking stunning to me -- each of the artists are amazing and gifted, and I'm super excited for everyone's set. We have two camping villages outside the stadium on lush fields, and are planning crazy special effects. It's basically just like the biggest, craziest gathering we could dream up in a central location -- viva Colorado! -- and it's also gonna be the biggest party we've ever thrown. But it's not just a party or a gathering to me or my team. It's really an authentic chance to cast a magical spell. We see this event like the ultimate playground of interactive live performance art for everyone in attendance to be a part of.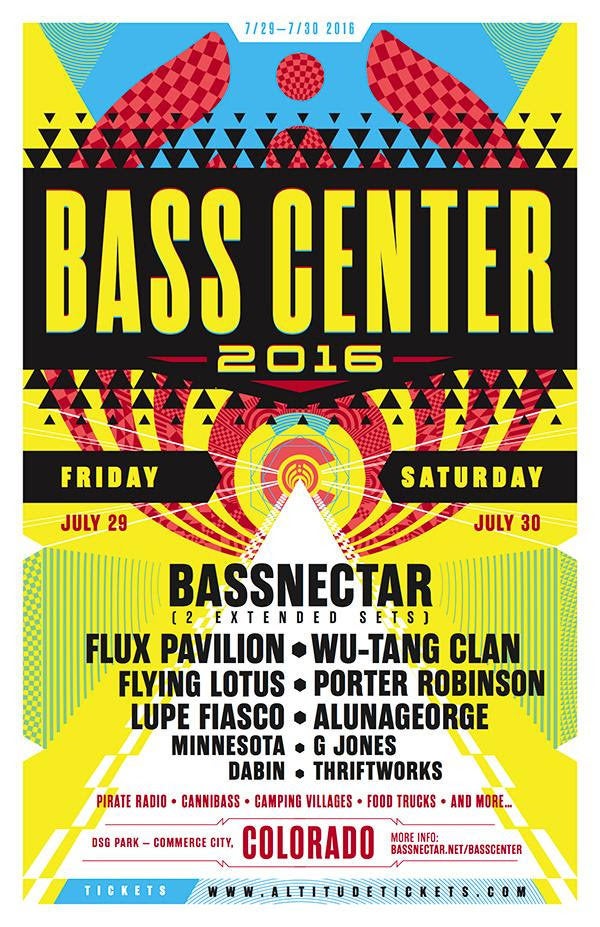 How do you decide who will comprise the lineup for an event so near and dear to you? Beyond that, you have Flux Pavillion and Porter Robinson playing in addition to the likes of Lupe Fiasco and Wu-Tang -- how did this marriage of genres come to be for Bass Center? 
Over a year ago, we started working on the lineup and I was writing wish lists of bands and artists. I am a fan of each artist on the lineup, and extremely delighted with the musical journey that will ensue. There were other artists on the list who were not available (some had stopped touring, or had scheduling conflicts) and we are actually working right now on putting together next year's lineup. It's all part of the process. Community is just as meaningful to me as music, and crafting events is a special chance to transform a venue into a spaceship and blast off. We are addicted to doing this kind of art. 
Calling all HuffPost superfans!
Sign up for membership to become a founding member and help shape HuffPost's next chapter
BEFORE YOU GO
PHOTO GALLERY
Ultra Music Festival 2016